Republicans introduce healthcare replacement bill called 'World's Greatest Healthcare Plan of 2017'
The document promises to improve competition, but critics say millions of people could be left without insurance
Rachael Revesz
New York
Wednesday 08 March 2017 16:39 Comments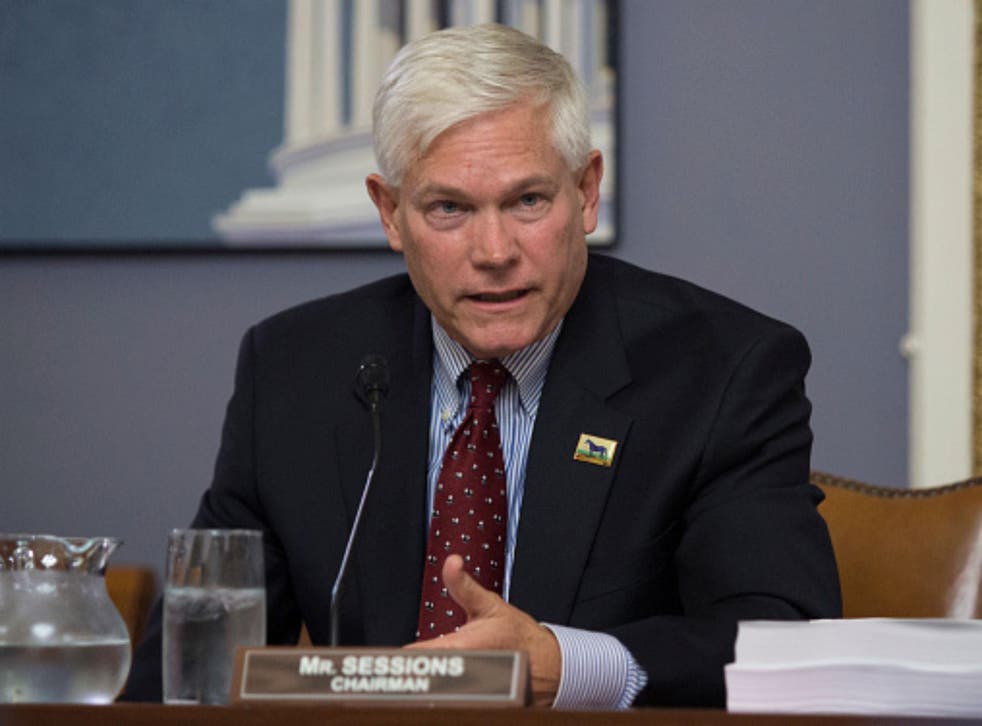 House Republican Bill 1275 has another, catchier name.
The "World's Greatest Healthcare Plan of 2017" - its official title - has been introduced by Texas Representative Pete Sessions and begins its long slug through the House and Senate before hitting the President's desk.
It is just one bill introduced by disgruntled Republicans who are fighting it out to have a new plan that completely repeals Obamacare.
The American Medical Association said the Trump-approved House GOP Bill, different to the above, would "reverse the coverage gains" of Obamacare, and cause millions of people to lose coverage.
Health Secretary points to smaller stack of paper to prove new healthcare bill is better than Obamacare
As lawmakers wade through the House GOP Bill, introduced by Donald Trump on Monday, to make revisions over the coming months, they might notice that the Trump administration's boast that it has taken away the parts of Obamacare that people do not like, for example, being fined if they do not purchase coverage, is inaccurate. The penalty still applies but this time Americans will pay to their insurance provider, not the government.
White House Press Secretary Sean Spicer proudly declared the document dedicated 50 pages to detailing how Obamacare would be repealed. He then wheeled out Tom Price, the new Secretary of the Department of Health and Human Services, who pointed to the 900-page Affordable Care Act of 2010.
"Notice how thick this is?" he asked reporters, comparing the stack of paper with the Republicans' new, much slimmer document.
Donald Trump shifts his position on Obamacare during CBS 60 minutes interview
Mr Price also mentioned the phrase "conscience clauses", hinting that the new plan might not cover birth control. No public statement has been made on that issue yet - women had no co-pay access to contraception under Obamacare - but critics have suggested Republicans will use the excuse of the Congressional Budget Office's scoring of the plan - in other words, making sure it is financially viable - to not cover contraception.
Democrats claim the healthcare replacement plan will not protect the most vulnerable Americans. Senate minority leader Chuck Schumer criticsied the cut to Planned Parenthood funding, which provides millions of people with access to mammograms, cancer screenings and maternity care. He said it also reduced protection for young people, LGBTQ people, people of colour, rural communities and those on low incomes.
"Simply put #Trumpcare is a mess for the American people. We Democrats will fight tooth & nail to put your access to healthcare first," he wrote on social media.
Missouri Senator Claire McCaskill said Mr Trump's plan is repeating the same mistakes of Obamacare but "on steroids".
"Jamming bill, no cost estimate, no [Democratic] votes," she wrote on Twitter.
The controversial orders Donald Trump has already issued

Show all 9
Some Republicans, like Senator Tom Cotton insist Obamacare 2.0 is "moving too quickly", while some of his colleagues say it does not go far enough to help provider competition. Mr Trump said state competition would be addressed in the second and third phase of the roll-out.
Senator Rand Paul, who tried and failed to get hold of the bill while it was guarded by police at Capitol Hill, declared the bill was nothing but "Obamacare-lite".
US Representative Jim Jordan of Ohio has introduced another bill for a "clean repeal" of Obamacare, scrapping all taxes and subsidies of the Affordable Care Act.
On paper, the most popular provisions of Obamacare remain, but the tweaks are in the small print.
It maintains medicaid expansion until 2020 - relied upon by many of Mr Trump's own supporters - but will institute a cap thereafter on how much states can spend on medicaid. There is no cap at the moment.
The new plan keeps a tax credit system, but changes it to age and income-based instead of being solely dependent on income. This new policy leaves older Americans as the most exposed, as they get more tax credits but there is no cap on what the insurance companies can charge them. Older people were cited to pay three times that of young people under the former government; this will raise to five times under Mr Trump.
The new plan also keeps youths on their parents' insurance plan until the age of 26.
There is no discrimination for pre-existing conditions, as before, but the new plan can charge you up to 30 per cent on one's premium for any lapse in coverage. For example, if a patient is chronically ill and leaves their job and has no coverage for more than 63 days, the patient will have to pay 30 per cent more for their monthly healthcare costs for 12 months.
"Go online, read it for yourself," urged House Speaker Paul Ryan at a press conference. He said the most important aspect of the new bill was that it "returned power" to states, doctors and patients.
"This is what good, Conservative healthcare reform looks like. It is bold and it is long overdue and it us, fulfilling our promises."
It is yet to be seen what exactly the new plan will look like by the time it reaches the President's desk, but there is bound to be elements that look familiar from 2010. More than half of Americans - 54 per cent - were happy with Obamacare, according to the most recent survey from the Pew Research Centre - its highest level in years.
On Wednesday Sean Spicer insisted that Obamacare "got the entire system shattered".
"The issue was, in an attempt to solve a problem that affected a very specified, fine group of people, that affected the whole healthcare market."
* This article initially suggested the bill in question was the proposed replacement for the Affordable Care Act unveiled by Republican leaders
Register for free to continue reading
Registration is a free and easy way to support our truly independent journalism
By registering, you will also enjoy limited access to Premium articles, exclusive newsletters, commenting, and virtual events with our leading journalists
Already have an account? sign in
Join our new commenting forum
Join thought-provoking conversations, follow other Independent readers and see their replies