Donald Trump immigration ban: Most Isis victims are Muslims despite President's planned exemption for Christians
President's executive order calls for asylum applications for religious minorities to be prioritised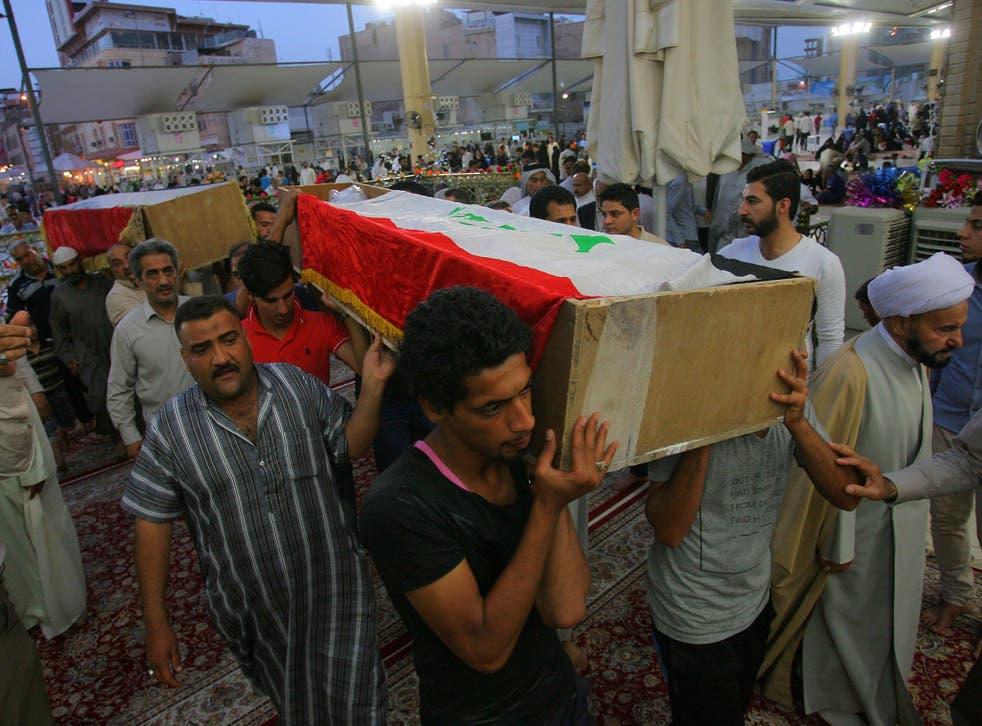 Donald Trump is proposing to prioritise asylum claims by Christians as part of an executive order aiming to combat terrorism, despite Muslims making up the vast majority of attack victims worldwide.
The new President has banned Syrian refugees from entering the US indefinitely, halted all other asylum admissions for 120 days and suspended travel visas for citizens of "countries of particular concern", including Syria, Iraq and other Muslim-majority nations.
Aid agencies swiftly pointed out that many of the men, women and children hoping to be resettled in the US were fleeing the very terrorism Mr Trump claims to be fighting, with Amnesty International saying the "irony beggars belief".
Mr Trump's wide-ranging executive order directed the Secretary of Homeland Security to make legal changes prioritising asylum claims over the persecution of religious minorities.
Donald Trump says General Mattis and him disagree on torture
In an interview with the Christian Broadcasting Network (CBN), he announced his support for the prospect of Christians specifically being given priority for asylum.
When asked if they would be given special status, he replied "yes", adding: "They've been horribly treated. Do you know if you were a Christian in Syria it was impossible, at least very tough to get into the United States?
"If you were a Muslim you could come in, but if you were a Christian, it was almost impossible and the reason that was so unfair everybody was persecuted in all fairness, but they were chopping off the heads of everybody but more so the Christians.
"And I thought it was very, very unfair. So we are going to help them."
Renad Mansour, a fellow from the Middle East and North Africa Programme at Chatham House, said that the number of Christian refugees accepted in the US was already "disproportionate" and available statistics contradicted Mr Trump's claim.
"The Christians have been persecuted, yes, and they were forced to flee Isis territory," he told The Independent. "But for example the Yazidis weren't even given the option to flee – the women were taken as sex slaves and the men were massacred."
Dr Mansour cautioned that Mr Trump's inflammatory rhetoric and executive order were feeding into the narrative used by Isis and other jihadi groups to attract support.
In pictures: Baghdad hit by 24 hours of Isis bombings

Show all 11
"It plays into this clash of civilisations idea, which is something that global jihadis need as fuel, to claim Americans are against them, that the West is against them," he added.
"Trump is seen to be validating what they already claimed was happening."
Mr Trump's claim that Isis has targeted Christians over other groups with its beheadings also appears to be untrue.
The group has released gory propaganda footage showing mass decapitations of Ethiopian Christians and Coptic Christians in Libya in 2015 but several other massacres on a similar scale have targeted Syrian soldiers and rebels, Kurdish fighters and Iraqi soldiers, all believed to be Muslims.
In the territory it controls across Iraq and Syria, Isis' brutal interpretation of Sharia law also allows for the beheading of local residents on allegations of spying and sorcery, among others.
Isis claims to be fighting a holy war against other Muslim sects, Yazidis, Christians and the "kuffar", or disbelievers.
Like other Sunni jihadist groups, Isis considers Shia Muslims to be heretical and has made its followers the main target of its attacks in Iraq.
Shias comprise the country's majority, as they do in Iran, Bahrain and other nations, while Sunnis are dominant in Saudi Arabia and more than 40 countries stretching from Morocco to Indonesia.
Mr Trump pledged to implement a "complete shutdown of Muslims entering the United States" during his campaign and it is unclear whether Shia Muslims would be included as one of the prioritised religious minorities for refugee resettlement.
While al-Qaeda leaders considered attacks on Shia civilians too extreme and detrimental to public support – as well as a distraction from its jihad against the West – Isis has made the massacres a priority, targeting symbolic shrines, holy cities and pilgrimages as well as packed markets.
Shias were also the main victims of Isis' deadliest ever attack in Iraq, when militants were reported to have massacred at least 1,500 air force cadets at Camp Speicher in Tikrit in June 2014.
A handful of survivors recounted jihadists separating Shias and other religious minorities, driving them into the desert and lining them up on the edge of a mass grave before opening fire.
The atrocity was one of countless massacres inflicted upon government forces and civilians in Iraq, where almost 7,000 people were killed and 12,000 injured in more than 2,400 attacks in 2015, according to the US State Department.
The Global Terrorism Index ranks it as the country worst-affected by terror, followed by Afghanistan, Nigeria, Pakistan and Syria – all Muslim-majority countries.
There are no definitive figures on the number of Muslims or other religious denominations killed by Isis but the huge number of victims in Iraq, where 95 per cent of the population is Muslim, suggests that the religion makes up by far the largest proportion of the dead.
A 2011 report by the US government's National Counter-Terrorism Center (NCTC), said: "In cases where the religious affiliation of terrorism casualties could be determined, Muslims suffered between 82 and 97 per cent of terrorism-related fatalities over the past five years."
Join our new commenting forum
Join thought-provoking conversations, follow other Independent readers and see their replies