Donald Trump makes four major U-turns in 75-minute New York Times meeting
Mr Trump appeared to dilly-dally on climate change agreements, his desire to prosecute Hillary Clinton, his views of president Obama and much more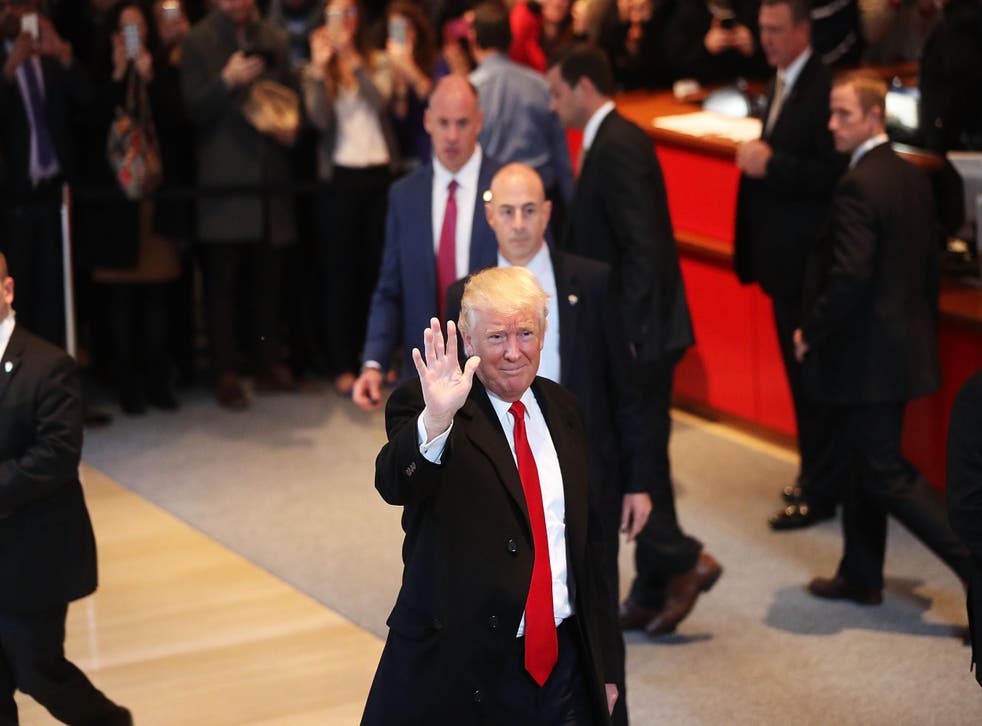 Donald Trump made a series of U-turns during his first meeting with the New York Times since 8 November in an attempt to air his grievances about a paper which has consistently published investigative reports on the president-elect.
Mr Trump appeared to backpedal on some of his core promises to voters, such as scrapping climate change agreements with the United Nations - he said he would "keep an open mind" on them - his views of president Barack Obama - "I like him a lot" - and his promise to prosecute Hillary Clinton - "I don't want to hurt the Clintons, I really don't".
Were his campaign promises all talk?
As Mr Trump grapples to put together his cabinet, many of whom have displayed anti-Muslim, anti-gay or anti-women sentiment, the president-elect himself does not seem to take such a hard line view on many of the same issues - or even issues that he propagated during his own 18-month campaign.
Millions of his supporters were energised by his pledge to investigate Ms Clinton and the alleged misuse of her personal email server, but the Republican told the Times that it was not something he felt "very strongly about".
"I don't want to hurt the Clintons, I really don't," Mr Trump said.
"She went through a lot and suffered greatly in many different ways."
World reaction to President Trump: In pictures

Show all 29
The meeting with the paper, during which Mr Trump was described by staff as joking, evasive and in "sales mode", almost did not happen. Mr Trump re-arranged the meeting on Tuesday just three hours after he cancelled it over a disagreement of the ground rules.
The newspaper insisted it had never changed the terms of the on-the-record meeting with publishers, editors and reporters of the paper.
Although he reportedly started the meeting by airing his list of grievances against the paper, he said he had "tremendous respect" for it but he thought that he had been treated "very rough".
Asked about the First Amendment - the right to free speech - he responded: "I think you'll be happy, I think you'll be happy."
The real estate mogul, who swept to victory thanks to the electoral college system and lost out to Ms Clinton in the popular vote by at least 1.7 million votes, he said he was "never a fan of the electoral college" and would have preferred to have won the popular vote.
Mr Trump has already been criticised for his U-turn on Obamacare - he consistently said he would repeal and replace it - yet he said this month that he would keep certain provisions of the health care scheme in place.
The comments followed his meeting with president Obama at the White House. He said he had spoken to the current president again since the 10 November meeting.
"I didn't know if I'd like him. I probably thought that maybe I wouldn't, but I did. I really enjoyed him a lot."
"He said very nice things after the meeting and I said very nice things about him," he added.
Donald Trump outlines plans for first 100 days in office
His stance on sorting out the "craziness" of fighting in Syria appeared unchanged, although he offered no concrete policies on how that would be achieved.
He also re-iterated his view that he "disavowed and condemned" white supremacists, although he did not offer any condemnation of ultra-conservative Breitbart's coverage of ethnic minorities under the editorship of his chief strategist, Stephen Bannon.
"I've known Steve Bannon a long time," responded the president-elect. "If I thought he was a racist, or alt-right, I wouldn't even think about hiring him."
'Hail Trump, hail our people, hail victory!'
He confirmed that retired general James Mattis was a key pick for defense secretary, and he was surprised that the general was not in favour of waterboarding, unlike he and his sons.
He named Jared Kushner as the top lcandidate to bring peace between Israel and the Palestinians, cementing speculation that he saw his son-in-law as key within his new administration. Mr Trump said he also wanted to play a part in bringing together the two regions.
"I would love to be the one who made peace with Israel and the Palestinians, that would be such a great achievement," he said.
Despite significant softening on his core campaign promises, Mr Trump appeared unlikely to forget the paper's investigative reports about him.
In a parting shot, he said the paper was a "great American world jewel".
"And I hope we can all get along," he said to the staff.
"To me, it would be a great achievement if I could come back here in a year or two years, and have a lot of the folks here say, 'You've done a great job'."
Join our new commenting forum
Join thought-provoking conversations, follow other Independent readers and see their replies