Donald Trump plays 16th round of golf since becoming President just over 11 weeks ago
Mr Trump, who regularly criticised Barack Obama for playing golf, was spotted driving a golf cart and putting on the green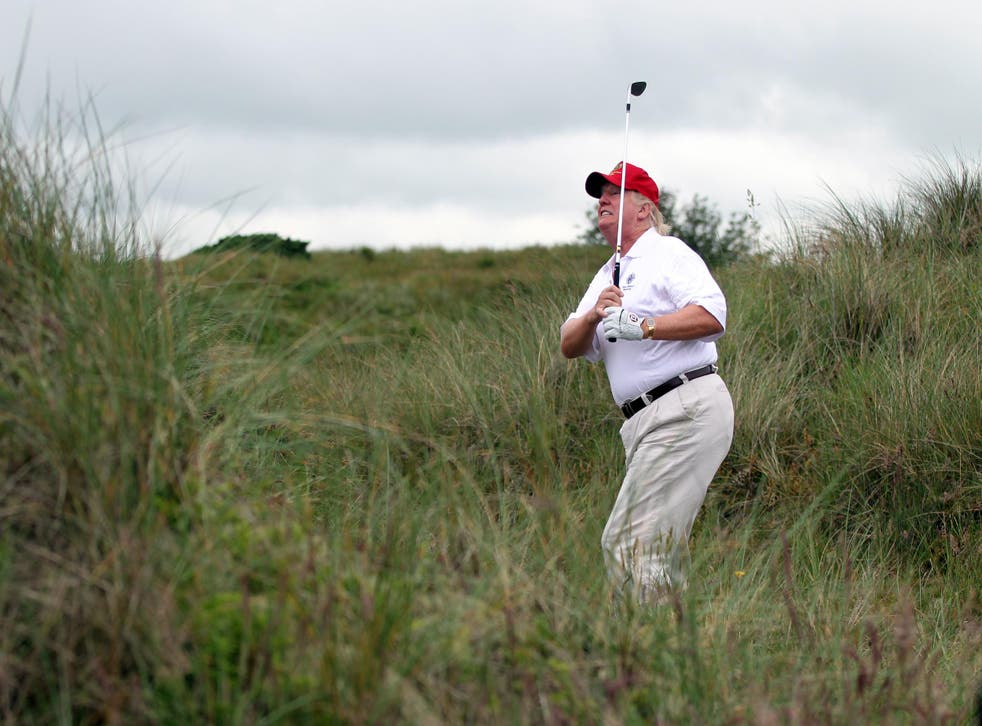 Donald Trump may have frequently rebuked Barack Obama for playing too much golf but he is substantially outpacing his predecessor. The president has made his 16th visit to one of his eponymous golf courses since entering the White House just over 11 weeks ago.
The billionaire was spotted playing golf at his Trump International Golf Course in West Palm Beach in Florida on Sunday for the second day in a row. Mr Trump was spotted driving a golf cart and putting on the green. According to White House pool reports, the president left for the course around 9.30am on Sunday and left at 2.30pm.
The president also travelled to the course for a round of golf on Saturday, with his motorcade driving past protesters brandishing signs outside the course, including one that read "Impeach Trump".
President Obama waited months before playing golf during his tenure. While his predecessor's first documented golf outing was just shy of 100 days into his presidency, Mr Trump is only 79 days into his term and has already been busy teeing off. Although Mr Obama did make up for this later, amassing 333 rounds of golf over his two terms in office, according to Mark Knoller, a CBS News reporter.
Before taking office, Mr Trump regularly rebuked Obama for playing golf and took aim at him for hitting the green in 2013 when he was considering striking Syria for its use of chemical weapons. Mr Trump argued he should have been conferring with lawmakers instead.
"Pres Obama is not busy talking to Congress about Syria.. he is playing golf ... Go figure," he wrote on Twitter.
The controversial orders Donald Trump has already issued

Show all 9
During a campaign rally last year, Mr Trump referred to his golf courses when he criticised Mr Obama.
He said: "You know what – and I love golf – but if I were in the White House, I don't think I'd ever see Turnberry again, I don't think I'd ever see Doral again, I own Doral in Miami, I don't think I'd ever see many of the places that I have.
"I don't ever think that I'd see anything, I just wanna stay in the White House and work my ass off, make great deals, right? Who's gonna leave? I mean, who's gonna leave?"
At times during this presidency, Trump aides have appeared to deliberately conceal whether Mr Trump is actually golfing during his visits to Florida.
Mr Trump, who has teed off with the likes of Japanese Prime Minister Shinzo Abe and champion professionals Rory McIlroy and Tiger Woods, frequently vented his frustrations about Obama's penchant for golf on Twitter over the years.
"Can you believe that, with all of the problems and difficulties facing the U.S., President Obama spent the day playing golf. Worse than Carter," he wrote in October 2014.
The previous month he wrote: "Can you believe we still have not gotten our Marine out of Mexico. He sits in prison while our PRESIDENT plays golf and makes bad decisions!"
Join our new commenting forum
Join thought-provoking conversations, follow other Independent readers and see their replies