Stock markets hit all-time high after President Donald Trump elected
The markets are being buoyed up by Mr Trump's surprise win
Andrew Griffin
Thursday 10 November 2016 15:48 Comments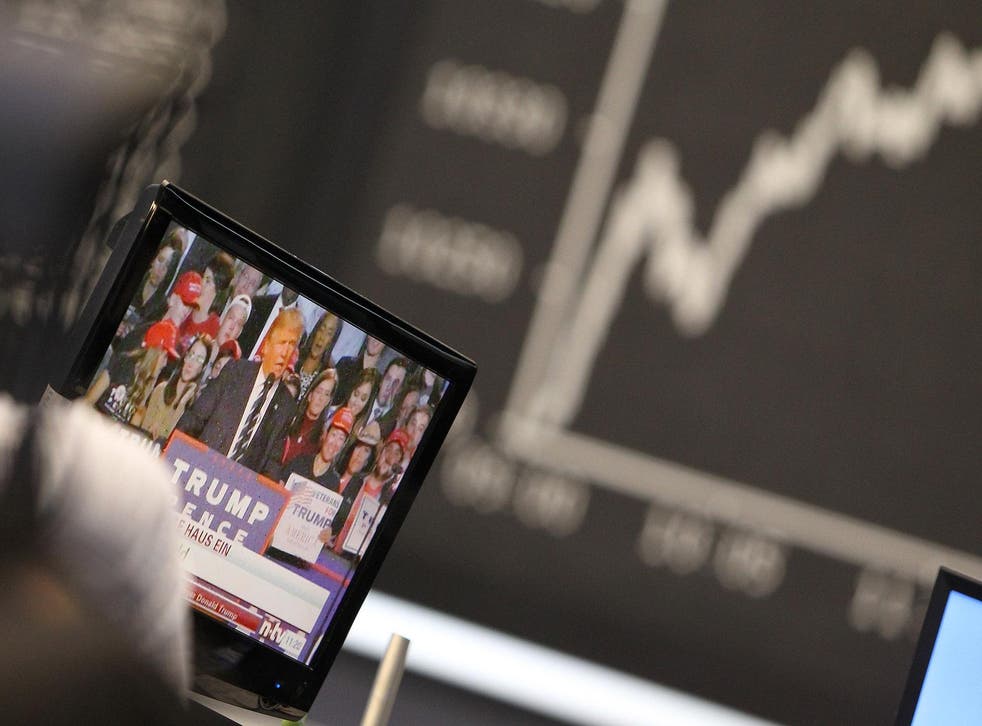 Stock markets have hit all-time highs after the election of Donald Trump.
The Dow Jones Industrial Average, which tracks many of the US's most important stocks, has hit a record high after days of climbing in response to Mr Trump's expected win.
The index climbed around 0.5 per cent on 10 November, the second day after it became clear that Mr Trump would be the new US president. Shares have been surging ever since Mr Trump's win, and the performance was reflected around the world – some specific stocks, like those for companies that build walls, have been doing even better.
US Presidential election: key moments in pictures

Show all 12
The market mood has turned around dramatically since the immediate aftermath of Trump's victory, which prompted widespread selling Wednesday in Asia. On Thursday, Asian shares posted hefty gains as they responded to the optimism recorded in Europe and the U.S. the day before. Japan's benchmark Nikkei 225 index was the standout performer, rocketing 6.7 percent to close at 17,344.42 after sliding more than 5 percent the day before.
As well as taking comfort from Trump's comments that he will look to unify a deeply divided nation, investors are focusing on his promises to boost U.S. economic growth through infrastructure spending and by cutting red tape, rather than uncertainties such as what he might do with trade agreements.
Before Trump's victory speech, investors had been worried because his campaign promises carried few policy details, making him an unknown quantity compared with his rival, Hillary Clinton, who was seen as a safe choice.
Additional reporting by agencies
Register for free to continue reading
Registration is a free and easy way to support our truly independent journalism
By registering, you will also enjoy limited access to Premium articles, exclusive newsletters, commenting, and virtual events with our leading journalists
Already have an account? sign in
Join our new commenting forum
Join thought-provoking conversations, follow other Independent readers and see their replies