Donald Trump maintains direct ties to business empire, documents show
The President is the sole beneficiary of the Donald J Trump Revocable Trust
Rachael Revesz
New York
Saturday 04 February 2017 23:15 Comments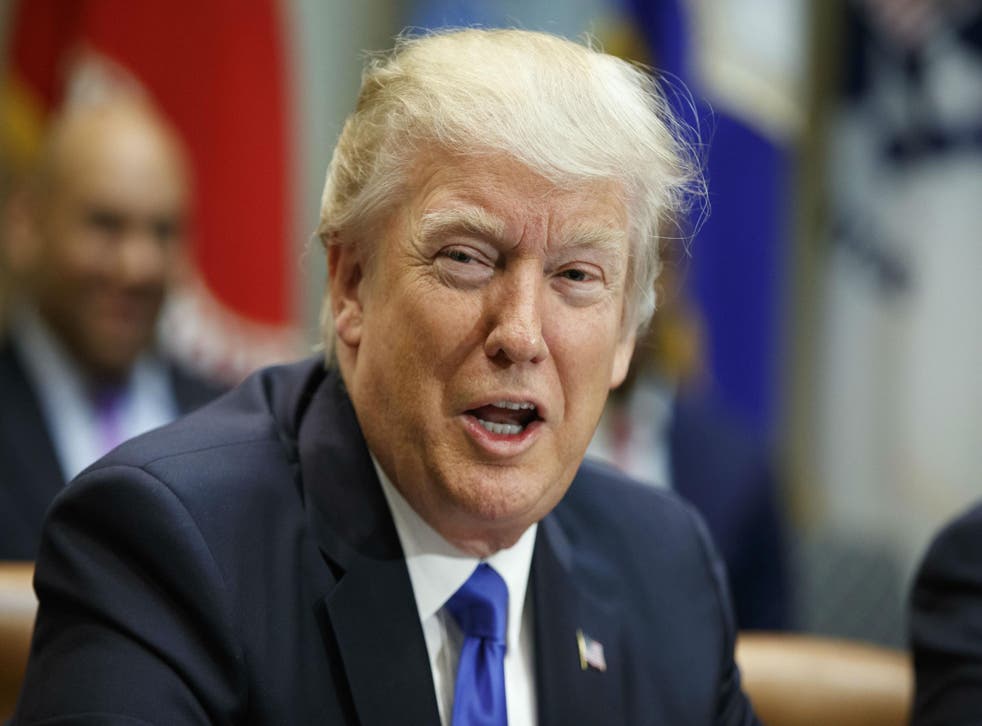 Donald Trump maintains direct ties to his corporate empire whilst he is President, according to new documents which show he is the sole beneficiary of a revocable trust run by his children and a longtime executive.
The Donald J Trump Revocable Trust is tied to the President's social security number as the taxpayer identification number, according to documents published by investigative nonprofit ProPublica. The trust is run by his two eldest sons and the Trump Organisation chief financial officer Allen Weisselberg.
The trust was last amended a few days before his Inauguration, and provisions can be changed or deleted by the trustees whenever they wish.
The trust holds an alcohol licence for the Trump Organisation's new hotel in the old Post Office in Washington DC. Yet a provision in that lease, signed in 2013, prohibits an elected official from benefiting from the federally owned building.
The White House could not be reached for comment.
The revocable trust contains cash from his diluted stock investments as well as physical real estate like his "winter White House", the Mar-a-Lago estate in Florida, and branding rights.
The trust confirms what Mr Trump himself and his lawyer, Sheri Dillon, outlined at a press conference before his Inauguration on 11 January.
He said then that he was fully divesting from his businesses even though he could run the country and his businesses "perfectly" as President. At the press conference, he pointed to a large pile of papers to prove he was stepping away from his empire.
The papers were later discovered to be blank and were used as a prop for the speech.
Trump's lawyer says he is 'completely isolating' himself from his business
He has already come under fire for using his new hotel in the capital to host and entertain a group of foreign diplomats, who could arguably be paying for a hotel room in order to get access to the President.
Previous ethics lawyers for Barack Obama and George W Bush filed a lawsuit alleging that the President had violated a constitutional ban on the White House leader profiting from foreign governments.
They argued he should have liquidated all his businesses and put the assets in a blind trust, and expressed concern that he had hired his son in law, Jared Kushner, as an adviser.
Donald Trump points to business papers that appear to be blank
His sons, Donald Trump Jr and Eric Trump, have appeared at the White House after the Inauguration. They were put in charge of managing the Trump Organisation while their father was in office.
Eric Trump also cost taxpayers close to $100,000 for security costs when he travelled to Uruguay for a business trip.
The President's cabinet picks adhere to stricter rules about their finances. His secretary of state Rex Tillerson was required to sell off his company shares and have a third party manage the cash.
Vincent Viola, the billionaire Wall Street trader and Mr Trump's pick for army secretary, pulled out of the running as he said it would be too difficult to divest from his business.
The top ranking Democrat in the bipartisan Committee on Oversight and Government Reform, has repeatedly questioned the President's potential conflicts of interests and has pushed for an investigation. The chairman of the committee, Republican Jason Chaffetz, has instead been pushing to investigate Hillary Clinton's emails.
"This legal concoction from President Trump's lawyers does nothing to address his conflicts of interest or the breach of the lease for his hotel," said Mr Cummings in a statement.
Register for free to continue reading
Registration is a free and easy way to support our truly independent journalism
By registering, you will also enjoy limited access to Premium articles, exclusive newsletters, commenting, and virtual events with our leading journalists
Already have an account? sign in
Join our new commenting forum
Join thought-provoking conversations, follow other Independent readers and see their replies