San Juan mayor outperforming Trump in Time's Person of the Year poll
Carmen Yulin Cruz, who had a public spat with the US president in the wake of Hurricane Maria, has garnered 31 per cent of the vote so far while Mr Trump has just 29 per cent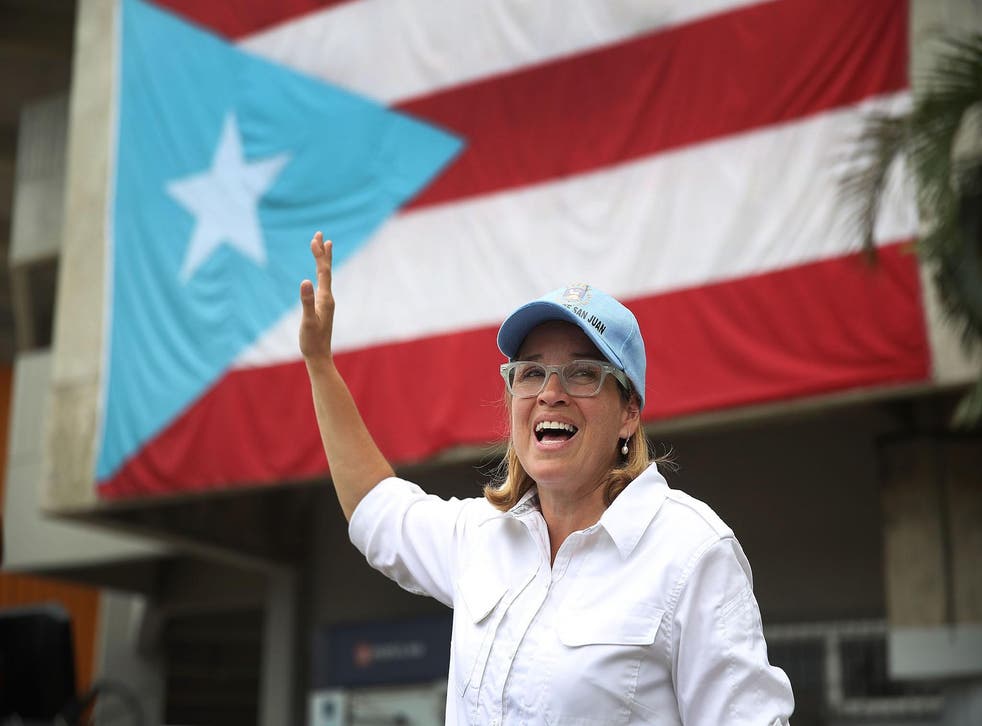 The mayor of the Puerto Rican capital is surpassing Donald Trump in early polling for Time's Person of the Year in the wake of the humanitarian crisis which has devastated the island.
Hurricane Maria's 140mph winds and torrential rain wreaked chaos in the Carribean US territory in the middle of September. The island's already fragile infrastructure was left in tatters with nearly 90 per cent of the island without electricity more than three weeks later.
San Juan's Mayor Carmen Yulin Cruz has garnered 31 per cent of the vote thus far while President Trump – who was named as Time's Person of the year in 2016 - has just 29 per cent.
Taylor Swift has also outstripped the US president and is currently on 33 per cent. The "Me too" campaign, a hashtag which emerged to expose and condemn sexual assault, has 39 per cent, and German Chancellor Angela Merkel is on 11 per cent.
The reader's choice survey will close on 3 December and be revealed days later on 6 December.
President Trump thanked Time for bestowing him with the accolade at the time but also lashed out at the magazine's decision to paint him as a divisive figure by referring to him as the "President of the Divided State of America" on the front cover.
"When you say divided states of America, I didn't divide them. They're divided now. I mean, there's a lot of division," the world leader, who previously predicted he would never win the title, said.
Protest in Manila against Donald Trump's visit to the Philippines

Show all 14
Ms Yulin Cruz rose to fame for her war of words with President Trump in the wake of the category 4 storm which left almost all of the island's 3.5 million residents living without power. Days after the hurricane, Ms Yulin Cruz issued an emotionally charged appeal to the Trump administration for more help and argued the unravelling crisis was akin to genocide.
She said: "We are dying here ... So, Mr Trump, I am begging you to take charge and save lives."
Mr Trump launched into one of his Twitter tirades shortly afterwards, citing her "poor leadership ability" for the devastation in the country and claiming the Democratic party told Ms Yulin Cruz to be nasty to him. She responded by wearing a t-shirt with the word "nasty" emblazoned on it.
Ms Yulin Cruz, who has also worn a t-shirt saying "Help us, we are dying", has now said the actual number of deaths could be as high as 500. This is radically higher than the official toll of just 54.
Puerto Rico Mayor rebukes Trump for calling her nasty by wearing 'Nasty' t-shirt on TV
President Trump's visit to the island last month was dominated by a slew of controversies. The billionaire was widely criticised after he tossed packs of paper towels at residents, insulted local leaders and suggested the hurricane was not a "real catastrophe".
"He arrives with a smile on his face, makes fun of the situation, shows no empathy, lies and lies on camera as he does 24/7. And then throws paper towel rolls to people in need as if he was playing Go Fetch with dogs," Joel Isaac, a Puerto Rican who moved to New York in 2014, told The Toronto Star.
Protesters marched along Washington DC's National Mall on Sunday in an effort to shed light on the humanitarian crisis which has unravelled in Puerto Rico.
"The Unity for Puerto Rico March" called for the 1920 law known as the Jones Act, which instructs American ships to distribute all its goods, to be updated.
Illinois representative Luis Gutierrez said Puerto Rico had been bitterly neglected, claiming it was "one of the gravest injustices" he had witnessed since coming to Washington as a congressman.
He also took aim at President Trump for the hurricane aid package he has recently unveiled which secures $44 billion but has been criticised by lawmakers for being too low. Mr Gutierrez condemned President Trump for not serving in the military unlike many Puerto Ricans who have taken part in every major US military engagement from World War I onwards.
He said: "We have a president of the United States who on four occasion ... said, 'My foot hurts, I cannot serve'. But he was able to take those feet to every golf course all over the world and walk on them."
This is a reference to President Trump receiving four student deferments from serving in the Vietnam war.
He said: "Well, let me just say to the President of the United States each and every time an airplane showed up in World War II, Korea, Vietnam, you filled it with Puerto Ricans and they said 'Presente!'"
Join our new commenting forum
Join thought-provoking conversations, follow other Independent readers and see their replies