Donald Trump was 'obsessed with translator's breasts' during Shinzo Abe visit
Magazine editor Graydon Carter makes the allegation in the latest issue of Vanity Fair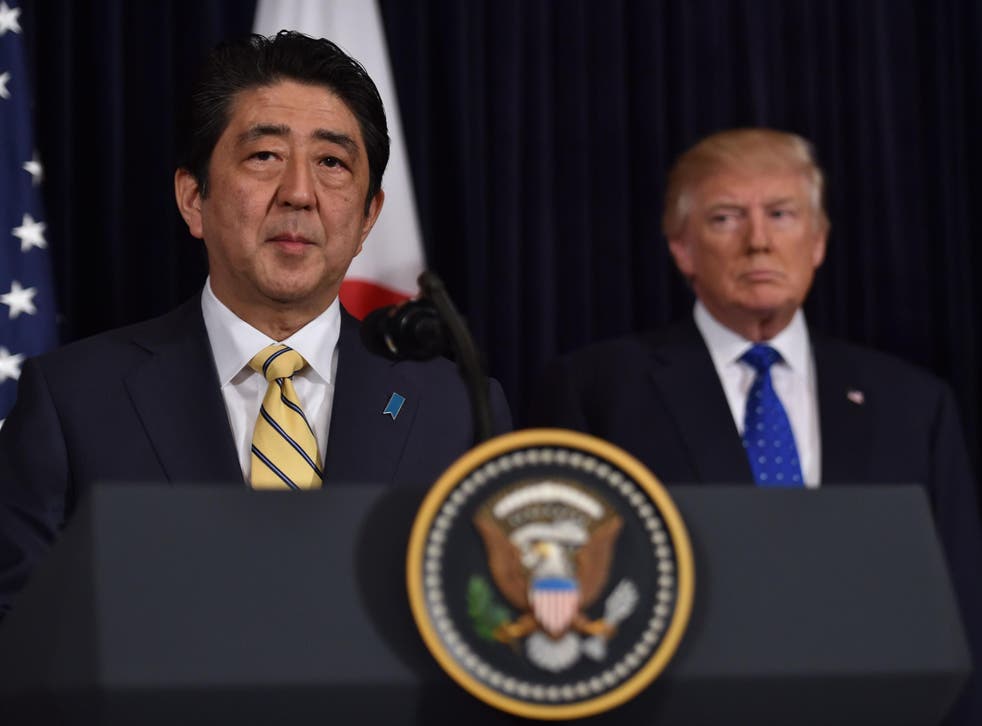 Donald Trump found it difficult to concentrate during a visit from Japanese Prime Minister Shinzo Abe because he was "obsessed with the translator's breasts", according to the editor-in-chief of Vanity Fair magazine.
Graydon Carter claimed a source told him the US President admitted he was preoccupied with the woman during Mr Abe's stay in Washington DC and visit to Mr Trump's Mar-a-Lago resort in Florida last month.
During the visit in February, it was reported Trump crafted his response to a North Korean ballistic missile test in the crowded dining room off the club. It was the test of President Trump's vow to get tough on isolated North Korea, which tested nuclear devices and ballistic missiles last year at an unprecedented rate.
"The president told an acquaintance that he was obsessed with the translator's breasts," Mr Carter wrote in his latest editor's letter for the magazine.
He added that Mr Trump had "expressed this in his own, fragrant fashion."
Read more
In an email to the New York Daily News, Mr Carter insisted that he had a credible source for his remarks, but declined to elaborate further.
Mr Carter has an ongoing feud with Mr Trump and has used all of his editor's letters to attack the President since he was elected.
His headlines have included: "Donald Trump: A Pillar of Ignorance and Certitude"; "Trump's White House: The Gang That Couldn't Shoot Straight"; and the most recent one, containing the allegations about the translator is entitled: "The Trump Presidency Is Already A Joke."
The US leader lashed out against the magazine in December after it published a review of his Trump Tower steakhouse which said it could be the worst restaurant in America.
Taking to Twitter within hours of its publication, he wrote: "Has anyone looked at the really poor numbers of @VanityFair Magazine. Way down, big trouble, dead! Graydon Carter, no talent, will be out!"
After his outburst, the magazine's subscriptions increased, according to circulation statistics.
Mimicking Mr Trump's style on the social media site, Vanity Fair tweeted: "Vanity Fair: Way up, big success, alive! Subscribe today!"
Mr Trump suffered a series of set backs in understanding Mr Abe during his visit.
At a joint news conference with his Japanese counterpart the US leader was caught not using his translation earpiece and was instead forced to smile, nod along, and take cues from members of the audience who could understand what Mr Abe was saying.
Join our new commenting forum
Join thought-provoking conversations, follow other Independent readers and see their replies