Trump administration threatens dissenting government officials: 'Get with the programme, or go'
Press Secretary Sean Spicer said that officials who have a 'problem' with agenda,  'calls into question whether they should continue in that post'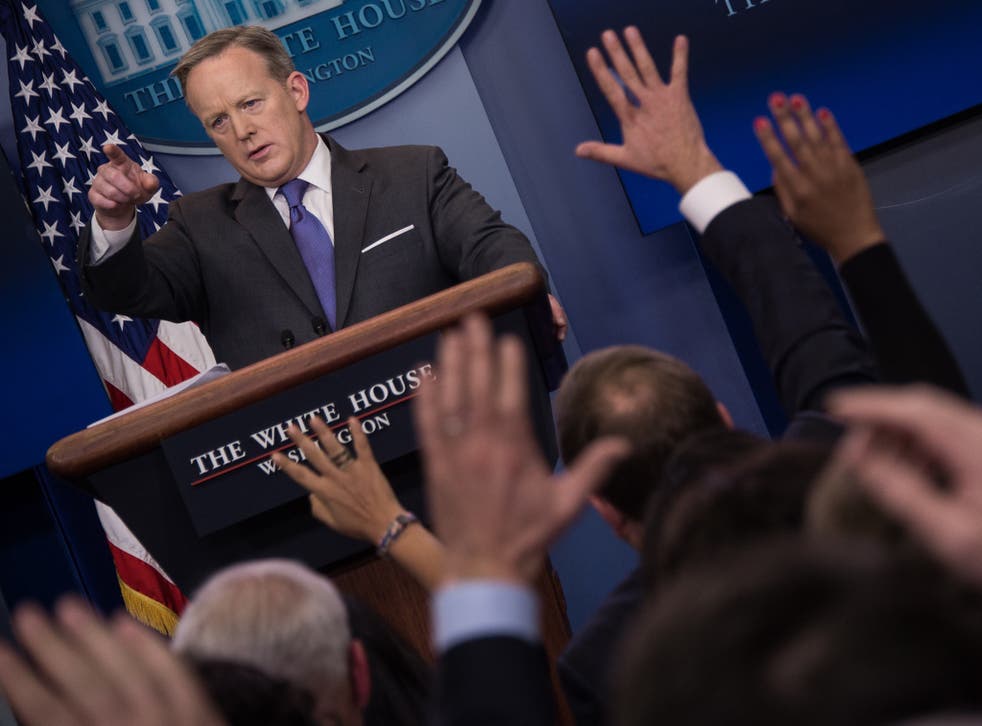 Career diplomats can pack up and go home if they do not agree with the President's policies, White House Press Secretary Sean Spicer declared in an afternoon briefing.
Responding to a draft memo circulated by dozens of global US diplomats, outraged by President Donald Trump's travel ban, Mr Spicer hinted at an apparent showdown between the State Department and the White House.
"Obviously we're aware of the [dissent memo], but I think that any government official who doesn't understand the President's goals in this and exactly what it was," he told reporters, "they should either get with the programme or they can go."
He explained that the executive order that bans travel for people from seven Muslim-majority countries was instituted to protect Americans. But the order sparked an outcry of thousands across the country, who took to the streets in protest.
And the US' international diplomats lambasted the order, stating that it is not only contrary to American values, but will also hamper counter-terrorism efforts.
"This ban … will not achieve its stated aim to protect the American people from terrorist attacks by foreign nationals admitted to the United States," the draft reads.
It adds: "[The ban] will immediately sour relations with these … countries, as well as much of the Muslim world, which sees the ban as religiously motivated."
The controversial orders Donald Trump has already issued

Show all 9
Still, Mr Spicer defended the executive order and said that Mr Trump will continue to implement policies that "are in the best interest of protecting this country prospectively, not reactively".
"And if somebody has a problem with that agenda," he said, "that does call into question whether or not they should continue in that post."
Former President Barack Obama issued a sharp criticism of Mr Trump's executive order, where he championed protesters for speaking out against the apparent threat to American values.
Protests across American airports in response to Trump's immigration ban
"Citizens exercising their Constitutional right to assemble, organise and have their voices heard by their elected officials is exactly what we expect to see when American values are at stake," a statement from Mr Obama's spokesperson said.
"With regard to comparisons to President Obama's foreign policy decisions, as we've heard before," the statement adds, "the President fundamentally disagrees with the notion of discriminating against individuals because of their faith."
The draft memo would be the first official criticism from a US agency in the second week of his presidency.
There appeared to be a dust up from within the National Park Service early last week when Badlands National Park tweeted facts about global warming. The tweet came as the Trump administration placed a gag order on the Environmental Protection Agency, preventing officials from posting to social media.
"Today, the amount of carbon dioxide in the atmosphere is higher than at any time in the last 650,000 years," one tweet read. That and three others with a similar message were deleted shortly after.
An NPS official told the Washington Post that the tweets were believed to have come from a former employee who still had access to the Twitter account.
The tweets "were posted by a former employee who was not currently authorised to use the park's account," the official said. "The park was not told to remove the tweets, but chose to do so when they realised that their account had been compromised."