Trump attacks press coverage of Puerto Rico trip from 'out of control' media
The death toll of Hurricane Maria and its aftermath has risen to 34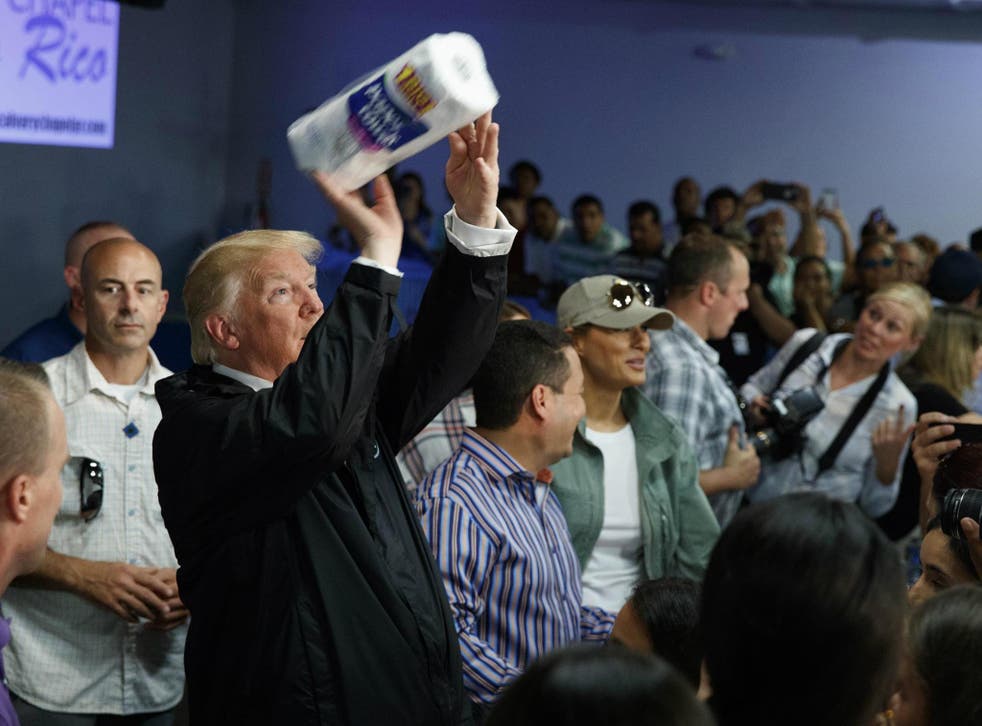 Donald Trump has hit out at coverage of his trip to Puerto Rico, condemning the media as "fake news" and "out of control".
The President was on the island US territory in the wake of Hurricane Maria, where 34 people have been reported as dead.
Mr Trump held a rally-type of event during which he praised the Federal Emergency Management Agency (FEMA), US military, and other first responders for their efforts after a weekend of slamming the mayor of San Juan Carmen Yulin Cruz.
It is unclear exactly what aspect of the media's coverage of the Puerto Rico trip he is criticising.
"No matter what I do or say, they will not write or speak the truth," Mr Trump tweeted early Wednesday morning.
Ms Yulin Cruz had said the federal government's response to Hurricanes Harvey in Texas and Irma in Florida was far more than it has been for Puerto Rican residents, who are also American citizens.
In an emotional moment, she also said Acting Director of Department of Homeland Security Elaine Duke's claims that the narrative of relief work being done was a "good news story" was "irresponsible."
"Maybe from where she's standing it's a good news story, but when you're drinking from a creek, when you don't have food for a baby, it's not a good news story," Ms Yulin Cruz said at the verge of tears on CNN, adding that distribution of aid supplies on the island has been difficult and hampered by bureaucracy.
Mr Trump responded in his preferred venue of Twitter and said once again that "fake news" was to blame for not covering the efforts of American first responders.
He also said that "the Mayor of San Juan, who was very complimentary only a few days ago, has now been told by the Democrats that you must be nasty to Trump," downplaying her plea for food, water, and medical help for much of the island 3.4 million residents who remain without power.
The pair came face-to-face during Mr Trump's visit yesterday after Ms Yulin Cruz was invited to sit in on a White House conference call but told she would not be allowed to speak. She was not briefed by administration officials on the president's plans during his visit either, she told The Independent.
Ms Yulin Cruz said about meeting the president that his style of communicating "gets in the way," according to the New York Times.
Mr Trump may have also been saying the media was biased against him because several outlets have called his visit to a relief distribution centre in Guaynabo, Puerto Rico as "peculiar" and the backlash he faced on social media as a result.
The president is no stranger to criticising the Fourth Estate, having called several outlets like the New York Times and CNN "fake" on several occasions and Buzzfeed News a "steaming pile of garbage".
His tweets regarding the media coverage of his Puerto Rico trip also included a relaying of his comment that the island should "very proud" their death toll was, at the time, only 16 and not closer to the 1,833 who died in 2005 in Hurricane Katrina.
He also said that the money spent on Puerto Rico relief had "thrown our budget a little of whack, because we have spent a lot of money on Puerto Rico, and that's fine."
Puerto Rico declared bankruptcy in May 2017, but the harsh criticism Mr Trump received about the comment was what many perceived was an insensitive comment during a tragedy. He also did not make similar comments to the governors of Texas or Florida in the wake of those states' natural disasters.
Join our new commenting forum
Join thought-provoking conversations, follow other Independent readers and see their replies