China's 'Black Monday' wipes hundreds of billions off world markets in a single day
The spiral comes amid mounting concern about China's economy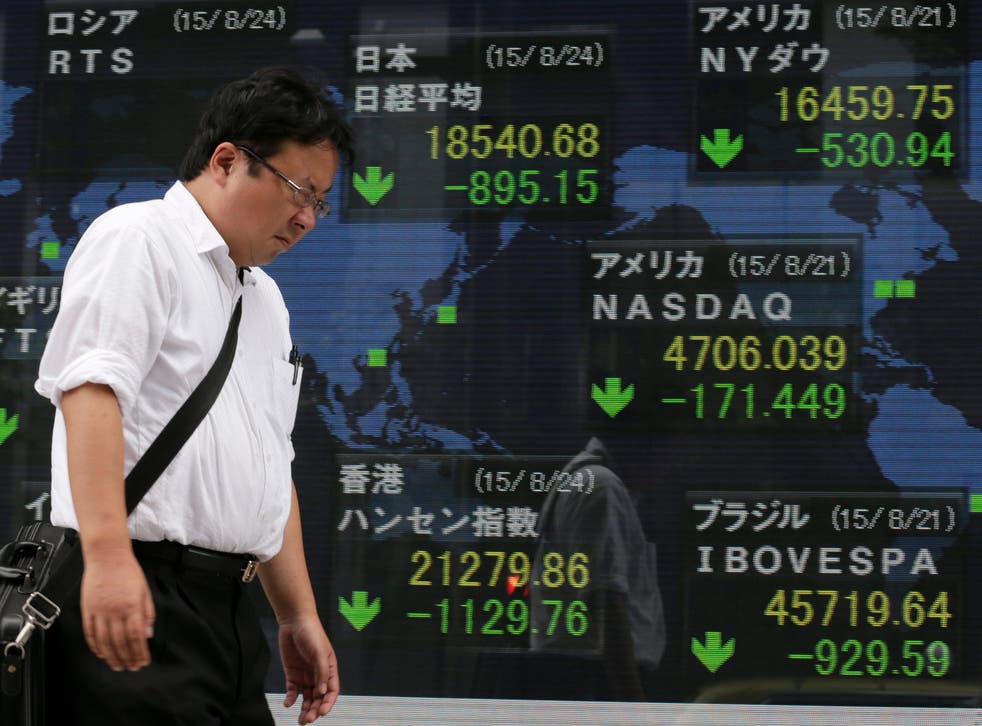 Investors around the world watched in dizzying horror as China's "Black Monday" sparked global losses that wiped hundreds of billions of dollars off world markets.
Fears about the Chinese economy triggered yet another wave of equity sell-offs all around the globe, shaving an additional 4.2 per cent from the FTSE 100 index in London and prompting markets in New York to gyrate dangerously for a third session in a row.
A total of £73.75bn was wiped off the FTSE 100 as a result of Monday's falls.
After the opening bell, the Dow Jones blue chip index was briefly off by a shocking 1,000 points, in an almost panicked reaction to giant losses that by then had already struck stock markets first across Asia and then in Europe.
By close, most US stocks clawed back some of their losses but the market still finished 588 points down, hitting an 18-month low. Attention will now turn again to China when markets reopen on Tuesday morning.
The plunge came amid continuing anxiety about the Chinese government's ability to respond to its economic weaknesses. China's main index sank 8.5 per cent and Xinhua, the official Chinese news agency, called it "Black Monday".
Oil prices, commodities and the currencies of many developing countries also tumbled on concerns that a sharp slowdown in China might hurt economic growth around the globe, the Associated Press reported.
At the White House, spokesman Josh Earnest played down the significance of the market sell-off.
"There is no doubt the global economy is more interconnected that it ever has been," he said, but added, "I would encourage people to evaluate the ongoing strength and resilience of the US economy."
Highlighting the falling unemployment rate, he drew a distinction with 2008 and the start of the Great Recession. "The US economy is far stronger than it was in 2008."
The Shanghai index suffered its biggest percentage decline since February 2007, with many China-listed companies hitting their 10 per cent downside limits. The benchmark has lost all of its gains for 2015, though it is still more than 40 per cent above its level a year ago.
The sell-off intensified as European markets opened, where Britain's FTSE 100 was down 4.4 per cent, Germany's DAX 4.8 per cent and the CAC 40 of France 5.1 per cent. Dow futures were down over 4 percent while the S&P futures were 3.6 per cent lower.
Larry Summers, the former US Treasury Secretary, took to social media to add his concern about the situation and called on the Federal Reserve to abstain from a September interest rate hike.
"As in August 1997, 1998, 2007 and 2008 we could be in the early stage of a very serious situation," he wrote on Twitter.
The drubbing taken by shares, gouging personal savings portfolios of ordinary investors and stripping value from listed companies, meanwhile saw a rush of money to safer havens, notably US government bonds, known as Treasuries. On Monday, £73.75bn billion was wiped from the FTSE 100 in London.
The fire was fueled because of disappointment that authorities in China had taken no measures during the weekend to staunch the blood-letting and protect its currency as some had expected.
To an extent, word from the Federal Reserve that it was finally preparing to tighten monetary policy in September had already set the stage for a slackening of share values in the US. Consistently low interest rates since the Great Recession have arguably maintained an almost artificial appetite for shares.
But clearly now it has become a China contagion, with investors becoming increasingly uncertain that Beijing has the capacity to manage a slow-down in economic growth.
Those fears came into sharp relief two weeks ago, when the Chinese government announced a devaluation in its currency. Some saw in that move a message that the Chinese economy was actually in worse shape than had been realized.
Eric Chaney, AXA Group Chief Economist, saw over-reaction in the markets "panicking at the idea that there might be no pilot in the Chinese plane."
Join our new commenting forum
Join thought-provoking conversations, follow other Independent readers and see their replies