The barber who gives free hair cuts to children - as long as they are reading
Courtney Holmes' offer is part of a community youth project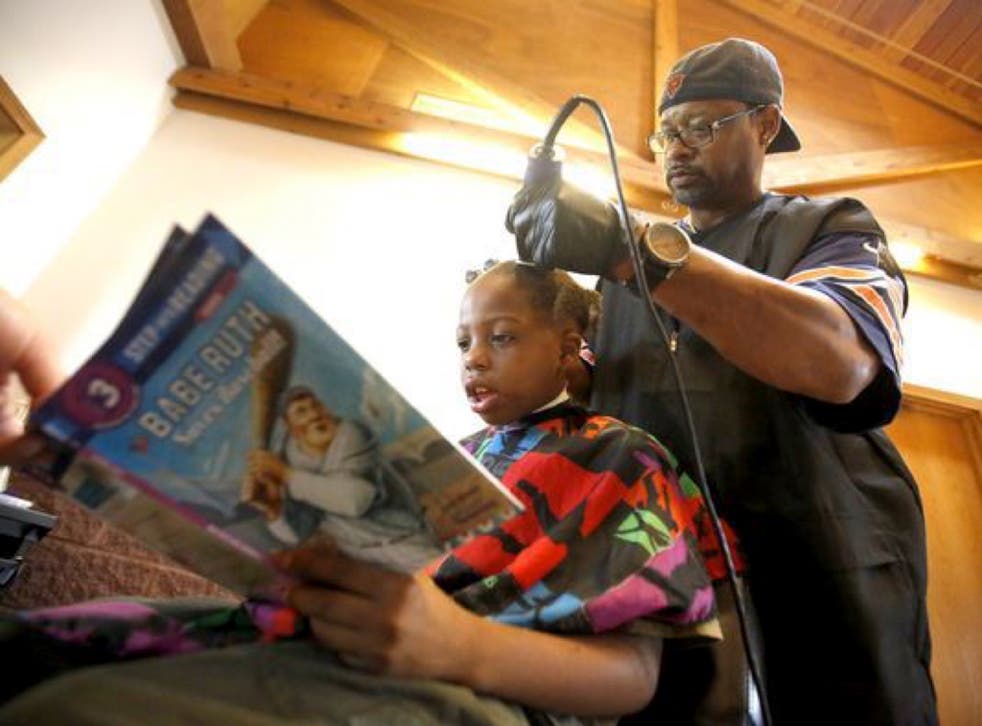 A buzz-cut, a fade, or something more spiky?
Barber Courtney Holmes delivered them all, as he seamlessly wielded his clippers over the unkempt heads of the boys who entered his Iowa shop.
This week, Mr Holmes has been offering Dubuque youngsters a free cut as part of a local back-to-school initiative. But there's a catch: as he gets busy with their hair, they have to read to him from a book.
"The only book I read as a child was the Bible, and the books we had at school. I was not a kid that got read to at an early age," Mr Holmes, 45, told The Independent.
"I have a two-year-old and a three-year-old. I read them a story every night. But 50 per cent of these kids are struggling to read."
As part of a local back-to-school initiative, Mr Holmes took off last Saturday from his job at the Spark Family Hair Salon and agreed to work for free. The books were provided by the St Mark Youth Enrichment, a local youth programme, had provided the book for the event.
Mr Holmes said he let the children pick what book they wanted to read, helped them with any words they struggled over and then discussed the book with them once he had completed their cut.
He cut the hair of 15 children last Saturday and has agreed to do the hair of another seven youngsters next week. "I did one mohawk and one fade, but most of them were pretty simple cuts,"he added.
As he trimmed Jeremiah Reddick's hair, the nine-year-old had read to him from a book about baseball legend Babe Ruth, the Telegraph Herald newspaper reported.
Meanwhile, nine-year-old Tayshawn Kirby read from Fats, Oils and Sweets, by Carol Parenzan Smalley, telling the barber that the average person eats 150 lbs of sugar each year. His brother, 10-year-old Titan Feeney, then took his turn in the barber's chair.
"It's great. All the kids, they want to have a good haircut to go back to school," said Caitlin Daniels of the Community Foundation of Greater Dubuque. "They're paying through reading."
Mr Holmes said he has been discussing turning the idea into a regular monthly event.
He said: "I want to start something that will help with their literacy. I want to put a book in their hands, rather than have them in front of a computer
Join our new commenting forum
Join thought-provoking conversations, follow other Independent readers and see their replies