El Chapo: Mexican drug lord struggling to pay legal fees, says lawyer
Joaquin Guzman 'wants to go to trial,' defence attorney says. 'He's not interested in cooperating. He's not interested in cutting a deal'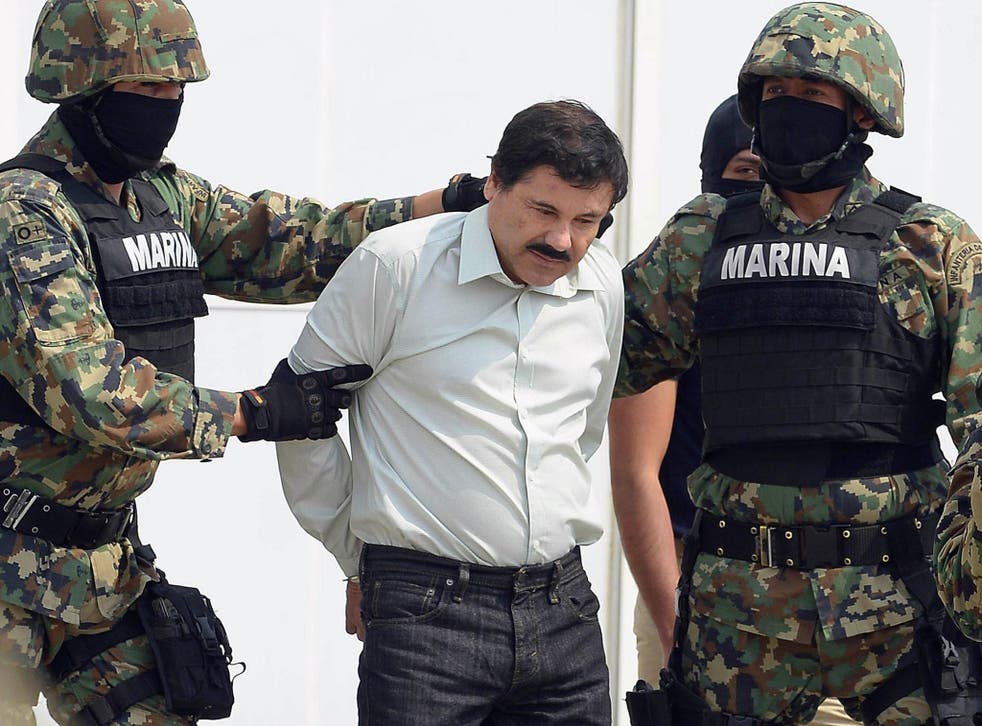 The accused Mexican drug lord known as "El Chapo" is struggling to pay his legal fees, his lawyer has said.
Joaquin Guzman is eager to address the court directly in order to tell his family to pay his fees, Eduardo Balarezo told a hearing at a Brooklyn federal court.
Guzman is accused of running a global cocaine, heroin and methamphetamine smuggling operation as the leader of the Sinaloa Cartel and playing a central role in a decade-long Mexican drug war where more than 100,000 people have died.
Mr Balarezo said Guzman wanted to knock down any speculation he might plead guilty and cooperate with American authorities.
He "wants to go to trial," his lawyer said. "He's not interested in cooperating. He's not interested in cutting a deal."
Mr Balarezo also renewed complaints about conditions at the Manhattan jail where Guzman is being held in solitary confinement.
The Manhattan cell where Guzman spends 23 hours a day "is either too hot or too cold," Mr Balarezo said, adding that his client suffers "constant headaches."
At the hearing, US District Judge Brian Cogan denied Guzman's request to speak in open court about the case after prosecutors expressed concerns he could be trying to send messages to his cohorts.
Mexican Government release video documenting El Chapo's capture
The judge said in the future he would need to be notified in advance on what Guzman wanted to talk about before he could speak.
Mr Balarezo told reporters outside the courthouse following the hearing he had been paid part of his fee by some "friends" of Guzman, but Guzman had so far been unable to instruct his family about further payments.
Earlier this month, the judge agreed to withhold the names of jurors at the trial to address any fears that they could be harassed or intimidated. Jurors also will be escorted to and from the courthouse by deputy US marshals and sequestered from the public while inside.
Prosecutors offered "strong and credible reasons" why the jury needs protection, including Guzman's use of sicarios, or hitmen, to carry out thousands of acts of violence over more than two decades, the judge wrote in an order.
In the past, Guzman used his connections to continue to run his drug empire from behind bars, prosecutors said.
Inside Mexico's top drug lord El Chapo's hideout

Show all 4
Mexican authorities captured Guzman and an associate in January 2016 by pulling over a Ford Focus they had stolen, after Guzman had fled through tunnels and drains from a raid on a safe house in northwest Mexico.
Six months earlier, Guzman had escaped through mile-long a tunnel dug to the shower in his cell in a high-security Mexican prison.
He was extradited to the United States in January 2017. If convicted, he could face life in prison.
Additional reporting by agencies
Register for free to continue reading
Registration is a free and easy way to support our truly independent journalism
By registering, you will also enjoy limited access to Premium articles, exclusive newsletters, commenting, and virtual events with our leading journalists
Already have an account? sign in
Register for free to continue reading
Registration is a free and easy way to support our truly independent journalism
By registering, you will also enjoy limited access to Premium articles, exclusive newsletters, commenting, and virtual events with our leading journalists
Already have an account? sign in
Join our new commenting forum
Join thought-provoking conversations, follow other Independent readers and see their replies