El Salvador proposes 50 year jail terms for women who have an abortion
The Latin American nation already has some of the strictest reproductive rights regulations in the world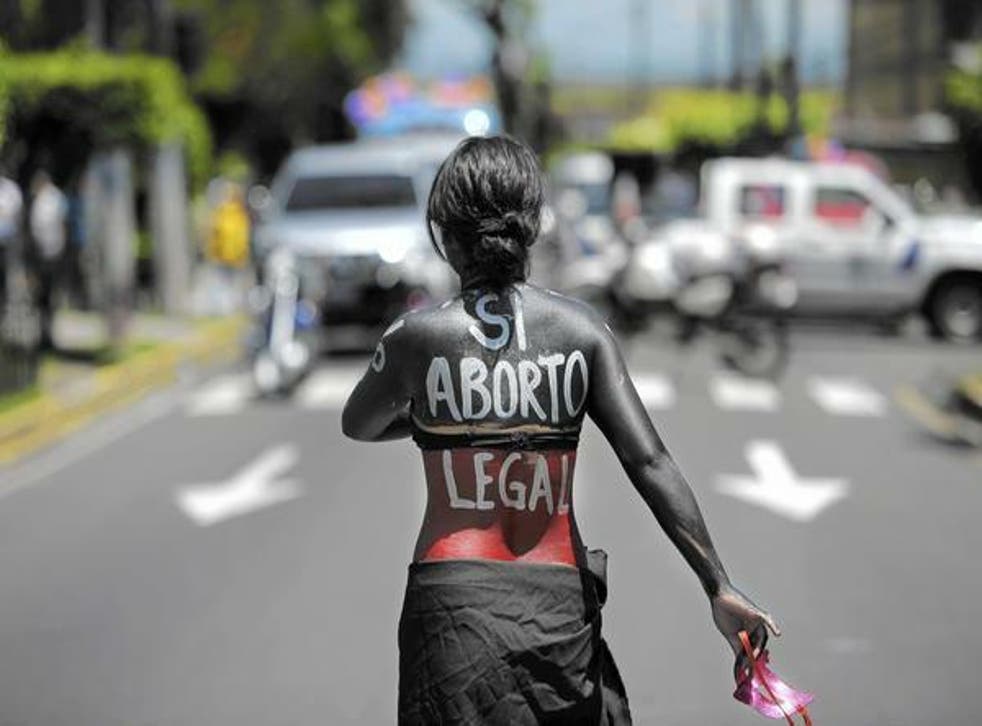 Campaigners have condemned a proposal from politicians in El Salvador that would send women to jail for up to 50 years for having an abortion.
The Latin American country already has perhaps the toughest rules in the world surrounding reproductive rights. Abortion is illegal there under any circumstances - there are no exceptions for rape, incest or the health of the mother, and women are aggressively pursued by prosecutors.
Around 25 women are currently in jail for terms of up to 30 years after being accused of trying to terminate their pregnancies. Many of them said they simply suffered a miscarriage.
Now, politicians from a conservative opposition party, the Nationalist Republican Alliance (Arena) have submitted a motion to reform article 133 of the penal code, which stipulates the penalty for women who cause or consent to an abortion.
At the moment sentences range to eight years, but the proposal calls to increase it to minimum of 30 years and a maximum of 50 years. This is equivalent to the sentence in the country for aggravated murder with extreme cruelty.
"The Penal Code does not harmonise with the protection of life from the moment of conception, violating the constitution and the principles of equality and proportionality of the protected penalty," Arena said in its proposal, according to the EFE news agency.
Salvadorean activist gives her thoughts on Donald Trump
The country's top law official, Attorney General Douglas Melendez, told reporters while visiting Washington that he had asked for a review of the laws surrounding abortion but did not specify whether he supported increasing the penalties.
Campaigners have hit out at the proposal, saying it would make worse a situation that was already very difficult for women.
"Parliamentarians in El Salvador are playing a very dangerous game with the lives of millions of women," said Erika Guevara-Rosas, Americas Director at Amnesty International.
"Banning life-saving abortions in all circumstances is atrocious but seeking to raise jail terms for women who seek an abortion or those who provide support is simply despicable."
The state of reproductive rights in El Salvador, a staunchly Catholic Central American country of around six million people, was not always so dire. Prior to 1998, abortion was permitted in cases of rape, incest, where a foetus was injured or if the life of the woman was in danger.
Yet that year, amid pressure from religious conservatives and the powerful church, the law was changed to remove any exceptions whatsoever. It is estimated that between 1998 and 2013, more than 600 women have been jailed for up to 40 years after being accused of having had an abortion.
Morena Herrera, a former left-wing guerrilla who fought against government forces in a civil war that left up to 70,000 people dead, currently leads the fight for reproductive rights as head of the Citizen's Group for the Decriminalisation of Abortion.
"The problem is the lack of awareness about what reproductive rights are, and because of this the [impression] for the majority of women is that they are here just to be mothers," she recently told The Independent. "For example, right now, the huge number of teenage pregnancies is brutal. A third of all births come from teenage mothers."
In May, in a rare victory for campaigners, a court released one prisoner, Maria Teresa, who had been jailed for 40 years after suffering a miscarriage, but who was convicted of murdering her foetus.
Join our new commenting forum
Join thought-provoking conversations, follow other Independent readers and see their replies