F-22: America's $67 billion weapon of war spearheading fight against Isis
The  F-22 Raptor made its combat debut in Syria air strikes this week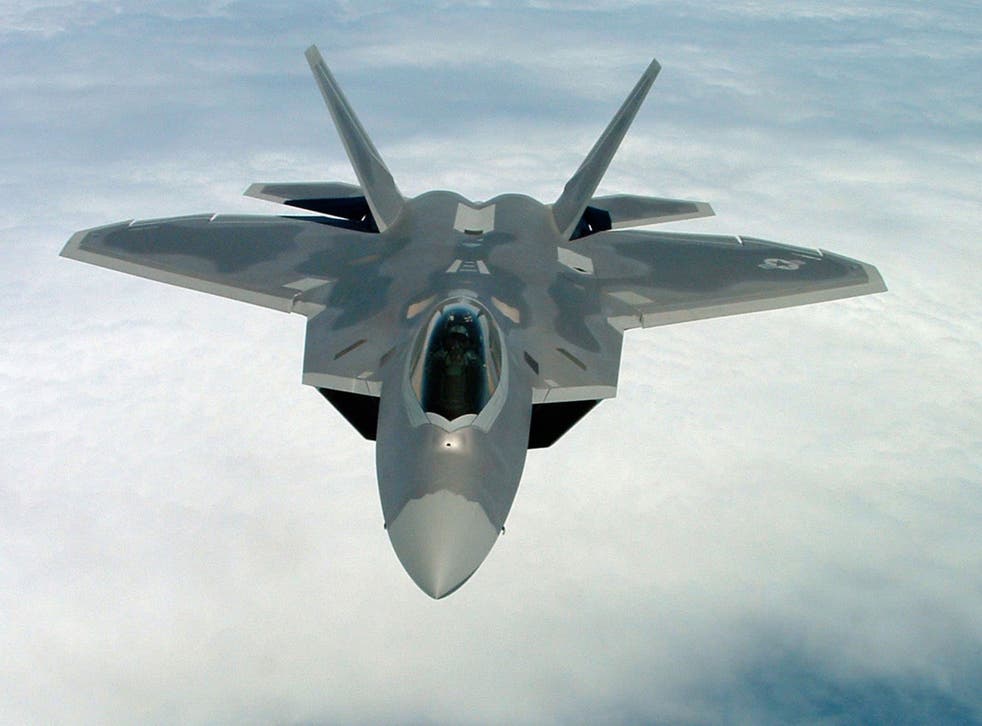 The F-22A Raptor made its combat debut with the US Air Force on Monday night during the first US air strikes against Isis (also known as Islamic State) targets in Syria.
The stealth jet is now the Air Force's most advanced warplane being used to target Isis, alongside the F-15 and F-16, B-1 bombers and armed drones.
Army Lt. Gen. William Mayville, director of operations for the Joint Chiefs of Staff, said the fighter jet was used in a second wave of strikes over northern Syria.
The F-22 was built by Lockheed Martin with support from Boeing and others, with the first of its kind flying in 1997. The F-22 program has cost a whopping $67 billion (£41 billion) in total – hence why the Air Force has only acquired 188 of them in total.
The single-seat, twin-engine model was developed as part of the air force's Advanced Tactical Fighter programme as an air superiority fighter.
The jet is difficult to detect on advanced radar systems across Syria and can carry air-to-air missiles and bombs that can be guided on target with global positioning systems, the Wall Street Journal reports.
The horizontal fins at the rear of the aircraft provide a shield for the engine exhaust heat, making it harder for heat-seeking missiles to track the emissions.
It can also fly higher and faster than other fighters and is capable of dropping a 1,000lb precision bomb from over 15 miles away from its target.
The plane is hailed for its vectored thrust and range. It is equipped with advanced sensors, providing it with a complex view of a battlefield while allowing it to coordinate with other jets. It can carry six medium range missiles in the centre bay and one short–range missile in each side bay.
However, it ran into a series of problems after the model first came into service in 2005, including when one of the Air Force's jets crashed in 2010, killing the pilot.
In 2013, the Air Force lifted all flying restrictions and said the jet is now safe to fly.
An Air Force official said: "The ultimate decision being made — that we are to use this aircraft against an adversary — is a unique and momentous decision for the United States Air Force.
"It has a unique ability to approach adversaries in a way legacy aircraft can't. There are things the F-22 is uniquely suited to address that the other fighters in our inventory can't."
Join our new commenting forum
Join thought-provoking conversations, follow other Independent readers and see their replies