Ferguson families speak out: 'I got stopped. I got pulled over... for DWB. Driving while black'
Looking at the streets of the St Louis suburb, anyone would think the United States was at war with itself, but is the societal gap between black and white unbridgable? David Usborne meets one family to try to find out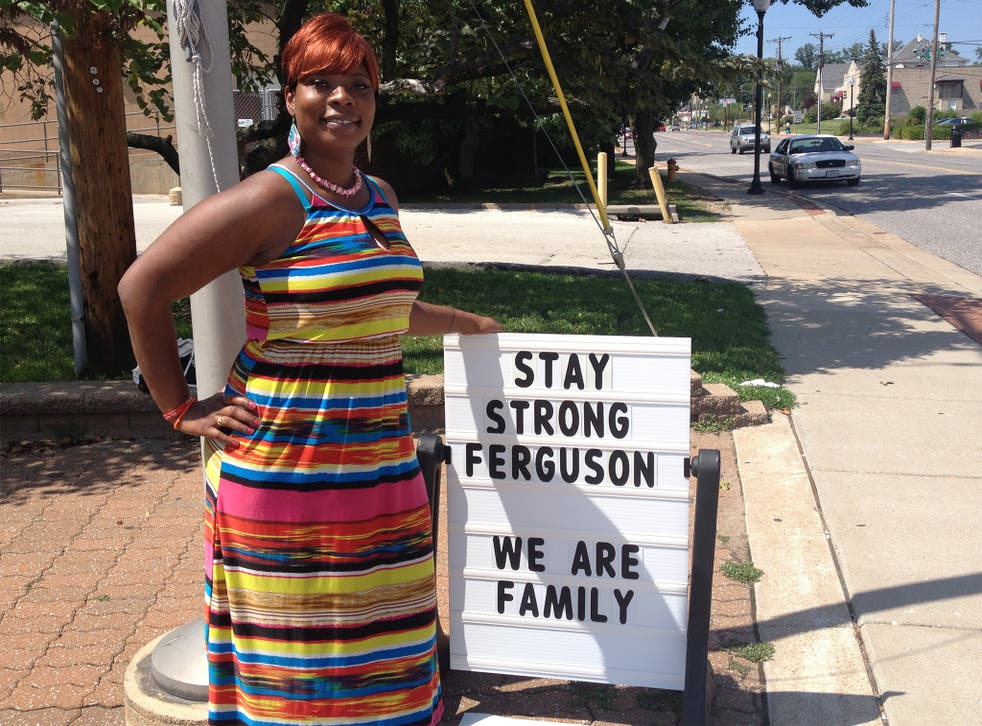 The Conner household in Ferguson is divided over the almost nightly protests that have closed schools, seen the looting of businesses and brought the world's attention to the town's rancorous streets. Jarvon is certain that the police are culpable for the killing of Michael Brown on 9 August, but Jenia is inclined to place the blame on the victim.
Jarvon and Jenia are children, aged 12 and nine, respectively, and the problem for their mother, Jernetta Conner, is that they have to be thinking about such things in the first place. Earlier this summer, Ms Conner, a primary school teacher, moved the family out of Jennings, another suburb of St Louis where they used to live, to Ferguson. Ironically, she thought it felt more promising here and that prejudice, especially from the police, was perhaps less prevalent.
For Ikino Jones, 33, the squabble is within himself. He is cuts hair at Clip Appeal, a modest barber's shop on the very stretch of West Florissant Avenue that has seen the worst of the violence in recent days. It is driving away customers and costing him wages.
Unrest in Ferguson over Michael Brown shooting

Show all 30
At the same time, though, he feels the pain of the protesters, even those who have been accused of unlawful violence. Something, he reasons, has to change.
"If this had been just a peaceful protest, it would have been brushed under the rug," he explains, taking a break outside the shop to watch protesters marching in daylight on the avenue, barked at by police to keep moving or face arrest. If he is praying that maybe the demonstrations will make a difference and force lessons to be learned by all sides, it is because he too has children, two girls and two boys aged between seven and 14.
Ms Conner and Mr Jones are both African-American parents confronting issues that whites in the US barely have to think about. While Ms Conner, 31, moved into Ferguson this year looking for something better, Mr Jones also moved his family this year, but out of Ferguson, though he still works here, also in search of something better. He chose Maryland Heights, another suburb of St Louis, but one that is majority white. Its schools would be better, he believed.
Each are striving simply to protect their children from endemic bias. Both want better futures for them. Mr Jones also makes another point. "If they were just a few years older, it could have been one of mine [dead on the street]," he says.
On the day we meet, Ms Conner is waving banners at the roadside, encouraging Ferguson parents to bring their children to a library to paint, read and draw since they cannot go to school. She believes she knows when her son decided that the police were the enemy – it was the day she was pulled over in Jennings for talking on her mobile phone while driving. "They just yelled at me and put my children in a mind-thought as far as the police are concerned; gave them a revenge mentality," she explains.
Her son, Jarvon, she says, has "real hatred for the police", even though "he is only 12".The irony of her choosing Ferguson as her bolthole away from Jennings is not lost on her. "I am a little bit rattled, I am," she confesses. If things here do not calm down soon, she may be forced to move the children all over again. "I feel like I am being chased from one spot to the next, if not by the police, then by ignorance," she says. Who does she blame? "I want to say 'society' but, at the end of the day, we are all accountable for our actions."
That anyone should be surprised by the statistics showing the extraordinary gap between the experiences of blacks versus whites in the legal system almost amuses Mr Jones. "If you and I were before the same court on open-container-in-public charges [swigging beer on the street], you would get a lesser change than I would, of course you would," he says. "If I go out and buy a nice car, I am automatically a drug dealer. You aren't."
Nor would he be surprised that being pulled over is what came first to Ms Conner when discussing police prejudice. "I've been stopped, I've been questioned, I have been pulled over," he says. "They ask what I am doing and then they release me because I have a clean record. You know it's called DWB don't you? Driving While Black."
Join our new commenting forum
Join thought-provoking conversations, follow other Independent readers and see their replies