Ferguson: In the heartlands of America, a descent into madness
David Usborne arrived in Ferguson, Missouri to be greeted by a scene more redolent of Gaza and Afghanistan. This is a country where those fighting for justice have given up on the law as a means of redress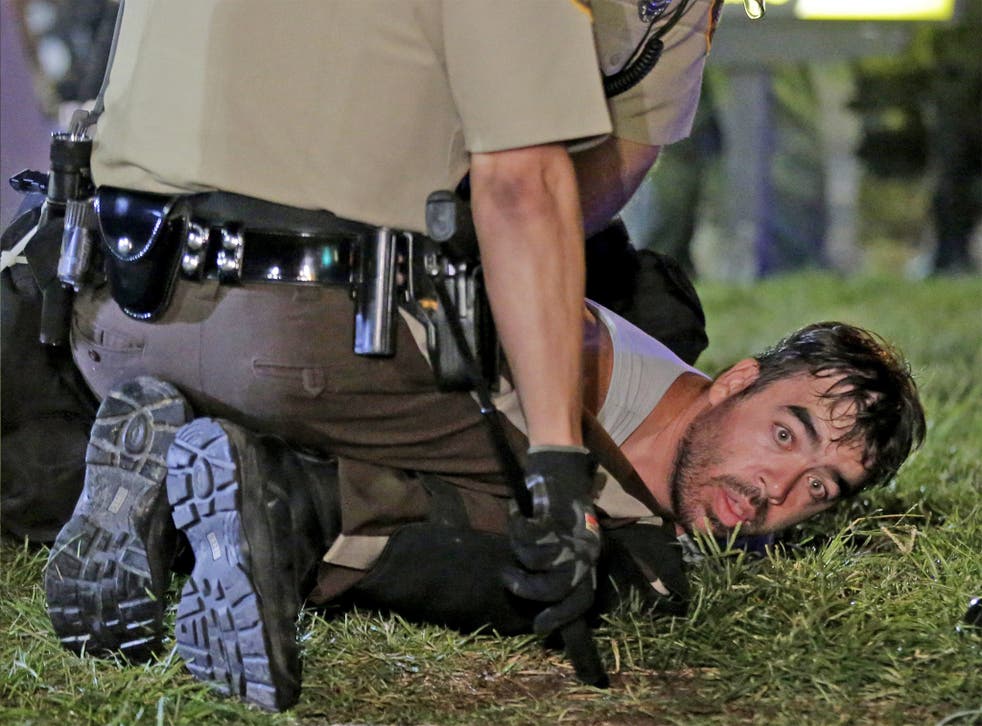 "Relax, Relax!" The tall black gentleman in the lime green shirt pleads through a megaphone, though the raw urgency in his demeanour and voice tells you that even he is struggling to heed his own admonition. He knows more bad stuff could be seconds away. "Tonight it's not going down, it's not going down tonight."
The leader of a group called Black Lawyers for Justice, Malik Shabazz isn't alone in joining the throng once again protesting against the shooting of a black man here 10 days ago, urging the restless, nervy crowd to stay within the bounds of lawful protest, not to provoke the police into yet another night of conflagration. Local community leaders are trying the same as well as a contingent of pastors.
"I am whispering in their ears, telling them to move on, that we care and that we love them," says the Rev Michael McBride of the Way Christian Centre in Oakland, California. He has come because he is horrified. "If only police departments across the country would do the same. Whisper in their ears, tell them they love them."
Love, however, has for the time being taken its leave from Ferguson, a suburb on the north-western edge of St Louis. It flew away at about four minutes past noon on 9 August when a police officer, identified as Darren Wilson, 28, fired six bullets into the unarmed man, 18-year-old Michael Brown, and robbed him of his young life. It was gone when the police let his body lie on the street for hours before finally taking it away. Or perhaps it was gone long before that in a town where to be black is to feel disenfranchised, relegated to life's lower divisions, oppressed.
Unrest in Ferguson over Michael Brown shooting

Show all 30
Love seems a quaint sort of sentiment. We see what's happening here at the junction of Ferguson and West Florissant Avenues. A rag-tag line of police – some with gas masks, some without, all with riot shields – has blocked us off to the south and, some distance away to the north a second line is forming. We, protesters and journalists, have become penned in. A sonic cannon is beginning to pierce our ear drums. It gives out a percussive, high-pitch shrieking.
And we see also the hulking black vehicle – Captain Ron Johnson, the State Trooper assigned by Governor Jay Nixon at the end of last week to take charge, is later to call it a "Swat truck" – with its front turret. The turret has a man inside who pops out occasionally gripping a machine gun. He sweeps its muzzle left to right. For a second its barrel is pointed at me, just as the searchlight from the helicopter above every now then catches me in its gaze.
And love is not what they are asking for now. It's justice. "We want justice, we want justice," the protesters bellow. It's what Mr Shabazz's group is after. It's what the rather young and occasionally terrified-looking band of observers from Amnesty International is here to protect. America thinks it can take justice for granted. But in Ferguson, that is being tested. Justice is looking slovenly, amateurish and slow. And it's looking ugly.

Justice is the holy grail in Ferguson. President Barack Obama says he wants it. So does the Attorney General, Eric Holder, who will be here today and who has opened his own federal investigation into what happened on that Saturday to Mr Brown. The circumstances of it are still unclear. Justice is what his mother, Lesley McSpadden, says must happen before the trouble will stop. But the road to it is long and has many forks.
Ms McSpadden and most of the demonstrators wanted it yesterday. That they don't see it is what enrages them. But in America justice is a deliberate and bureaucratic affair. Evidence surrounding the shooting that has been collected so far, most of which we haven't seen, will be presented for the first time by the St Louis prosecutor, Robert McCulloch, to a special grand jury beginning today. But that process may take weeks to complete. American justice is a thing of cogs and they turn slowly, far too slowly for the family and its supporters.
Justice means allowing everyone out here on this sultry night to voice their anger, as the US Constitution requires. And it means listening. Captain Johnson tries hard to do that. Before this night's mayhem breaks out – and how it does – he walks among the angry crowds, he tries to debate with everyone. Like Charles Reid, a 59-year-old computer technician, who has been here every night since last Wednesday with his "honey", Renee. He holds a sign that says it precisely. "JUSTICE, LOVE, PEACE". Why not get people like him to help the police, he asks, keep the order, clear the streets of fallen projectiles, move people onto the pavement?
And he tries to reason with the young man, who beats his own chest hard enough to break a rib, demanding that he be heard. "The kids are hurting, the kids are dying. We need your help, we need your help," he rages, his face in the captain's, sweat running down his neck. His scrawled sign says "2 Timothy. 1:7. Don't Kill!" "If you want to hear my response, you have to listen too," the captain attempts. The man doesn't listen, though; he is almost crazed.
Justice on this night also means something else, says the captain. It means letting people like this man speak, but not letting those who break the laws of the land – breaking windows, looting and firing weapons – get away with it. It is getting those people who pollute peaceful protest out of the way. And it means giving the police their Swat trucks, smoke bombs, stun grenades and the gas. Or so insists the captain. Otherwise mayhem takes hold.
"The violent voices here are the ones who are here to get something," he tries to explain, surrounded on the street in a scrum of reporters and angry residents. "You break into a meat store and the meat isn't going to last. But the people who are here for change, that will last a lifetime. We have to take those elements out and let them know they are not going to win. I am not going to let those bent on ruining this community to succeed."
But what does justice in America look like exactly when so suddenly a town like this can resemble less a suburb in the heartland than a battlefield in Gaza, a terrorist stronghold in Iraq or a Taliban redoubt in Afghanistan? For right here, in a just a moment, everything goes mad.
It happens at the other police line, to the north, where I and a small group of reporters wandered to. It's where a far more determined knot of men have gathered. No pastors are here. A man tears a street sign out of the road and brandishes it before the police line, another Swat truck in place. Over a loudspeaker a disembodied voice appeals for them to disperse, "or you will be arrested". Then another instruction: members of the media must separate themselves from the protesters "immediately". I retreat into the bay of a scruffy car wash, watching, wondering if my not having a gas mask is something I might soon regret.
As I do. I am still not exactly clear how it started. But loud cracks ring out from a side street – the street where Michael Brown was felled. Then I see the rockets fly into the air, like fireworks. White smoke begins to billow and a colleague mentions smoke bombs. But it's not that, it's tear gas. We all run. Those unprotected clasp our hands to our faces. But nothing stops the grip of the gas on your eyes and then your lungs.
On Monday it did go down, startling and appalling all of America all over again. And maybe it will go down again tonight and for many more nights to come. Justice has revealed itself above all to be two things: a thing of violence and great noise and a thing of clay, unable to satisfy the demands for speed. It requires patience and it requires trust. Neither is in evidence on West Florissant Avenue right now, like love.
Join our new commenting forum
Join thought-provoking conversations, follow other Independent readers and see their replies