Ferguson protests: 90-year-old Holocaust survivor Hedy Epstein 'arrested' by police during St Louis demonstrations
Eight protesters were arrested during demonstrations against National Guard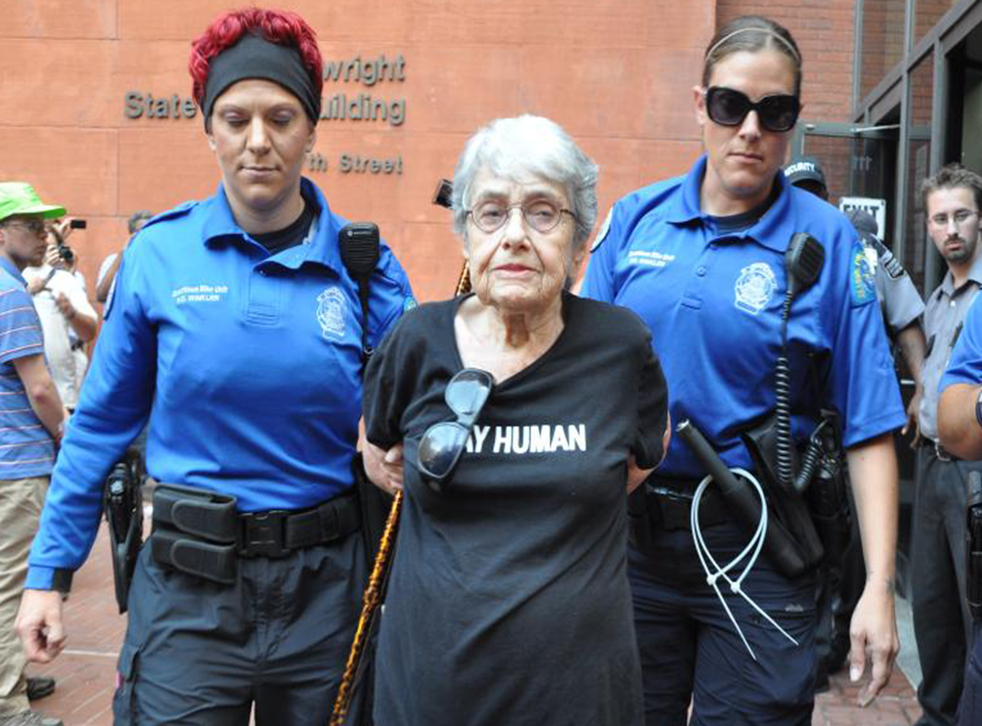 Hedy Epstein, a 90-year-old survivor of the Holocaust, was reportedly among those arrested during protests in downtown St Louis as tensions flared over the death of black teenager Michael Brown in Ferguson.
Eight protesters were arrested for "failure to disperse" on Monday after marching from the Kiener Plaza to the Wainwright building where Governor Jay Nixon has an office, St Louis police confirmed on Twitter.
Ms Epstein was pictured being led away in handcuffs during demonstrations against the National Guard's presence on the streets where clashes between protesters and authorities have been the most severe.
Ms Epstein, a resident of St Louis, is a political activist and speaker widely known for her vocal support of the Free Gaza Movement.
"I've been doing this since I was a teenager. I didn't think I would have to do it when I was ninety," Ms Epstein told The Nation as she was led away by police. "We need to stand up today so that people won't have to do this when they're 90."
Jeff Ordower, an organiser with Missourians Organizing for Reform and Empowerment, told The Nation all but one have been released. This has not yet been officially confirmed by police.
Tensions rose again this week after an independent pathologist hired by the Brown family determined the teenager had been shot six times, including twice to the head. The family's lawyer, Daryl Parks, suggested that he was killed at the moment he was already in a position of surrendering before the police officer.
Overnight, Getty photographer Scott Olson was one of the latest journalists to be arrested during the protester-police standoff in Ferguson.
On Monday, Missouri Governor Jay Nixon announced the National Guard had been deployed to "maintain peace and order" on the streets, just days after the State of Emergency that was declared on Saturday.
In pictures: Scott Olson's striking Ferguson images for Getty

Show all 23
Governor Nixon said the National Guard troops would be under the direction of the Missouri State Highway Patrol, which is overseeing security during protests.
President Barack Obama has told the governor the use of the National Guard should be limited and urged healing, instead of violence. Attorney General Eric Holder will travel to Ferguson on Wednesday, Mr Obama said.
Darren Wilson, 28, the officer who shot Brown as the teenager was walking through a Ferguson residential neighbourhood with a friend, has been placed on administrative leave. A grand jury will decide whether Wilson will be indicted this week.
Mr Brown's death has heightened racial tensions between the predominantly black community and the mostly white Ferguson Police Department.
Civil rights activists have compared the shooting to other racially charged cases, especially the 2012 death of Trayvon Martin, the unarmed black teenager shot by Florida neighbourhood watch organiser who was later acquitted of murder.
Join our new commenting forum
Join thought-provoking conversations, follow other Independent readers and see their replies