Ferguson unrest: St Louis Post-Dispatch front page transforms after memorial march culminates in shooting of teenager Tyrone Harris
Michael Brown was shot dead on 8 August 2014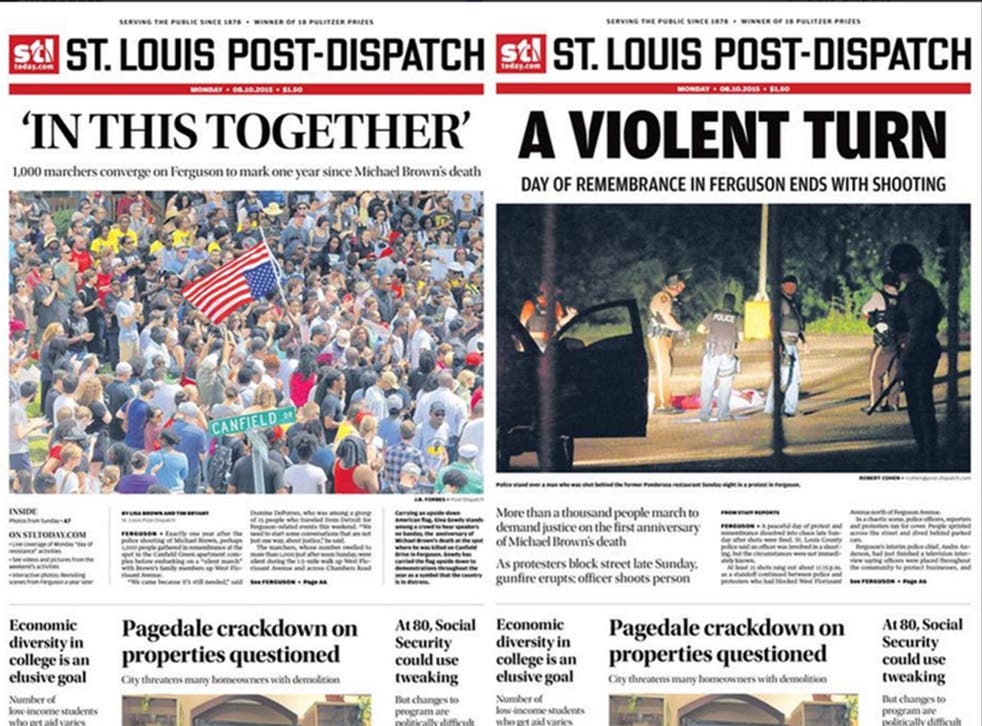 A local newspaper in Ferguson, Missouri, dramatically changed its frontpage on Monday, after a peaceful memorial for Michael Brown culminated in police shooting a teenager - highlighting the volatile state of race relations in the US.
For three consecutive days, protesters gathered to mark a year since white police officer Darren Wilson shot dead unarmed teenager Michael Brown on 9 August 2014.
On Monday, his father Michael Brown Senior held hands with protesters as he led a thousand-person-strong march through the town.
Doves were released at the rally to end four-and-a-half minutes of silence, reflective of the number of hours the teenager was left on the street after he was shot.
Pausing along the route at a permanent memorial for his son, Mr Brown said, "Miss you."
The Pulitzer prize-winning St Louis Dispatch reflected the sombre march by splashing "In This Together" across its front page, accompanied by an image of protesters filling the streets, with one symbolically brandishing an inverted US flag.
But the protest suddenly took a violent turn as night fell, and 18-year-old Tyrone Harris was left fighting for his life after an altercation with police.
The St Louis Dispatch front page reflected how the peaceful march tragically deteriorated, by changing its headline to "A Violent Turn." Below the words was a photo of Harris' bloody body on the ground as police stood above him.
St Louis County police department chief Jon Belmar told reporters that two small groups were engaged in gunfights outside the protest at West Florissant square. Without formally naming Harris as the victim, he said that a man walked from the gunfight towards police, and fired on four plain-clothed officers sitting in an unmarked car.
The incident culminated in the four police officers – who were not wearing body cameras – shooting the man.
Harris was then rushed to hospital, where he underwent emergency surgery.
"They were criminals. They weren't protesters. There is a small group of people out there that are intent on making sure that we don't have peace that prevail," Belmar told reporters.
Emphasising the deep feelings of distrust towards the police within the African American community following a string of fatal shootings of black men across the country, Harris father told the St Louis Post-Dispatch: "We think there's a lot more to this than what's being said."
"We can't sustain this as a community," he said.
Join our new commenting forum
Join thought-provoking conversations, follow other Independent readers and see their replies