Sepp Blatter resigns: FBI are investigating outgoing Fifa president, claims report
Report comes hours after Mr Blatter said he was stepping down as Fifa president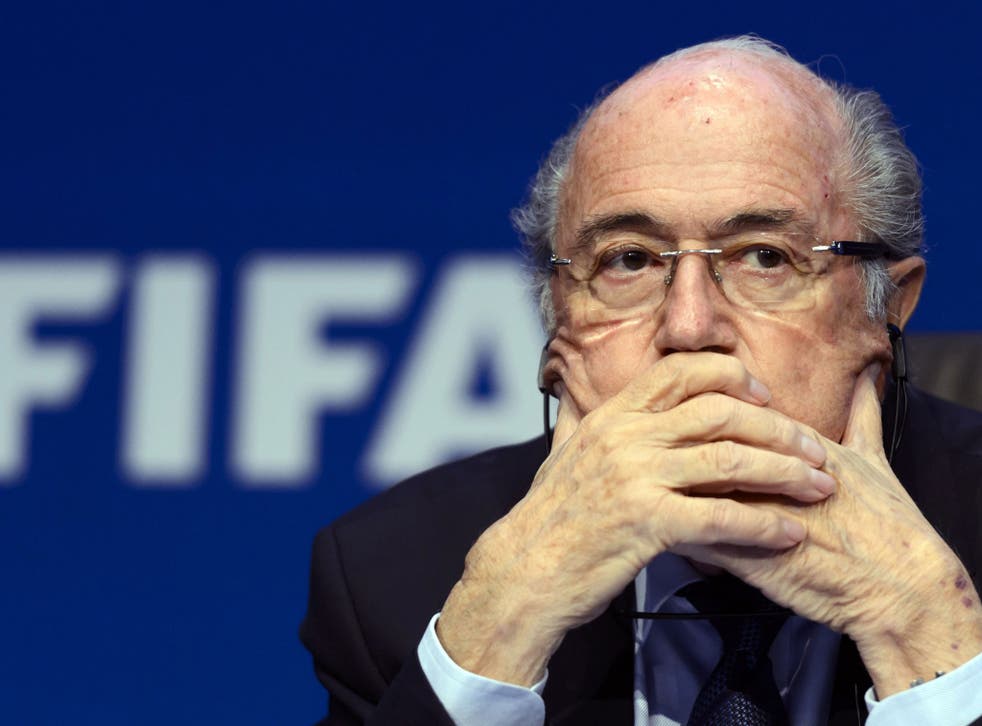 Just hours after Sepp Blatter announced he was standing down as Fifa president, a report in the US media claimed he was the subject of a corruption inquiry by the Federal Bureau of Investigation.
The New York Times said that while Mr Blatter had in recent days sought to distance himself from the inquiry that had seen a number of his colleagues detained, a number of US officials had confirmed he was himself the subject of an inquiry.
The FBI failed to immediately respond to inquiries on Tuesday night. Mr Blatter has not made any comment on the reports.
However, the paper claimed those who have already been indicted could be used to provide evidence about the Fifa president. Last week, US Attorney General Loretta Lynch said the federal investigation that has resulted in the arrest of Fifa officials in Zurich was "ongoing".
"Several United States officials, speaking on the condition of anonymity, said that in their efforts to build a case against Mr Blatter they were hoping to win the cooperation of some of the Fifa officials now under indictment and work their way up the organisation," the paper said.
There has been widespread speculation that this could involve information provided to federal investigators by Chuck Blazer, the former senior Fifa official who has turned "whistleblower". Some reports said Blazer's testimony – so far held under seal - could be made public.
Last week, it emerged that Blazer had played a crucial role in the still-expanding corruption investigation into soccer's global body. Having been exposed several years ago by the US's Internal Revenue Service, the 70-year-old apparently agreed to wear a hidden wire during meetings with Fifa officials.
Blazer, who reportedly has cancer, pleaded guilty to a number of charges, including racketeering, wire fraud, income tax evasion and money laundering, according to the US Department of Justice.
Contenders to replace Sepp Blatter as Fifa president

Show all 6
At a hastily arranged news conference Tuesday, Mr Blatter announced he would leave office within months and called for a fresh election to appoint a successor.
"I cherish Fifa more than anything and I want to do only what is best for Fifa and for football," said Mr Blatter.
The Associated Press said that the US Department of Justice – which last week brought charges against 14 officials - declined to say whether or not Mr Blatter was under investigation.
The Swiss attorney general said Mr Blatter was not under investigation in Switzerland, but authorities said last week they have opened a criminal probe into the 2018 and 2022 World Cup bidding votes.
Reports said that the ongoing probe got closer to Mr Blatter on Tuesday, when FIFA denied that his right-hand man, Secretary-General Jerome Valcke, was implicated in a $10m payment relating to the 2010 World Cup in South Africa - something that is at the heart of the US case.
At the same time, a letter addressed to Mr Valcke from the South African Football Association was published outlining the transaction.
Join our new commenting forum
Join thought-provoking conversations, follow other Independent readers and see their replies