Former classmate pleads guilty to 'sextortion' after hacking into webcam of Miss Teen USA Cassidy Wolf
19-year-old computer science student Jared Abrahams blackmailed at least a dozen women and was only caught when Ms Wolf, also 19, went to police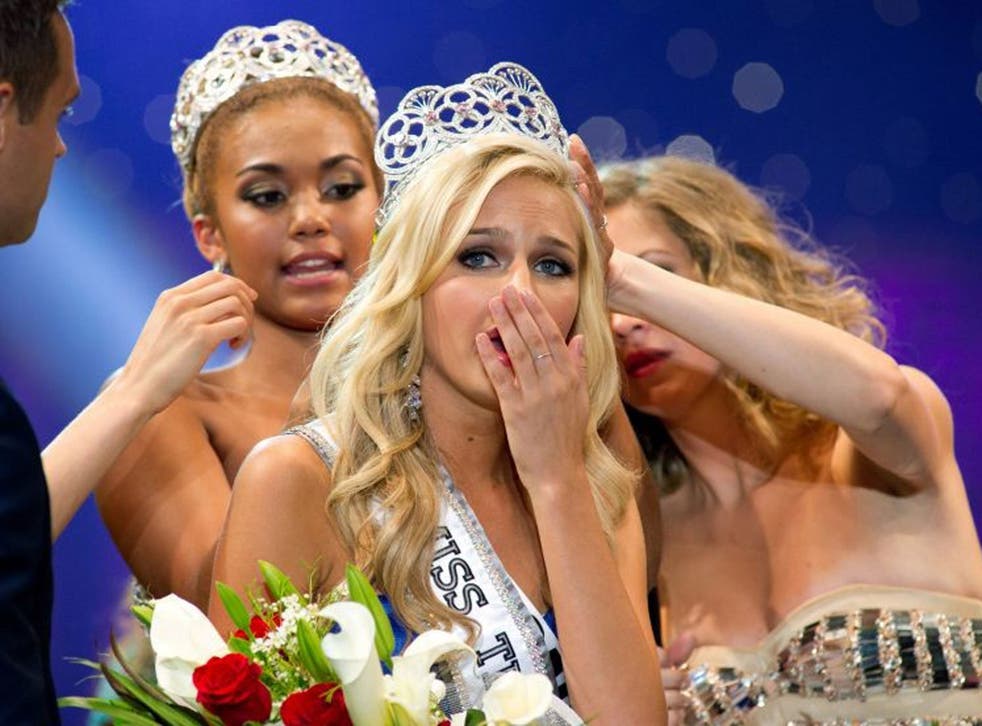 A former classmate of Miss Teen USA has pleaded guilty to "sextortion" against her and other young women, admitting he blackmailed them with naked photographs obtained through hacking webcams.
The 19-year-old computer science student targeted at least a dozen girls and women from countries all over the world, and was only found out when Cassidy Wolf, the beauty pageant-winner with whom he went to high school in California, went to the police with his demands.
Jared James Abrahams appeared in court yesterday to answer questions from a US district judge, and was asked to explain the crimes he committed.
"I hacked several girls' computers and, using their webcams, took photos of them when they weren't aware," Abrahams said.
He would then send them the pictures, and threaten to make them public if the girls did not do one of three things: reply with more naked photographs, a naked video or go on a webcam chat with him for five minutes and do what he told them.
He has pleaded guilty to three counts of extortion and one count of unauthorized computer access. He faces up to 11 years in prison and fines of up to $1 million when he's sentenced in March next year.
Prosecutors say that over the past two years, Abrahams hacked into the computers of at least a dozen women in their late teens or early 20s from various states and countries, including Miss Teen USA Cassidy Wolf. Abrahams and Wolf went to high school together.
Court records say he also sent the women anonymous emails telling them he had downloaded nude photos of them. He told them he would publish the images on social media sites if they didn't send him additional pictures or undress for him. If the women complied, Abrahams promised to destroy the images.
At least two of his victims gave in to his demands, authorities said.
"Did you know you were extorting them when you made these demands?" Selna asked.
"Yes," Abrahams responded.
Dressed in matching gray pants and shirt with a black jacket, Abrahams told the judge he has autism and has been under treatment for the past 10 years. He said he was on three medications Tuesday, but he said they wouldn't affect his ability to enter a guilty plea.
Outside court, his attorney Alan Eisner said Abrahams apologises for his actions, and that the autism played a contributing role in the scheme.
"The social disorder had, certainly, a part in it," said Eisner. "Again, I say that not to blame the conduct on anything, not to make an excuse for the conduct, but that's part of the full picture."
In Wolf's case, Abrahams was able to take nude photos of her without her knowledge, authorities said. He posted a naked photo of Wolf online after she didn't respond to him.
According to an FBI affidavit, Abrahams told Wolf: "Your dream of being a model will be transformed into a porn star."
Wolf, also 19 and a graduate of Great Oak High School in Temecula, won the Miss Teen USA crown in August. She has spoken publically about the incident, saying she would use her fame to highlight cybercrime.
Abrahams is accused of employing similar hacking tactics used by a Florida man who was sentenced to 10 years in prison last year after he broke into the personal online accounts of Scarlett Johansson, Christina Aguilera and other women and posted revealing photos and other material online.
Additional reporting by the Associated Press
Join our new commenting forum
Join thought-provoking conversations, follow other Independent readers and see their replies