Fort McMurray wildfire could burn for months and be Canada's costliest natural disaster
Almost 100,000 people have been forced to flee the western Canada city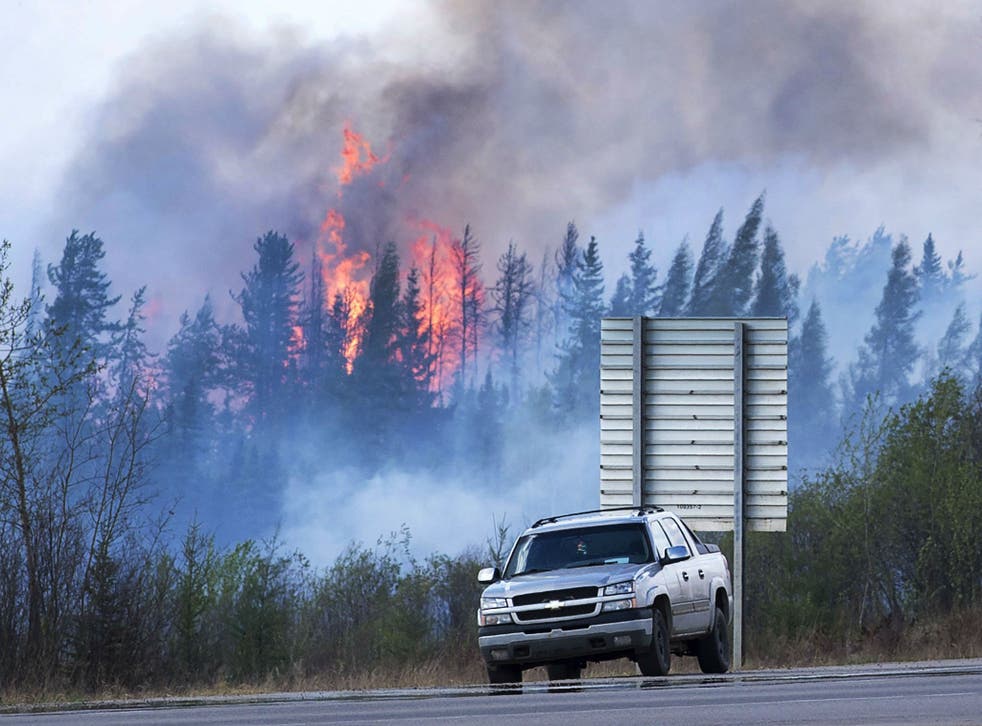 The devastating Fort McMurray wildfire could rage for months before firefighters are able to control it and will likely be the most expensive natural disaster in Canadian history.
While the fire's growth has eased a little in recent days, around 20 per cent of homes in Fort McMurray have been destroyed, according to a local politician. David Yurdiga said it might be years before the city was returned to normal.
Around 100,000 people have fled from the western Canadian city and the surrounding areas. The situation remains too dangerous for most people to return to the city, and the blaze still covers 700 square miles.
Alberta premier Rachel Notley said the fire had destroyed around 1,600 building and killed two people, according to Canadian media. Chad Morrison of Alberta Wildfire said the fire could continue to burn in forested areas for months.
Bloomberg News said it was anticipated that the fire would the costliest natural disaster in the country's history with losses potentially reaching C$9.4 bn ($7.3bn).
Insurance losses could reach that high if nearly all homes, cars, and businesses in the Fort McMurray area were destroyed and owners filed a claim to insurers, according to a research note to clients from Bank of Montreal analyst Tom MacKinnon.
He said it's more likely that one-quarter to half of assets would be damaged, leading to total insurance industry losses of C$2.6 billion to C$4.7 billion, as much as quadruple the costliest Canadian natural disaster.
The fire has struck in the heart of Canada's energy industry and the mass evacuations forced as much as a quarter of Canada's oil output offline. The region contains the third-largest reserves of oil in the world, behind Saudi Arabia and Venezuela.
There are more than 500 firefighters battling the blaze in and around Fort McMurray, along with 15 helicopters, 14 air tankers and 88 other pieces of equipment, the government of Alberta reported.
Though no rain is forecast this week, weather conditions should become somewhat more favorable for firefighting efforts, according to AccuWeather Canadian Weather Expert Brett Anderson.
"Much cooler conditions will return to the region which will also result in an increase in relative humidity," he said
The second most-costly natural disaster was the ice storm of 1998 in the provinces of Ontario and Quebec, which caused about C$1.6 billion in insured losses, the company said. The Slave Lake Fire caused about C$700 million in losses to insurers.
Join our new commenting forum
Join thought-provoking conversations, follow other Independent readers and see their replies