Freddie Gray death in custody: All six Baltimore police officers face criminal charges – including murder and manslaughter
Mr Gray was detained by officers last month and died a week later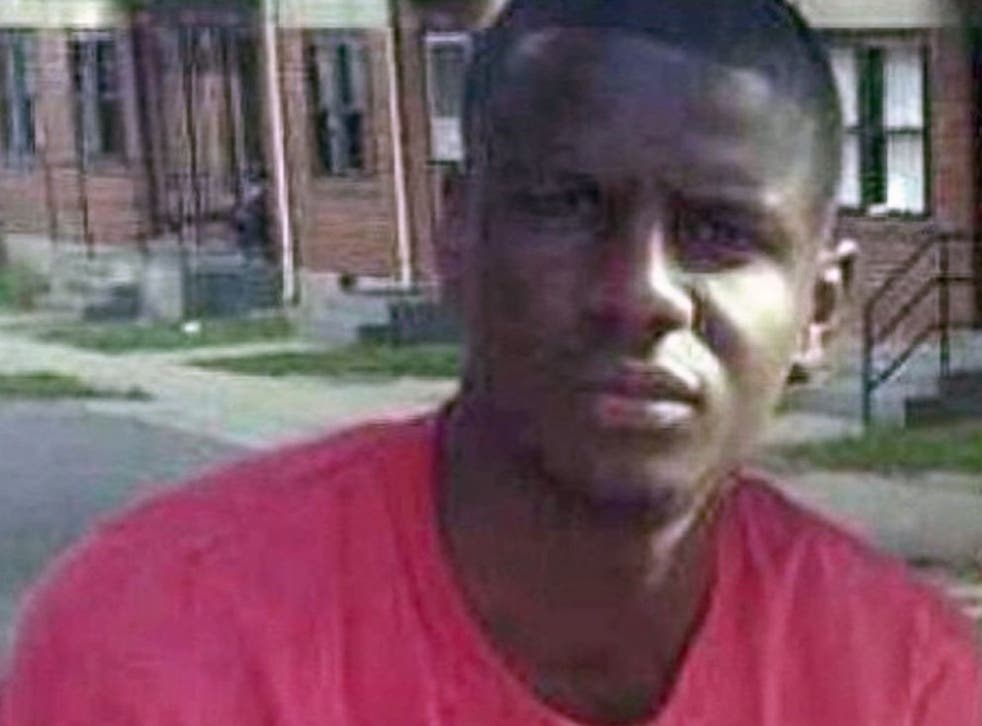 The drama surrounding the death of a young black man in police custody in Baltimore has taken a new and unexpected twist after it was announced that charges were being brought against six officers, one of whom was being charged with murder.
In an surprise announcement that will likely help defuse tensions in Baltimore and other cities that has seen angry protests, a state prosecutor said warrants had already been announced for the officers who seized 25-year-old Freddie Gray. One of the officers faces up to 30 years imprisonment if convicted.
"It is my duty to examine the evidence and apply this to the case to decide whether an individual should be charged," said Marilyn Mosby, the Baltimore City State's Attorney, as cheers erupted from a gathered crowd.
"The finding of our comprehensive, thorough and independent investigation, coupled with the medical examiner's determination, is that Mr Gray's death was a homicide. We have probable cause to file criminal charges."
She added: "Mr Gray suffered a severe and critical neck injury as a result of being handcuffed, shackled by his feet and unrestrained inside of the Baltimore Police Department wagon."
Mr Gray, 25, was detained by officers on April 12 and died a week later after his spinal cord was severed when he was taken into custody. The city of Baltimore has simmered eversince.
His death triggered peaceful protests and his funeral on Monday was followed by riots in parts of the city that saw cars and businesses set on fire and crowds of youths hurl stones and bottles at police.
Ms Mosby's announcement on Friday morning stunned most people, coming as it did without warning and following a series of reports that suggested a preliminary inquiry had found Mr Gray may even have intentionally harmed himself. Indeed, the news came as police and national guard troops – and police in other cities - were bracing for a weekend of demonstrations.
Those who had been protesting and campaigning in recent days welcomed the news and in some parts of Baltimore crowds gathered to cheer.
After Freddie Gray: Baltimore unrest in pictures

Show all 22
"This is a great day," said local Congressman Elijah Cummins. "Even if we are in the evening of our lives, we want to make sure that our children have a better morning."
The most serious charges – including one of so-called depraved heart murder – were levelled agaisnt Caesar Goodson, the driver of the police vehcicle into which Mr Gray had been pushed. He was charged with second-degree murder, manslaughter, assault and misconduct in office.
Lt Brian Rice was charged with manslaughter, assault, misconduct in office and false imprisonment. Officer William Porter and Sgt Alicia White were each charged with manslaughter, assault and misconduct in office.
Meanwhile, officers Edward Nero and Garrett Miller were charged with assault, misconduct in office and false imprisonment.
Ms Mosby said the officers had failed to strap the young man into the police wagon and had repeatedly failed to seek medical attention for him after he suffered grievous injuries. She also said that a switchblade Mr Gray was carrying was legal under local law and that police therefore had no legitimate reason to arrest him.
The police union wrote to Ms Mosby's office calling for the appointment of an independent probe and the Fraternal Order of Police's local president, Gene Ryan, said the six charged officers were not responsible for Mr Gray's death.
President Barack Obama said it was essential that all the evidence in the case was considered. "These individuals charged are entitled to due process and the rule of law."
Mr Mosby said warrants had already been issued for the arrest of the officers charged in the case, she said.
Join our new commenting forum
Join thought-provoking conversations, follow other Independent readers and see their replies