Fugitive! McAfee on run in Belize
There's a murder, and anti-virus founder taunts police from a hideaway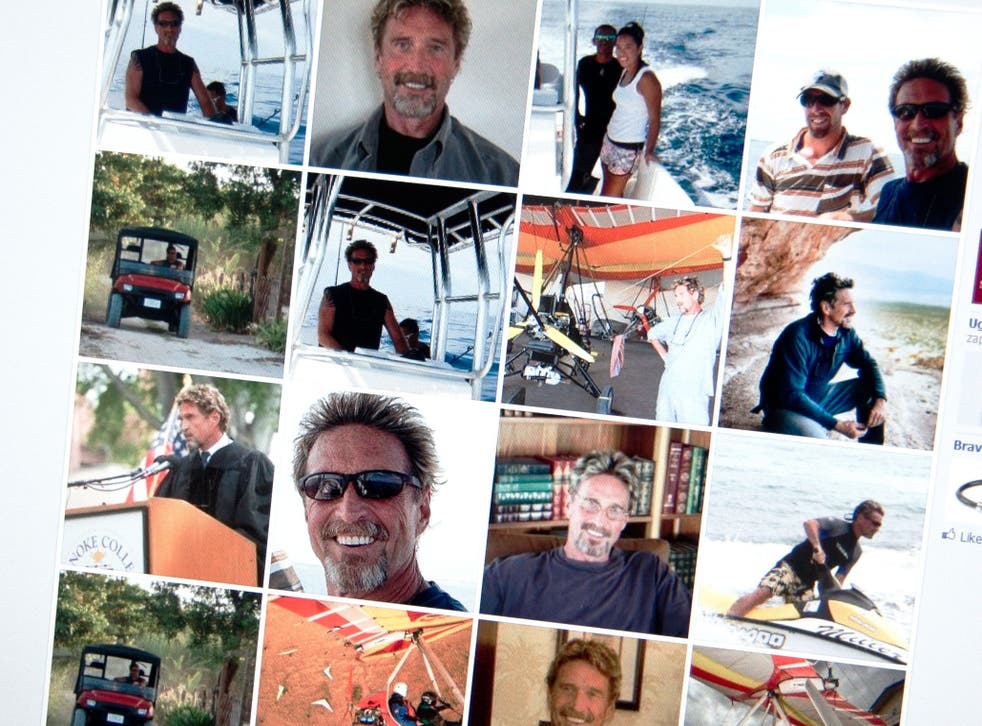 The software multimillionaire John McAfee is not your run-of-the-mill international fugitive. Most men who go on the run when the authorities want to question them for murder tend to keep themselves to themselves, but McAfee is different. While nothing has been seen of him since a neighbour on the Caribbean island of Ambergris Caye in Belize was found face down in a pool of blood, plenty has been heard of him.
McAfee has kept up a sort of running commentary on his flight from the Belize police, speaking freely – if at times mystifyingly – to reporters from such varied outlets as Wired magazine, the Associated Press, The Daily Telegraph, and the cable news channel CNBC. In his latest bulletins from whereabouts unknown, he insists he didn't shoot Gregory Faull, says he has altered his appearance, changes phones several times a day, and fears that if he surrenders to police they will "summarily execute" him. Furthermore, he says he will not seek refuge in a US embassy.
He told CNBC: "What would happen? They will offer me either sanctuary, where I will spend my days living in the embassy like poor Julian Assange, or, when I leave... I will be nabbed by the police. My ultimate goal is they'll figure out who killed the man, it will have nothing to do with me, and they will leave me alone."
McAfee may think that the desire of the Belize authorities to join the growing list of people speaking to him is part of some programme of persecution, but the circumstances of the death suggest a certain logic to it. Mr Faull was the 52-year-old owner of a construction company in Orlando, Florida, who, judging by the pink, two-storey beachside villa where he was found dead, had made a lot of money. Just 100 yards away was McAfee's home, and the two were said to have been at odds.
One cause of their ill-feeling was McAfee's collection of noisy and apparently unruly dogs. Daniel Guerrero, the mayor of San Pedro, the only town on the island, said Mr Faull had given the town council a letter complaining that McAfee's dogs were running loose, chasing cyclists and attacking people; and that McAfee's security guards trespassed on other homeowners' properties.
Last weekend, four of McAfee's dogs were found poisoned (which McAfee says may have been the work of the Belize authorities). The following day, Mr Faull was found shot dead. When police arrived at the neighbouring McAfee residence wanting a word with its owner, he was not there. The reason, he has since said, is that he had buried himself in the white sand of the beach, with a piece of cardboard over his face so he could breath. If that sounds bizarre, then it is entirely in keeping with reports of his life since the 67-year-old arrived on the island.
The founder of the anti-virus software company that still bears his name, McAfee left the firm in 1994 following claims that he had talked up the dangers of a virus called Michelangelo – which turned out to be a damp squib – in order to prompt computer users to buy his products. He arrived on the 27-mile-long island four years ago and took a beach-front compound on the isolated and exclusive north side, reached by a six-mile boat trip or along badly cratered asphalt and dirt tracks from San Pedro.
McAfee worked hard to be the island's benefactor. Upon arriving in Belize, he bought a $1m boat for the country's new coastguard, and donated equipment to the police force. He is said to have tipped generously, and hired a steady stream of taxis for frequent female guests on the $150 round trip from the small airstrip in San Pedro out to his house. "Not two or three, a lot of women," said Artemio Awayo, 24, a local waiter. "Every time I saw him, it was a different woman."
Those who knew him said he didn't drink and never hung out at the island's many bars. But employees at a restaurant near the pier where McAfee's water taxi company is based said his actions grew more bizarre following a police raid last April on his mainland hacienda outside the town of Orange Walk. Even for casual lunches, McAfee began coming to town with at least two bodyguards, they said, wearing camouflage and each packing pistols.
Many locals in San Pedro describe the tattooed McAfee as a generous but sometimes unstable man. "He's a good guy, he helped a lot of people. The problem was, when he wanted something, he wanted it right now. And when he didn't get it, he'd get paranoid," said one islander, a former McAfee employee, who like many people here spoke on condition their name not be used for fear of retribution. "He's a complex man, very impulsive," the islander added.
Doug Singh, Belize's former police minister, said: "McAfee seems to have a bit of a divorce from reality and it seems to be consistent in his behaviour and some of the things he has said recently. He's way out of line and out of proportion. Nobody has anything against him," Mr Singh said.
Back at his home, a fence separates the pool from a pier that cuts into the sea. On it is tacked a sign: "Never mind the dog, beware of owner." It is illustrated with a sketched hand gripping a large pistol. A case is already pending in Belize against McAfee for possession of illegal firearms, and police previously suspected him of running a lab to make illicit synthetic drugs. But McAfee said this week he was opposed to drugs. "My life is fucked up enough without drugs, and always has been," he told Wired.
As regards feuding with Mr Faull, McAfee told one of his media interrogators: "I barely knew him. I barely spoke 10 words to him in the last three years. Certainly, he was not my favourite person and I was not his. He was a heavy drinker and an annoyance. But the world is full of annoyances; if we killed all of our annoyances, there would be nobody left." Other ex-pat residents said Mr Faull was peaceful and well-liked.
Some townsfolk suspect that McAfee is hiding on a yacht off San Pedro. Others note that Mexico is only an hour away by the sort of fast boat that McAfee owns, and that passports are never checked for people landing in the ocean-front villages there. San Pedro's mayor believes he will surface. "I have a feeling that this guy will turn up," Mr Guerrero said. "But he'll turn up with his attorneys. He's a big guy."
Join our new commenting forum
Join thought-provoking conversations, follow other Independent readers and see their replies