Girl, 7, stares down hate preacher at Ohio festival with pro-LGBT rainbow flag gesture
The incident has since been turned into a T-shirt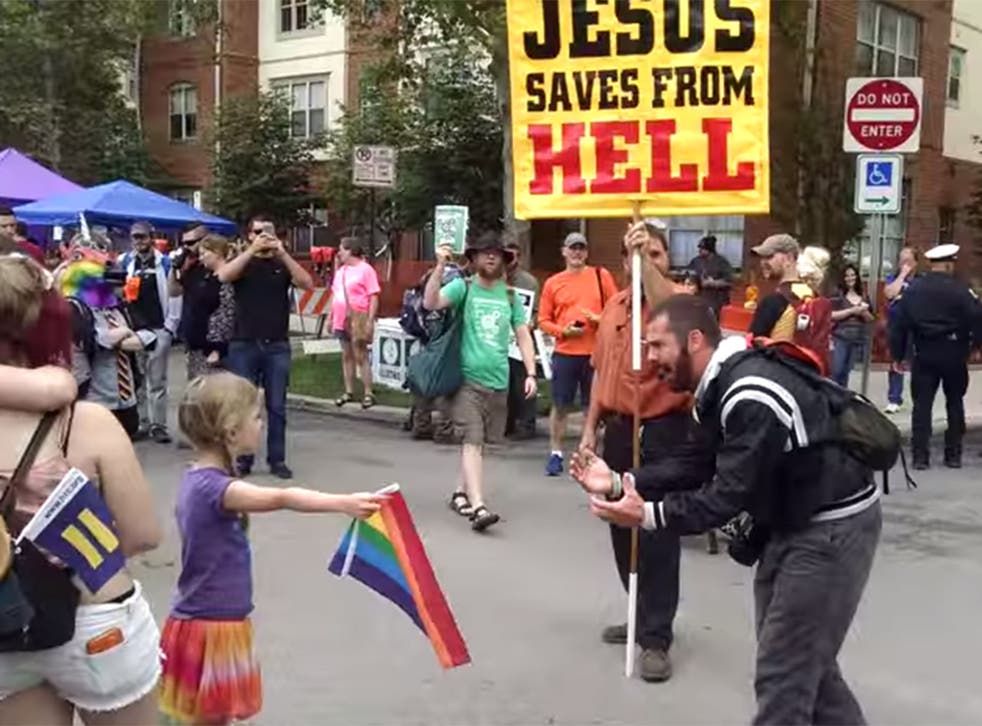 A seven-year-old girl has inspired hundreds of thousands of people and been immortalised in a T-shirt after she confronted a hate preacher with a simple pro-LGBT gesture.
In an incident captured on camera by her father at a community festival in Ohio, Zea Bowling can be seen silently holding up a rainbow flag to a preacher yelling about "sodomy and brimstone".
Ryan Bowling, Zea's father, said he had told her about the US Supreme Court's majority decision to uphold same-sex marriage the day before.
And he said that when she heard the preacher, she "was shocked as to why he would bother to come to [the community festival] just to be so mean".
In the video, people can be heared cheering on Zea as she confronts the preacher, and other onlookers approach to give her a high-five.
Mr Bowling said the preacher was "visibly deflated when he saw her coming", and he can be seen turning away during the video.
The moment has been viewed more than 200,000 times since footage was uploaded by Mr Bowling, and he told Raw Story the crowd at the time had been "passionately on her side, right away, shockingly so".
"People actually cried. I almost didn't film it. It was pretty powerful, and I was trying not to be in my phone. Somebody I didn't know sniffled pretty loudly, and I realized I might be missing something kind of important."
Same-sex marriage legalised across the US

Show all 15
Mr Bowling has since provided a link underneath the video to an Ohio clothing maker who has turned the viral moment into a T-shirt.
Designed by Zachary Traxler and adorned with the text of the 14th Amendment, proceeds will go towards Zea's family and an LGBT charity.
Join our new commenting forum
Join thought-provoking conversations, follow other Independent readers and see their replies