GOP Debate spends only fifty seconds addressing Black Lives Matter movement
Police killings against black Americans were not a top priority during Thursday's debate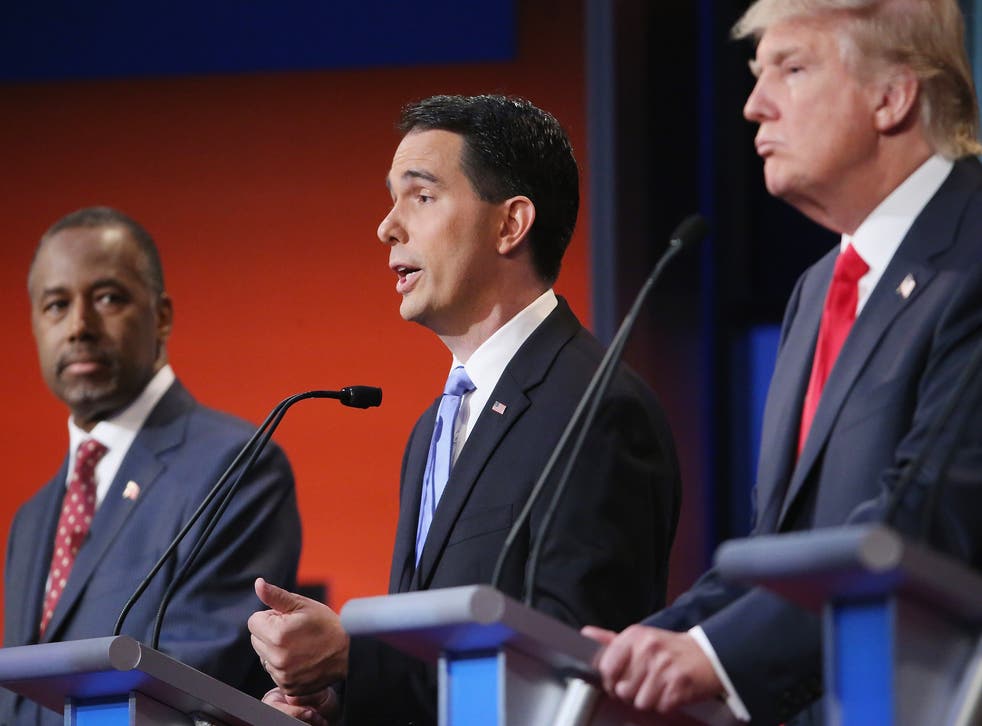 The first Republican debate spent little time discussing the growing national concern of disproportionate police violence against black Americans.
As the one year anniversary of the fatal police shooting of Michael Brown in Ferguson, Missouri approaches, the national conversation on race and criminal justice reform has reached new levels of concern across the nation.
Fox News moderator Megyn Kelly briefly brought up the issue in the debates second hour, surprising many viewers of the event given the setting of conservative presidential candidates who unequivocally condone the use of force by cops.
"Many in the Black Lives Matter movement — and beyond — believe that overly aggressive police officers targeting young African-Americans are the civil rights issue of our time," Ms Kelly asked, directing her question to Governor Walker. "Do you agree? And how do you plan to address it?"
"It's about training," Mr Walker began, before he completely side-stepped the issue of race, failing to mention black Americans in the fifty-second spot he was allotted.
"It's about making sure that law enforcement professionals, not only in the way into their positions, but through their time have the proper training when it particularly comes to use of force and that we stand up and protect those men and women doing their jobs.
Presidential prowess? Republican candidates in televised debate

Show all 10
"And for the very few that don't — that there are consequences to show that we treat everyone the same here in America."
Maggie Haberman, campaign correspondent at the New York Times, was skeptical of the scenario.
"Nick, you are right on the lack of attention to policing. There was one question about the Black Lives Matter movement, put to Walker, that felt almost obligatory, and which he turned quickly before a commercial break."
It would be interesting to hear the other GOP candidates' perspectives on the matter — but cameras cut to a Straight Outta Compton commercial break and upon the program's return, the subject was changed to foreign policy.
The group Color of Change purchased billboard space across Cleveland, Ohio — where the debate took place — commemorating victims of police violence to raise the issue of blacks killed in the "Buckeye State."
Featured on the billboards were Tanisha Anderson, 37, Tamir Rice, 12, and John Crawford, 22, all unarmed blacks fatally shot by police in cases scrutinized by the public sighting the lack of charges against the officers.
Watch the entire fifty-seconds below.
Join our new commenting forum
Join thought-provoking conversations, follow other Independent readers and see their replies