Guatemala sex slavery case offers hope for women abused during civil war
The Central American state is seen as one of the worst countries in the world to be a woman – with the third-highest rate of femicide globally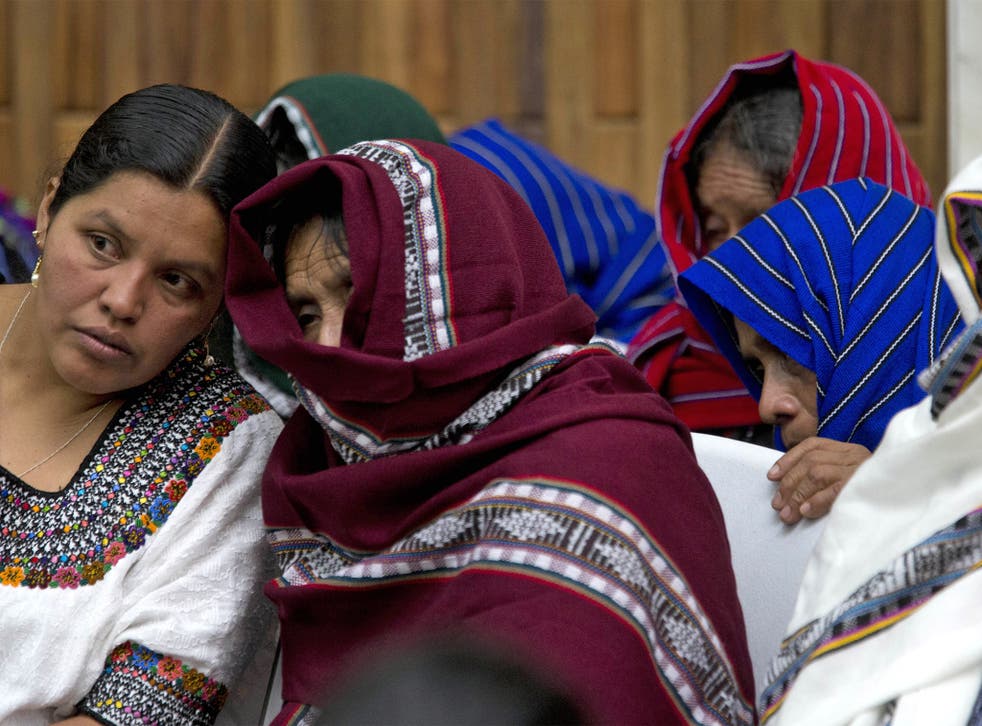 A packed courtroom looked on as the prosecution called its witnesses, who sat just metres from the very men accused of abusing them.
The women, faces hidden by shawls fashioned from brightly coloured Mayan fabric, listened motionless as tales of horrific sexual violence were recounted in the local Q'eqchi dialect. "Every day I suffer for what they did to me. They raped me many times," said Petrona Choc, now 75 years old.
In a landmark case, which began this week, two retired soldiers, former base commander Esteelmer Reyes Girón and former regional military commissioner Heriberto Valdez Asij are accused of forcibly disappearing indigenous men before enslaving their wives and daughters and subjecting them to systematic rape at the hands of army soldiers during Guatemala's civil 36-year civil war. Both of the accused deny any wrongdoing.
The alleged abuses took place at Sepur Zarco, an isolated civil war-era army base in eastern Guatemala, beginning in 1982 and allegedly continuing for four years in some cases. The civil war, which started in 1960, left more than 200,000 people dead or missing, according to the United Nations.
World news in pictures

Show all 50
The alleged victims of the abuses – of which 11 were in the courtroom – are now in their 70s and 80s. The Sepur Zarco trial, which is expected to last 40 days, is the first time that a Guatemalan court will consider sexual violence as a weapon of war, and it is hoped that such a case could reduce the stigma surrounding sexual violence in the country, and usher in a new wave of investigations into similar crimes.
"It does open the door for other women to come forward and speak about what happened," said Kelly Alford-Jones, director of the Guatemala Human Rights Commission USA. A complaint has already been filed by another group of indigenous women who claim to have suffered similar abuse, and investigations are underway in many other cases.
The shadow of the civil war continues to loom large over Guatemala, and experts believe that a history of sexual violence has normalised the mistreatment of women. "A lot of the social violence that we are living now is a consequence of the violence that the army implemented in society during the war," Guatemala women's rights activist Rebeca Lane told The Independent.
That legacy has serious repercussions. Guatemala is seen as one of the worst countries in the world to be a woman – with the third-highest rate of femicide globally. "Violence against women has been systematic and what women lived through during the civil war continues today," said Ada Valenzuela, director of the National Union of Guatemalan Women.
Guatemala: 'Volcano of Fire' billows smoke and ash in huge eruption
More than 40 per cent of Guatemala's population of 16 million is indigenous, and among the poorest and most vulnerable members of society are indigenous women, who face extra barriers due to racism as well as sexism. "Indigenous women have less access to education, less access to health services, less access to justice," said Ms Alford-Jones.
There are potential signs of change. Guatemala's Attorney General, Thelma Aldana, recently pledged to inaugurate a special prosecutor's office for femicide, and another for indigenous rights.
The Mayan women in the Sepur Zarco trial have a chance at setting a legal precedent.
Ms Valenzuela added: "Campaigning for justice is a healing process for women. They can fight to make sure similar crimes will not be committed again, not in Guatemala nor anywhere else in the world."
Join our new commenting forum
Join thought-provoking conversations, follow other Independent readers and see their replies