Gun control: Students' right to carry firearms drives academics from Texan universities
Teaching staff fear a new law allowing firearms on campus from August will stifle debate and put lives at risk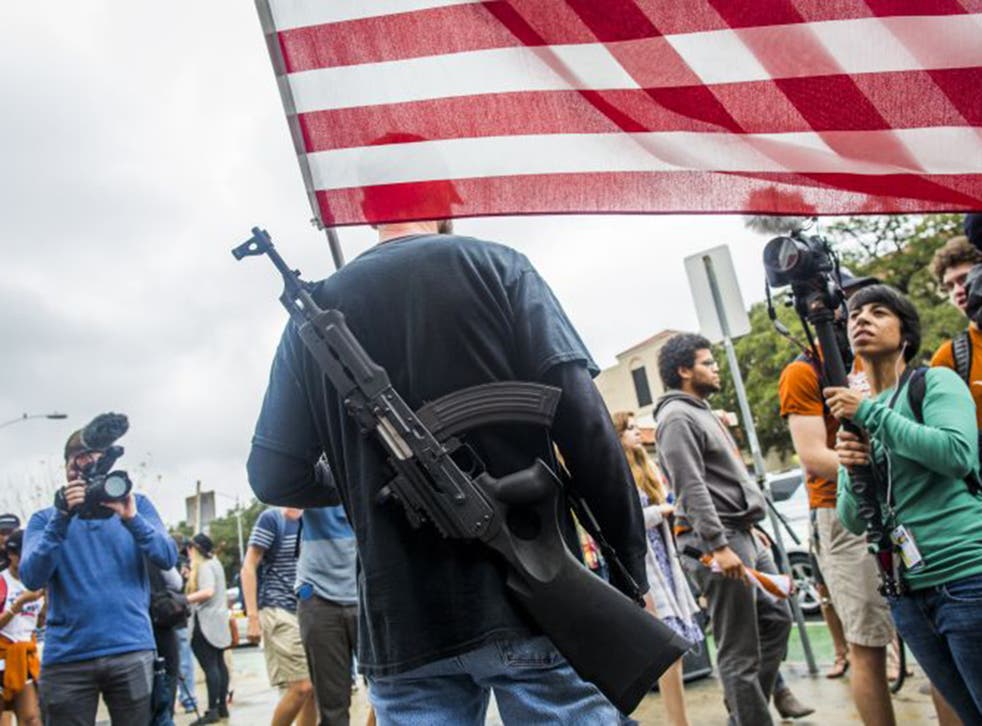 As students at the University of Texas in Austin filed into their on-campus polling centre on 26 February to cast early votes ahead of the Super Tuesday primary next week, it wasn't Donald Trump's hairdo or his positions on healthcare and immigration that was on their minds. It was guns.
Debate on gun control has been almost muted in the White House race, never mind the almost daily mass shootings, including in Washington state and Kansas last week. Democrats want more; Republicans, including Mr Trump, want less. But a new "campus-carry" law in Texas that will allow students at its public universities to bring firearms to class has stirred a furore in Austin that is gathering in intensity.
Passed last year and due to come into effect after the summer break, the law was already the cause of wide resentment when the president of the University of Texas, William McRaven, announced earlier this month that he was reluctantly preparing to implement it. A note was sent to professors and their assistants to avoid sensitive topics in classes if the debate at hand risked inflaming passions.
The advisory went to the heart of the fears of the law's critics – that firearms on campus will crimp academic debate. On 25 February, the dean of the architecture school, Fritz Steiner, announced he was leaving to take a post in Pennsylvania, citing the campus-carry edict as his principal reason.
Among those mourning his decision was Heather Way, 45, a law professor who is also running as a Democrat for the state legislature. On 26 February, she joined other candidates and students to protest the law at an outdoor plaza that serves as the campus "speakers' corner" near the early-voting station.
"Our campus values are about promoting open exchange between students and teachers and that right is being taken away," she explained, adding that it wasn't just guns in lecture halls that gave her pause. "I have a colleague who is concerned now about giving a student a low grade. Graduate students are under a lot of stress, and then you give them guns? You just don't know what could happen."
It grates that the law requires public universities such as this one – the fifth largest in the nation with 50,000 undergraduates – to implement it but allows private universities to opt out. And one by one they have said they intend to, including Baylor University where Ken Starr, the prosecutor in the Monica Lewinsky-Bill Clinton infidelity case, is president. "My view is that it is a very unwise public policy," he said. But Texas is hardly out on a limb. Across the country, states with Republican majorities have been fairly rushing to ease gun restrictions. Iowa passed a law last week allowing supervised children of all ages to handle guns. And 20 states now allow guns on campuses so long as they remain concealed.
Behind it is the same logic that drove Donald Trump to declare that last year's Paris massacres wouldn't have happened if only the victims had been armed. In other words, students have the right to protect themselves in the event a rogue shooter strikes in class or in the cafeteria. And they insist there can be no diluting the Second Amendment to the Constitution, which gives Americans the right to bear firearms.
"I think this is one of the best bills we've done for Second Amendment rights," state representative Jake Highfill, a Republican, said on the floor of the Texas House last week. "It returns the power back to where it fully belongs, back in the hands of parents to make those decisions."
The lieutenant-governor of Texas, Daniel Patrick, was dismissive of the law's campus critics. "I don't know why colleges are fixated with this. I think it makes campuses safer," he said.
That baffles Sahil Bhanbari, 23, who came from India eight months ago to study chemical engineering. The news of the law, he said, has spread all across India and his parents have pleaded with him to stay out of the argument and "come home as soon as possible". But as a member of the student government body he says that's impossible. "This is an ideological law that has been forced down our throats," he said. He reports that some teachers' assistants have already come to him to discuss their fears. "They say, 'How can you expect us to grade people when we are identified and they may be carrying a gun?'"
He and others such as Wills Brown, who is running to be president of the graduate student body, are asking students to mobilise to force the legislature to change course. Otherwise, Mr Brown, 25, offered, students will go elsewhere to learn and teachers will leave. "We are losing students. We are losing faculty and we are losing prestige," he said.
But in this state, where Democrats do not hold a single state-wide office, that may prove a greater challenge than anything academia can throw at them.
In pictures: US Elections 2016

Show all 15
Super Tuesday
Thirteen states and one territory (American Samoa) go the polls on 1 March, putting more votes up for grabs in one go than any on other day of the primaries.
For some candidates, it's make or break. Republican Ted Cruz sorely needs a win in his home state of Texas if he is to see out the rest of the campaign. And Florida senator Marco Rubio could do with a success anywhere at all if he hopes to continue presenting himself as the viable alternative to Donald Trump. When it comes to The Donald, the only question is how great a sweep he achieves.
In the Democratic camp, Hillary Clinton is expected to do well with African-American voters in the handful of Southern states that are voting. The key question will be whether Bernie Sanders can manage to take anywhere else. He is expected to do well in Vermont, and also has strong support in Minnesota, Massachusetts and Colorado. Without a win, however, he may see his momentum flag.
Join our new commenting forum
Join thought-provoking conversations, follow other Independent readers and see their replies