Hard Rock Cafe: The tribe that bought a billion dollar business
It's an all-singin', all-rockin' chargrilled phenomenon. From Key West to Kuala Lumpur, millions go there to taste the American dream. Now, the Hard Rock Café chain has been bought by Florida's Seminole Indians for $1bn. What does a 500-year-old tribe want with the world's biggest collection of rock memorabilia? Andrew Buncombe reports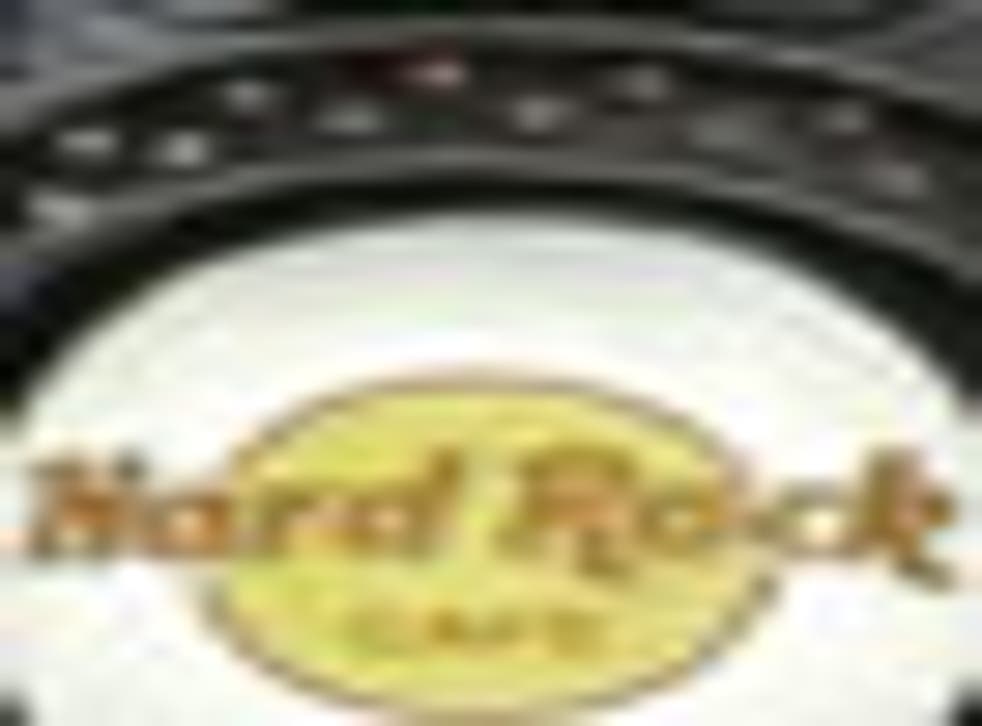 My Russian friend Dimitri is blessed with a happy smile and a fierce love for the music of Pink Floyd. He had never before been to the West when - almost a decade ago - he arrived at Heathrow on an Aeroflot flight wearing a bright red jacket and carrying a healthy stash of US dollar bills and a thirst for gentle adventure.
After he had thrust a bottle of vodka into my hand, I asked him what he wanted to do during his week in the capital. Did he want to see Buckingham Palace, London Bridge, the Tate?
As it was, Dimitri spent most of his week in London - and a decent chunk of his cash - hanging out in just a couple of the city's locations and drinking bottles of Budweiser. One was a bar in Leicester Square where you could sit outside and people-watch as you drank, and the other was the Hard Rock Café. I'm pretty sure that he went home with one of their famous T-shirts packed in his suitcase. "Shine on you crazy diamond!" he yelled when I dropped him back at the airport.
Perhaps I shouldn't have been so surprised about the way in which my friend frittered away his seven days in the decadent West. Over the past 35 years, the Hard Rock Café has become a solid institution. Beloved by T-shirt-collecting tourists (and avoided by others), its combination of classic American fare and rock memorabilia has become a genuine global phenomenon that has spread from its first site near London's Hyde Park to almost 125 locations in more than 40 countries around the world. The menu is the same in every one.
Yesterday, in the latest chapter in the Hard Rock story, it was announced that Rank Group Plc, the owner of the brand, was selling off the business to the Seminole Indian tribe of Florida, a native American group that traces its history to the 1500s. The price for the 124 Hard Rock Cafés, four Hard Rock Hotels, two Hard Rock Casino Hotels, two Hard Rock Live venues and the world's largest collection of rock'n'roll memorabilia was a decidedly rocking $965m (£510m).
Yes, it's a fair question. Seminole Indians and Hard Rock Cafés? Seminole Indians and Jimi Hendrix's Flying V Gibson guitar? Seminole Indians and Madonna's bustier and Elton John's high-heeled shoes? Good golly Miss Molly, what on earth's going on?
First up it's worth pointing out that the deal between the Indian tribe and Rank appears to be based on purely business reasoning, rather than the Seminole's love of the Hard Rock Café's chicken wings or pulled-pork sandwiches. Like many American Indian tribes, the Fort Lauderdale-based Seminoles are already involved heavily in the hotel and casino business.
Indeed, in 1979 they were the first such group to receive a federal licence that allowed them to open a casino and bingo hall. They already own two Hard Rock Hotels, and operate five other casinos in Florida. More than 90 per cent of the tribe's income comes from gaming revenues. (Across the US, gambling is worth an estimated $22bn to various Indian tribes every year.)
"This is a proud moment for the Seminole tribe of Florida and for all Indian tribes," Mitchell Cypress, chairman of the elected tribal council, told reporters yesterday morning. "It is also an opportunity for the Seminole tribe to diversify its business operations and help a very successful company to achieve even greater growth."
Even greater growth indeed. The first Hard Rock Café opened in London in 1971, the same year that Pink Floyd released their album Meddle, containing the 23-minute track "Echoes" (and Leonid Brezhnev signed the directives for the ninth five-year plan). It was the brainchild of two American music fans - Isaac Tigrett, a devotee of the Indian guru Sathya Sai Baba, and Peter Morton, son of Arnie Morton, the founder of Morton's Steakhouses - who sought to lure customers with American food and an unceasing soundtrack of rock music.
Their restaurant's name was apparently inspired by a 1970 album by The Doors, Morrison Hotel, which featured the now-closed bar on its back cover. Meanwhile, the motto of the restaurant, "Love All, Serve All", was adopted from a teaching by Tigrett's guru.
And for the first decade, operating out of a former Rolls-Royce showroom, that was how it was - big portions of burgers and fries, exotic-sounding cocktails and the best music they could find to play over the speakers. "You can not seek simply to exploit culture, but you must earn the right to represent it," Tigrett once said.
Things really started to change in 1979, when, in addition to entertaining customers with a rock'n'roll soundtrack, the pair started collecting music memorabilia and exhibiting it on the walls of their restaurant. Apparently the first piece of memorabilia was a Fender Lead II guitar donated by Eric Clapton. Clapton was a regular at the restaurant and a friend of the owners. The story goes that one evening he asked them whether they intended to put a brass plaque on the wall in his honour. They responded, jokingly, that he ought to donate something to them instead. Shortly afterwards he handed over the unsigned instrument.
Less than a week after Clapton's gift, The Who's Pete Townshend donated one of his guitars. It was a Gibson Les Paul that was also unsigned, but it bore a handwritten note that read: "Mine's as good as his! Love, Pete."
The two guitars are still on display at the London restaurant, along with a black knitted shawl once owned by Janis Joplin, a drum-kit once whacked by Hendrix's drummer Mitch Mitchell and a Fender bass guitar played by U2's Adam Clayton. American rocker Lenny Kravitz also donated a guitar - in his case a Gibson Flying V. He was kind enough to sign it.
Of course, while the menu at every Hard Rock Café may be the same, the memorabilia is different. At the branch in Washington, DC, for instance, diners can look at a Yamaha acoustic guitar once owned by Led Zeppelin's Jimmy Page, another acoustic guitar played by Seal, a white National Newport guitar owned by Bob Dylan (that featured on the cover of a 1979 edition of Rolling Stone magazine) and a Yamaha saxophone that was famously played by President Bill Clinton at one of his inaugurals balls in January 1993.
Indeed, for many visitors to the Hard Rock Café, it is this fantastic collection of bought and collected memorabilia - there is so much of it that the company had to build a museum in Orlando, Florida, to house it all - that is the main attraction, rather than the food. That is not to say the food is necessarily bad, but some people might tell you it is a little bland, a little dull.
Keen to check out the menu and its prices - which are not listed on the website - The Independent called the Washington location of the Hard Rock Café yesterday and was answered by an enthusiastic-sounding woman called Rosa Lee. "Thanks for calling the Hard Rock Café, Washington, DC," she said. "This is Rosa Lee. How may I rock your world?"
The call was then put through to the manager, Rob, who sounded equally keen to help and oblige. "Hello. This is Rob. How may I rock your world?"
Within minutes a copy of the menu was chuntering through on the fax machine. The eye was immediately drawn by a $10 item on the appetisers list entitled Joe Perry's Rock Your World Quesadilla. "Grilled chicken and pineapple, tossed in our own BBQ sauce (made with Joe Perry of Aerosmith's Mango and Peach Tango Sauce), with melted Jack cheese and stuffed in a chilli-dusted tortilla."
Another item that sounded interesting was a $19 piece of meat called the Mad Anthony's Grilled Skirt Steak. The description on the menu promised: "An 11oz skirt steak grilled to your liking and brushed with Mad Anthony's (of Van Halen fame) BBQ sauce. Served with sweet potato fries and fresh vegetables."
Will such delights remain on the menu and will such enthusiasm among the staff continue under the chain's new owners, who reportedly are descended from a few hundred Seminoles who escaped into the Everglades in the middle of the 19th century? There was no word yesterday from the 3,300-strong tribe, but there are clear signs that nothing too drastic needs to be done to the basic business plan.
Under Rank (Tigrett sold out his interests in the business long ago, and Morton followed suit in 1996) the Hard Rock chain has regularly turned over a healthy sum of money, even though the parent company itself has not been in profit since 2003. Last year the Hard Rock business made a pre-tax profit of $68.6m, from total revenues of $493m.
Ian Burke, the CEO of Rank, said yesterday that the company was proceeding with the sale to concentrate on its gambling interests. He added: "We have maximised the value of Hard Rock through this disposal following a thorough strategic review and competitive auction."
Indeed, if predictions are right, we are going to be seeing more of the Hard Rock brand, not less. James Allen, CEO of Seminole Gaming, told the Bloomberg news agency that there were a number of potential sites for new businesses, both in the US and elsewhere around the world. "We think there is a tremendous opportunity to continue to expand the brand in hotels," he said.
All of which is good news for fans of the Hard Rock Café, such as my friend Dimitri, who since September 2003 has been able to visit a branch of the restaurant in his home town.
The Hard Rock Café in Moscow, located at 44 Stary Arbat, a popular shopping street in the centre of the city and an easy walk from the Kremlin, boasts three separate bars and a shop where tourists and other aficionados can buy those T-shirts. Its website says it has room for 500 customers and that additionally has a stage that regularly hosts performances by local musicians.
And those seeking out the fabulous rock'n'roll memorabilia that lures customers to Hard Rock Cafés from Beijing to Bangkok will not be disappointed. Among the items on display are a white jumpsuit and vest from Elton John, a multi-coloured lambswool coat worn by Jimi Hendrix and a red velvet cape that once belonged to soul legend James Brown. Sadly, there's nothing from Pink Floyd.
Gambling: the tribal connection, by James Moore
Many of America's 4 million or so native Americans live in grinding poverty on arid land unsuitable for most types of economic activity. Yet America's National Indian Gaming Association has described the growth of Indian casinos as "the Native American success story", suggesting that they are rebuildingcommunities "through Indian self-reliance".
It's true that the money from Indian casinos has done much to help a people who have been stuck on the wrong side of the American dream ever since Christopher Columbus landed in the New World. America's Indian casinos are in the midst of a spectacular boom. According to the IGA, they pulled in $22.6bn in revenues last year alone, around double the take of Nevada, home to Las Vegas and its scrappy little brother, Reno.
The USA now boasts 408 Indian gaming facilities, including 247 full-blown casinos with Vegas-style table games such as blackjack, craps and roulette. These gambling dens are operated by 223 federally recognised tribes in 28 US states, and employ more than half a million people - including many non-Indians.
But where there is big money to be had, there tend to be bigger arguments. Tribes have the status of sovereign nations, giving them the right to decide who is a member, and who is not (the amount of Indian blood necessary varies between the 561 federally recognised tribes). Recently, tribes have faced allegations of racism and greed as they have purged members and denied others' applications, shutting them off from benefits such as medical care, education and housing.
Smaller Indian groups in states such as Massachusetts have been pushing for federal recognition so that they, too, can open casinos and take advantage of incentives that leave them exempt from gaming, property and profit tax.
Critics argue that big-money gaming interests often partner with Indian groups and try to create artificial tribes to enable them to cash in on the tax breaks. But the IGA points to the wealth and self-esteem that casino-financed programmes have brought to some of the country's poorest people.
Join our new commenting forum
Join thought-provoking conversations, follow other Independent readers and see their replies