Henry Kissinger tells Nobel Peace Prize forum to give Donald Trump a chance
More than 7,000 people called for the 'mastermind of war' to be arrested while visiting Norway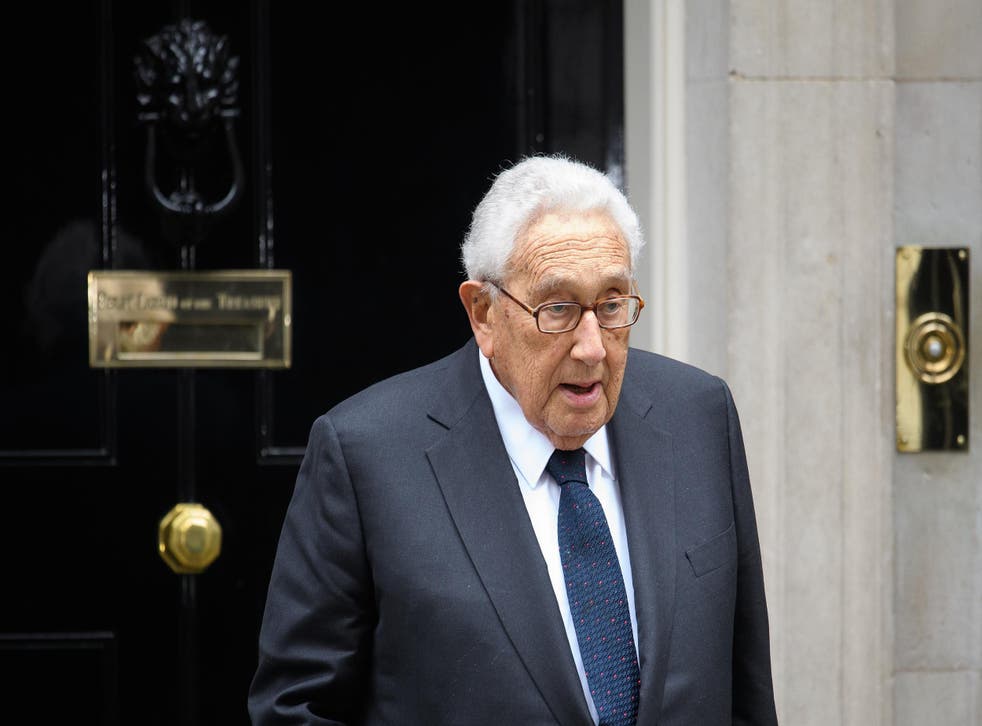 The Nobel Institute's decision to host pro-war hawk Henry Kissinger at its first ever Peace Forum in Oslo was met with skepticism and incredulity, with more than 7,000 people calling for his arrest in Norway.
Mr Kissinger, who allegedly orchestrated the mass bombing in Cambodia in 1969 and in Vietnam and Laos in the 1970s as secretary of state under Richard Nixon, told the crowds to give president-elect Donald Trump a chance instead of judging him by his rhetoric.
"International debate should be over evolving American policy, not over campaign rhetoric," Mr Kissinger said on Sunday.
"Before postulating an inevitable crisis, an opportunity should be given to the new administration to put forward its vision of international order," he added.
Mr Kissinger, 93, was awarded the Nobel Peace Prize in 1973 for his efforts to conclude the Vietnam War. The award was described by critics as a move which "made political satire obsolete". The Vietnam war was not over until 1975.
A campaign group called RootsAction gained more than 7,000 signatures on a petition to call upon Norway's director of public prosecutions to arrest the former diplomat as he was "complicit or a main act in many violations of the Genocide Convention and of the Geneva Conventions", supporting violence in Cyprus, Kurdistan, East Timor and India.
The forum's discussion moderator, Olav Njølstad, and the director of the Norwegian Nobel Institute, defended Mr Kissinger's invitation to the University of Oslo's newspaper Uniforum: "I'm not very impressed by Norwegian academics who protest Kissinger being allowed to express himself on important international questions on Norwegian soil. The picture these critics draw of his contributions as a politician are also much too black-and-white."
World reaction to President Trump: In pictures

Show all 29
While some people appreciated Mr Kissinger's contribution to the discussion, many commenters on the Nobel Prize Facebook page described his invitation as a "farce" and questioned the credibility of the Nobel Committee.
"Kissinger to talk about world peace? Which Twilight Zone episode is this??" asked Ali Stevenson.
"It's like inviting Hitler to a Jewish wedding," added Dobroslav Bakalov.
The Nobel Institute could not be contacted immediately for comment.
Protesters and police surrounded the University of Oslo, where the discussion was held. The protesters were angry about Mr Kissinger's long and controversial history, including his indirect responsibility for mass murders in Latin America in the 1970s and 1980s and helping a military coup to overturn an elected president in Chile.
Mr Trump, a fellow hawk, has suggested that NATO should be scrapped and that Japan and South Korea should obtain their own nuclear weapons to deter North Korea.
The case for Henry Kissinger

Show all 6
Mr Kissinger pointed to growing tensions between the US and China, and between the US and Russia as possible threats facing the president-elect.
"I hope and believe that in the decades ahead, the United States will continue to fulfill its history and tradition of building world peace," he said.
Mr Kissinger, described as a war mastermind, met Mr Trump twice in 2016; in May and after Mr Trump's victory.
He described the president-elect as the "most unique" presidential person he had ever met.
The former member of government is still careful where he travels.
In 2001 in Paris he was summoned to appear before a judge the next day, but he checked out of his hotel and immediately left the country.
Join our new commenting forum
Join thought-provoking conversations, follow other Independent readers and see their replies