hitchBOT: Hunt on for man seen on surveillance video trampling hitch-hiking robot in Philadelphia
The robot has set off on its US journey on July 17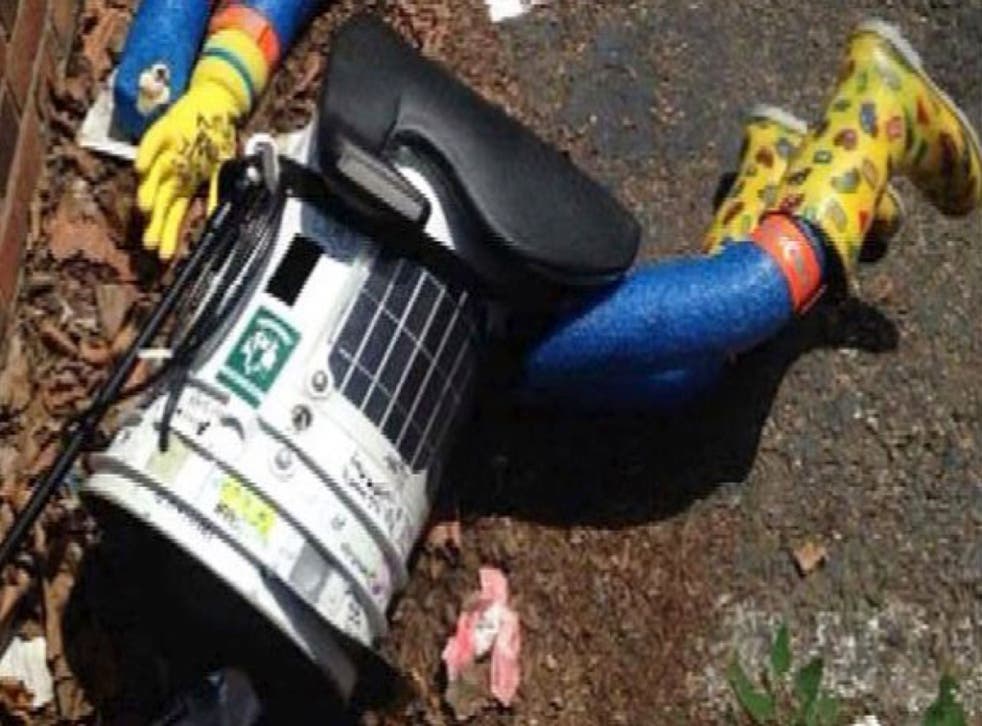 And so the hunt is on.
Video footage has emerged that apparently shows the person who decapitated and destroyed hitchBOT, the friendly, Canadian hitch-hiking robot.
The robot, which was unable to move on its own, relied on people to pick it up and pass it on. Last year it completed trips across its native Canada, Germany and the Netherlands.
But over the weekend, the robot was found wrecked in the city of Philadelphia, with images of hitchBOT's debris going viral.
"Sadly, sadly it's come to an end," said Frauke Zeller, one of the robot's creators.
Now, footage has emerged that appears to show the destruction of the robot, which was designed as a social experiment by the Canadian researchers.
CCTV footage of a lone man in a sports shirt stamping and attacking the robot was posted on SnapChat by Vlogger Jesse Wellens on Monday night.
The timecode on the security camera footage appears to show the man attacking hitchBOT at 5.46am on Saturday August 1st.
The robot's US road trip began in Marblehead, Massachusetts, on July 17 with its thumb raised. A tape wrapped around its cylindrical head read "San Francisco or bust".
During its brief but colourful journey in the US, it visited Massachusetts, Connecticut, Rhode Island, New York, and New Jersey.
The robot's creators, led by Frauke Zeller of Toronto's Ryerson University and David Harris Smith of McMaster University in Hamilton, Ontario, were sent a picture of the mutilated robot on 1 August but were unable to track its location because the battery was dead.
They have said they do not know who destroyed it.
Join our new commenting forum
Join thought-provoking conversations, follow other Independent readers and see their replies