House Intelligence Committee open hearing into Russia links 'cancelled', says furious Democrat leader
Former Trump adviser Paul Manafort is set to appear before the committee - but it looks likely now to be a closed session
Mythili Sampathkumar
New York
Friday 24 March 2017 16:38 Comments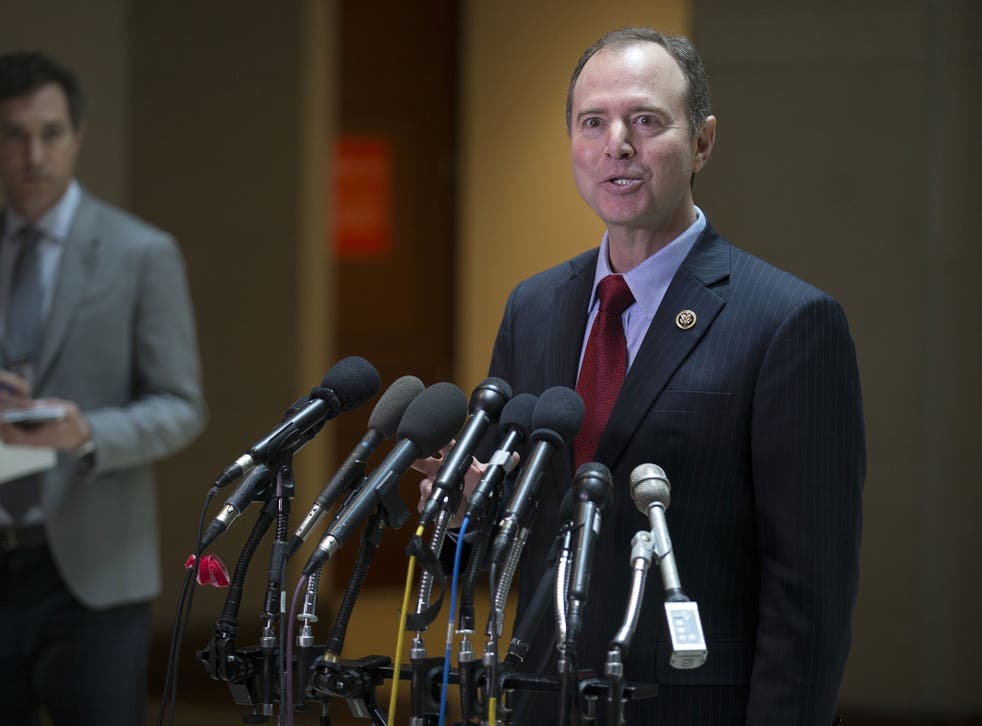 The ranking Democrat on the House Intelligence Committee, Adam Schiff, claims its Republican chairman has cancelled an open hearing into Russia's involvement in the 2016 election.
Adam Schiff tweeted that Devin Nunes had "cancelled open Intelligence Committee hearing with Clapper, Brennan and Yates in attempt to choke off public info", referring to former Deputy Attorney General Sally Yates, Director of the CIA John Brennan, and Director of National Intelligence James Clapper, all former Obama administration officials.
In a separate development, Donald Trump's former campaign chair Paul Manafort has voluntarily agreed to be questioned by the committee regarding alleged ties to Moscow, according to Representative Nunes.
Speaking to reporters on Capitol Hill, Mr Nunes said that Mr Manafort will be questioned by the committee but would not say whether the session would be open or closed.
"We have to work [that] out with Mr Manafort's counsel," Mr Nunes said.
He also announced that FBI Director James Comey and the Director of the National Security Agency Michael Rogers are being recalled to testify before the commitee.
The first hearing took place on 20 March and contained explosive testimony from Mr Comey who said the Trump campaign team was under FBI investigation for ties to Russian officials.
Mr Comey also said the FBI had no evidence that Trump Tower was wiretapped by former President Obama or anyone else despite Mr Trump's accusations laid out in a series of tweets.
FBI chief confirms Russia election interference probe
However Mr Nunes said on 22 March that in the course of reviewing intelligence documents he found that Mr Trump and his campaign team were subject to "incidental" intelligence collection, which "alarmed" him.
He came under fire for taking that revelation to Mr Trump before coming to the House Intelligence Committee.
Mr Nunes said Mr Comey and Mr Rogers were not being recalled due to the information he reportedly saw in the intelligence documents he reviewed earlier this week.
"I'm the only one who has seen the documents as far as I know," said Mr Nunes. He also said that he knew there was "additional unmasking" of names of people on the Trump campaign and transition teams prior to viewing the documents.
He reiterated that there is no evidence of wiretapping of Trump Tower and that the surveillance of the transition team was legal.
He did not explain though why he felt the need to brief Mr Trump before the intelligence committee if he felt the collection was legal.
It "appears as if this was all legal from what i can tell, but until i get the documents i won't know for sure," Mr Nunes said.
"Many names have been mentioned [in the documents]. We're not going to get into a neo-McCarthyism here," Mr Nunes said regarding bringing in additional people for questioning simply because their names were revealed in a press report.
However, he did not clarify whether the committee would call those "unmasked" in the intelligence documents in for closed session questioning.
Register for free to continue reading
Registration is a free and easy way to support our truly independent journalism
By registering, you will also enjoy limited access to Premium articles, exclusive newsletters, commenting, and virtual events with our leading journalists
Already have an account? sign in
Join our new commenting forum
Join thought-provoking conversations, follow other Independent readers and see their replies