How Peru became the cocaine capital of the world
The recent arrests of British women in Lima highlight the large numbers of foreigners in the country's jails facing smuggling charges and the Andes' growing importance in the drugs trade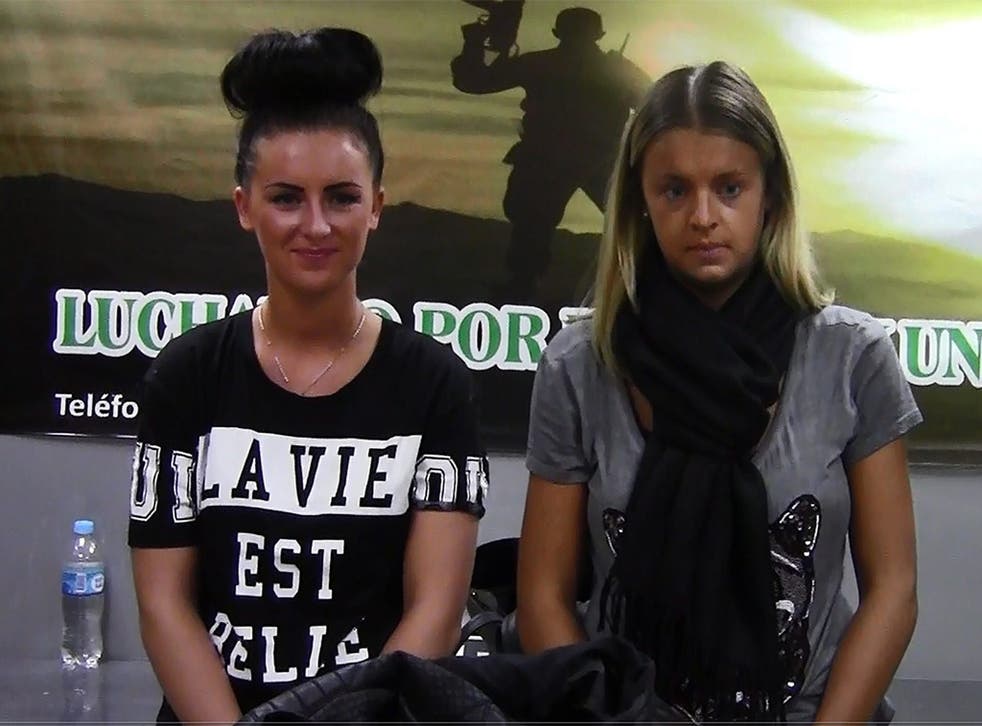 It is at least conceivable that when a sniffer dog approached the two young women at Lima's Jorge Chavez International Airport last week, their fear was tinged with relief.
Michaella McCollum, 20, from Dungannon in County Tyrone, and 19-year-old Melissa Reid, from the suburbs of Glasgow, were stopped as they checked in for a flight from the Peruvian capital to Madrid. Drug enforcement officers found more than 11kg of cocaine in their luggage. But under questioning, the pair stuck to a remarkable and terrifying story.
Ms McCollum and Ms Reid, who are being held in Lima accused of drug trafficking, told the Daily Mirror they had been conscripted by a "shady Cockney character" while on holiday in Ibiza. Both were whisked to Peru under duress, chaperoned by South American gangsters. The women, who say they had never met previously, were ordered to collect a shipment of cocaine from the tourist town of Cuzco, to pose as backpacking buddies, and to smuggle the drugs back to Spain. If they refused, they claim, the cartel had threatened violence not only against them, but against their families.
Asked to name a South American country steeped in the drugs trade, most people would pick Colombia or Mexico. And yet, says Professor Paul Gootenberg, author of the book Andean Cocaine, "This case is emblematic of the dramatic recent change in the structure of the cocaine trade. For at least the last two years, Peru has been the world's largest producer of cocaine. That seems to be the pattern that will continue for a while."
During the decades-long "war on drugs", the cocaine business has shifted between its major producer countries in a cycle known as the "balloon effect": every time the industry is squeezed from one area, it expands in another. In the 1990s, a concerted eradication effort drove the semi-legal cultivation of coca – the raw ingredient for cocaine – out of Peru and Bolivia into Colombia, which in 2000 produced 74 per cent of the world's coca leaves.
But thanks to a US-funded crackdown by the Colombian government, which included planes dusting coca fields with weed-killer, by 2010 that figure was down to less than 40 per cent, and coca growth was spreading again in Peru.
Forthcoming figures from the United Nations Office on Drugs and Crime (UNODC) are expected to show that Peru surpassed its neighbour last year as the biggest global producer of the drug. In 2011, the UNODC estimated the country's coca crop at a whopping 62,500 hectares, generating some 325 tons of processed cocaine. Worldwide street sales of Peruvian coke are believed to have hit more than $20bn (£12.8bn) annually.
The rise of the Peruvian cocaine trade has also been driven by market forces. In recent years, demand for the drug has fallen substantially in the US, which was traditionally served by the Colombian trade. Peru, on the other hand, exports the majority of its illicit product to Brazil (where it is turned into the cheaper and more addictive crack), and to Europe. Unlike their American counterparts, British appetite for cocaine almost doubled during the Noughties.
Which may explain why Peru now has 1,648 foreigners in its jails for drug trafficking offences, more than any other South American country. Almost 250 suspected drug mules like Ms McCollum and Ms Reid were arrested at Jorge Chavez International in 2012. According to the UK charity Prisoners Abroad, there are now 37 British citizens in Peruvian jails, most of them men. Pauline Crowe, the charity's chief executive, says, "As the drug routes move, we see the numbers of British prisoners go up in some countries and down in others. Five years ago, it was a very small handful of people in Peru, but those numbers have increased significantly in the last couple of years."
The Peruvian prison system is presently running at more than 200 per cent of its capacity. Lima's notorious Sarita Colonia prison was built for 50 inmates, yet it presently houses more than 2,800 men. The vast majority of those prisoners were incarcerated for drug trafficking offences, and many of them are European. If they were caught carrying less than 10kg of cocaine, their sentence is a standard six years and eight months. More than 10kg, and they face 25 years. How that law is applied could prove crucial to Ms McCollum and Ms Reid's case.
The tropical climate of the Peruvian Andes is ideal for coca cultivation – the country's remote Apurimac and Ene river valley is probably the most dense coca-farming area in the world. The lush vegetation hides countless makeshift cocaine manufacturing operations, and the rugged landscape makes the region extremely difficult to police. Juan Zarate Gambini, the former general leading Peru's anti-coca efforts, told The New York Times in 2010 that his task was like "detaining the wind".
Still, Gambini's coca eradication agency Corah – a branch of Peru's drug control authority – boasted of wiping out more than 14,000 hectares of the plant in 2012. This year it has doubled its eradication target. The Peruvian authorities believe that the production of cocaine is mostly conducted by locals, including the Maoist guerrilla group Shining Path.
Its trafficking and export, however, falls to Colombian, and more recently Mexican, cartels. Despite their ruthlessness, Peru has so far seen relatively little of the violence visited on Colombia and Mexico by the drugs trade – though experts say that calm may portend a storm.
The US is keen that Peru adopt similar policies to Colombia and Mexico, which both fought the war on drugs by militarising their law enforcement agencies. But, says Professor Gootenberg, "Peru is very ambivalent about anti-drug policy. Cocaine doesn't affect the country like it does Colombia: the coca-growing areas are very remote geographically, economically and socially. They're well removed from Lima and the coast, so there's not the level of violence and corruption that we've seen in Colombia and Mexico."
As Leicester University criminologist Dr Jennifer Fleetwood explains, "The violence in Mexico and Colombia has as much to do with law enforcement as it does to do with drug trafficking. Once you militarise a region, you undermine local democracy, local police – you cause instability and corruption. Peru has not yet militarised to the same extent."
Within Peru, there is widespread speculation about government corruption, and several Peruvian politicians have been arrested or accused of entanglement with the drugs trade. Latin American governments, under pressure to produce small victories in the war on drugs, often pick on easy targets – low-level couriers like Ms McCollum and Ms Reid – rather than on the cartels which run the business. Little wonder, then, that successive Peruvian presidents have pardoned hundreds of drug traffickers, ostensibly to ease the overcrowding of prisons like Sarita Colonia.
Dr Fleetwood, who has studied the use of women as drug mules, says most cocaine smuggling is conducted by men who do it voluntarily and get paid. Ms McCollum and Ms Reid are atypical traffickers, and may indeed have fallen victim to a cartel's threats, but such claims rarely stand up in court. "Traffickers are usually very careful to leave no trace of threats and so drug mules will almost never have any evidence to support their claims," says Dr Fleetwood. "It will be very difficult for them successfully to claim their innocence… They may have little choice but to plead guilty in the hope that remorse might count in their favour."
Join our new commenting forum
Join thought-provoking conversations, follow other Independent readers and see their replies