Huge toll feared in Haiti earthquake
Huge toll feared in Haiti earthquake

Show all 22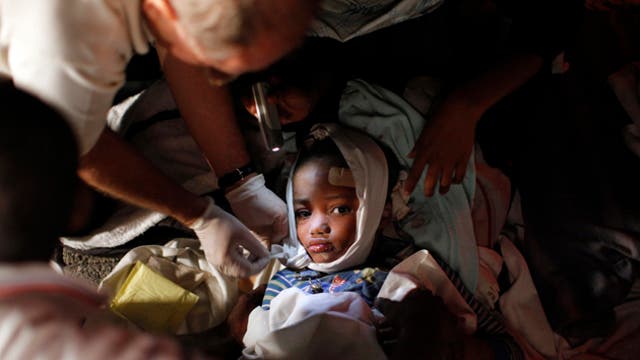 Many thousands were feared dead in a major earthquake that destroyed the presidential palace, schools, hospitals and hillside shanties in Haiti, its leaders said today.
The quake's epicenter was only 10 miles (16 km) from Port-au-Prince. About 4 million people live in the city and surrounding area. Many people slept outside on the ground, away from weakened walls, as aftershocks as powerful as 5.9 rattled the city throughout the night and into Wednesday.
The devastation crippled the government and the UN security and assistance mission that had kept order, and there were no signs of any organized rescue efforts.
Haitian Red Cross spokesman Pericles Jean-Baptiste said his organization was overwhelmed. "There are too many people who need help ... We lack equipment, we lack body bags," he told Reuters on Wednesday.
Reports on casualties and damage were slow to emerge due to communication outages.
In New York, UN Secretary-General Ban Ki-moon said those unaccounted for at the UN mission headquarters included the chief of the mission, Hedi Annabi, but he could not confirm reports Annabi had died. He said 100 to 150 people were in the building when the quake struck.
Brazil's army said at least 11 Brazilian members of the UN peacekeeping mission were killed and many soldiers were missing.
The poorest country in the Western Hemisphere, Haiti is ill-equipped to respond to such a disaster, lacking heavy equipment to move debris and sufficient emergency personnel.
"I am appealing to the world, especially the United States, to do what they did for us back in 2008 when four hurricanes hit Haiti," Raymond Alcide Joseph, Haiti's ambassador to Washington, said in a CNN interview.
"At that time the US dispatched ... a hospital ship off the coast of Haiti. I hope that will be done again ... and help us in this dire situation that we find ourselves in."
US President Barack Obama said his "thoughts and prayers" were with the people of Haiti and pledged "unwavering support."
Medical aid group Doctors Without Borders said its three hospitals in Haiti were unusable and it was treating the injured at temporary shelters.
"The reality of what we are seeing is severe traumas, head wounds, crushed limbs, severe problems that cannot be dealt with with the level of medical care we currently have available with no infrastructure really to support it," said Paul McPhun, operations manager for the group's Canadian section.
In Geneva, UN officials said they expected the world body would issue an international emergency appeal for funds and other assistance, once needs on the ground had been assessed.
Germany was sending 1 million euros in immediate aid, and the EU's executive European Commission pledged 3 million Euros ($4.37 million) of fast-track funding.
The United States, Britain, Canada, France, Belgium, Sweden, Luxembourg and Netherlands were sending reconnaissance and rescue teams, some with search dogs and heavy equipment, while other government and aid groups offered tents, water purification units, doctors and telecommunications teams.
The quake hit at 5 p.m. (2200 GMT), and witnesses reported people screaming "Jesus, Jesus" running into the streets as offices, hotels, houses and shops collapsed. Experts said the quake's epicenter was very shallow at a depth of only 6.2 miles (10 km), which was likely to have magnified the destruction.
Witnesses saw homes and shanties built on hillsides tumble as the earth shook, while cars bounced off the ground. "You have thousands of people sitting in the streets with nowhere to go," said Rachmani Domersant, an operations manager with the Food for the Poor charity.
Media reports said the archbishop of Port-au-Prince, Monsignor Joseph Serge Miot, has been found dead in the wreckage of the archdiocese office.
UN officials said normal communications had been cut off and the only way to talk with people on the ground was via satellite phone. Roads were blocked by rubble.
Some 9,000 UN police and troops are stationed in Haiti to maintain order and many countries were trying to determine the welfare of their personnel.
A spokesman for the American Red Cross said the aid organisation had run out of medical supplies.
Red Cross spokesman Eric Porterfield said today the small amount of medical equipment and medical supplies available in Haiti had been distributed.
The Red Cross was sending more medical supplies, but Porterfield said he does not know when they will arrive.
Porterfield said he didn't know if the depletion of medical supplies was preventing victims in critical condition from being treated following Tuesday's earthquake.
Join our new commenting forum
Join thought-provoking conversations, follow other Independent readers and see their replies