Hundreds of snakes discovered in plastic bins in teacher's home after neighbours complain of 'overwhelming stench'
Schoolteacher William Buchman was arrested after officers found over 300 living and dead snakes inside his property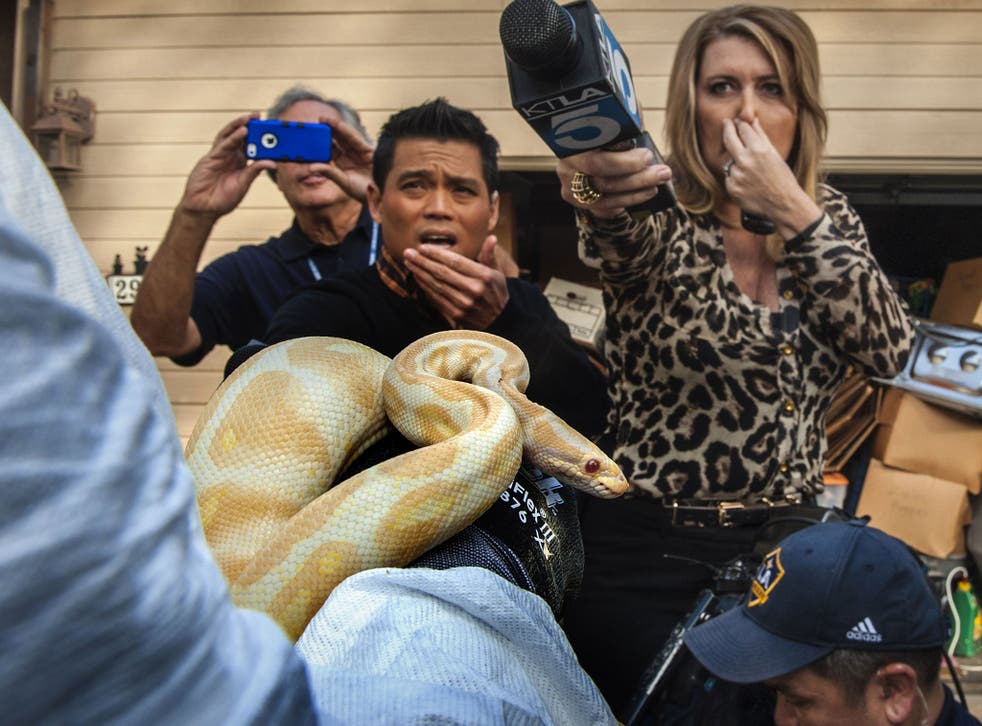 Hundreds of living and dead snakes were discovered packed inside a California home after neighbours complained of an "overwhelming stench" emerging from the property.
The complaints prompted an investigation by the Department of Animal Services, who raided William Buchman's house in Santa Ana on Wednesday.
The 53-year-old school teacher was arrested for investigation of neglect in the care of animals, after officers found at least 300 pythons stacked inside his home.
The pythons were kept throughout the five-bedroom house.
Animal control authorities had attempted to work with Mr Buchman for several months after neighbours reported the smell but sought a warrant when they were not allowed inside the home where he lived alone, police Cpl. Anthony Bertagna said.
"The smell alone — I feel like I need to take a shower for a week", he told reporters. "They're pretty much in all the bedrooms — everywhere."
Numerous rats and mice were also discovered inside the house.
Sondra Berg, a supervisor for the Santa Ana Police Department's Animal Services Division, said four of the five bedrooms in the home were stacked from floor to ceiling and wall to wall with plastic bins on wooden and metal racks. The bins were packed so tightly, Ms Berg said, that they did not require lids because there was no room for the snakes to slither out.
"They're very cold and it appears that most of them haven't eaten in quite a while," Ms Berg told KCAL news. "There is various stages of dying and dead and underweight."
Additional reporting by Reuters
Join our new commenting forum
Join thought-provoking conversations, follow other Independent readers and see their replies