Harvey: Pictures show waves rolling over Texas highway in aftermath of hurricane
Almost 25 trillion gallons of rain have fallen on the area in less than a week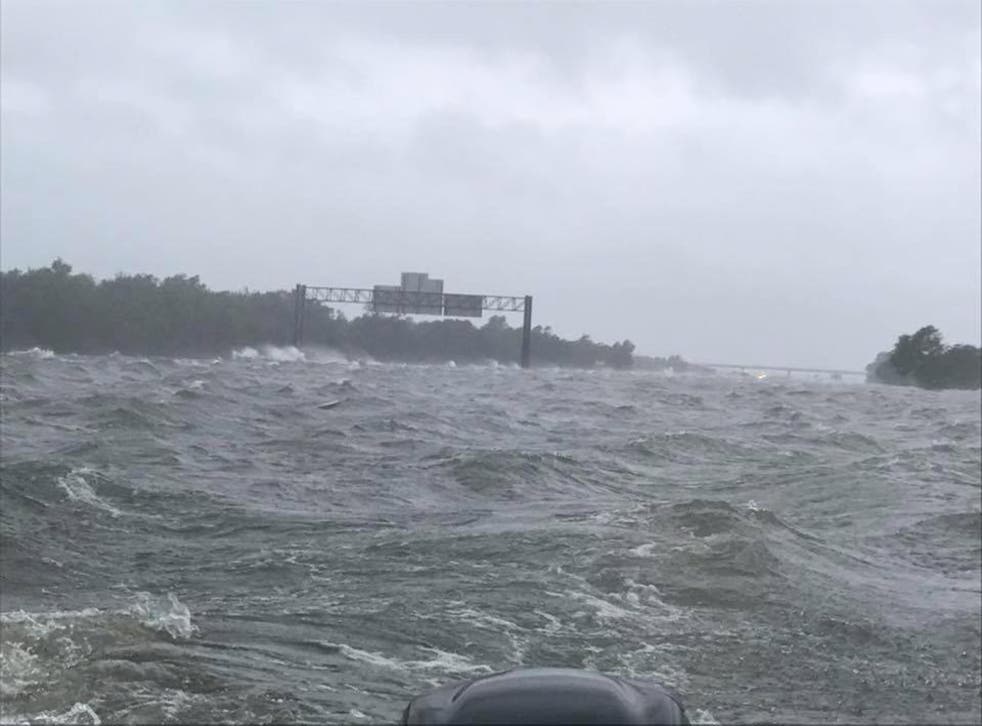 It looks like a raging river in a storm: waves sweeping over the surface while, in the distance, a bridge can barely be seen above the swollen waters.
Instead it is a Texas highway, covered by several feet of water after Hurricane Harvey dumped a year's worth of rain on the area in less than a week.
An estimated 24.5 trillion gallons of rain have now fallen on the US Gulf Coast since the hurricane hit. Harvey has since been downgraded to a tropical storm.
The shocking images show so much water that four-foot-high waves can be seen rolling across the submerged tarmac.
They were taken by Logan Wheat on the I-10 interstate highway between Houston and Beaumont.
Mr Wheat also photographed a herd of cows standing up to their necks in flood water.
"It's scary to know there were still cows out there and alive," he told Storyful. "It puts a knot in my throat to know we couldn't get them out."
Mr Wheat had taken to the waters in an attempt to help some local ranchers move their cattle to higher ground. After travelling two miles by boat, they came across a group of the cows but they were already almost covered by the waters.
Tens of thousands of people have been evacuated from their homes after Houston and the surrounding areas were hit by unprecedented flooding.
The aftermath of Hurricane Harvey

Show all 19
Thirty-eight people are already confirmed to have died as a result of Harvey but officials expect the number to rise as recovery operations get underway.
Texan firefighters are now going "block to block, door to door" in an attempt to ensure no one is trapped, according to Houston Fire Chief Terry Garrison.
Around 32,000 people are currently living in temporary shelters across Texas after 50,000 homes were destroyed by the storm and subsequent flooding.
Join our new commenting forum
Join thought-provoking conversations, follow other Independent readers and see their replies