Hurricane Katrina anniversary: Watch Barack Obama's speech - 'In the face of tragedy, good people come together to lend a hand'
The president paid tribute to the 'extraordinary resilience' of the city: 'The people of New Orleans didn't just inspire me, you inspired all of America'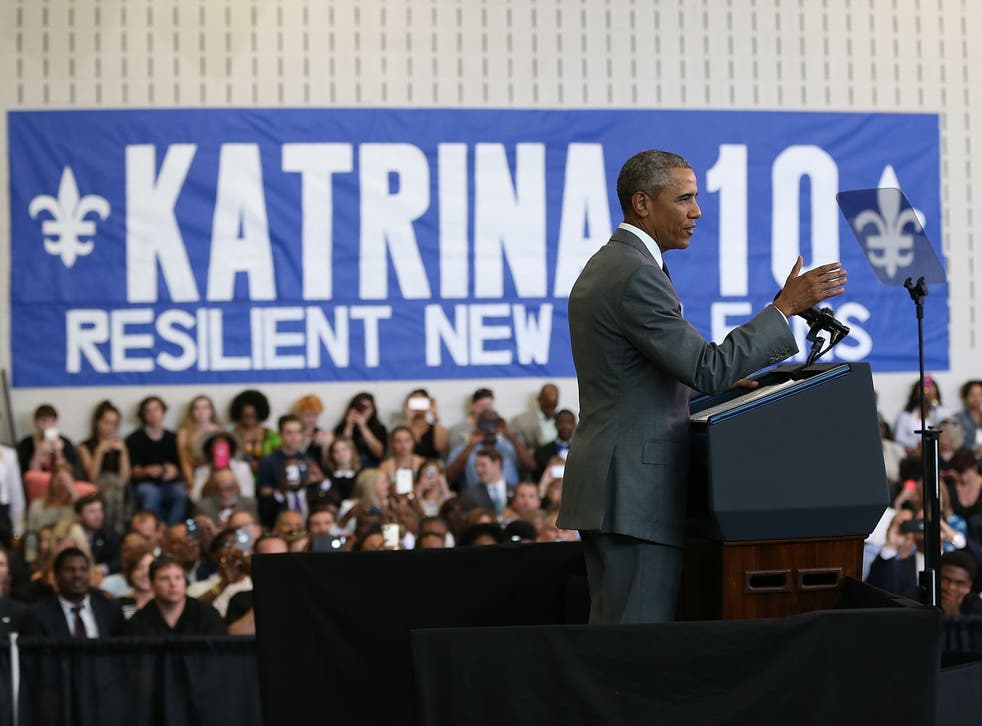 Ten years after Hurricane Katrina hit New Orleans, Barack Obama has told residents of the city that they inspired the whole country and that they were an example of "when in the face of tragedy, good people come together to lend a hand."
On August 29, 2005, a category 3 storm with 127mph winds made landfall between Grand Isle, Louisiana and the mouth of the Mississippi River: Hurricane Katrina had arrived in the American South.
Severe flooding affected Gulfport, Mississippi and New Orleans, Louisiana, causing $108 billion in damage and killing 1,833 people. FEMA described it as "the single most catastrophic natural disaster in US history" as well as the "costliest hurricane" ever.
President Obama spoke in the Lower 9th Ward, a largely African-American neighborhood that was one of the hardest hit by the storm, and he paid tribute to the "extraordinary resilience" of New Orleans and its residents.
Visiting New Orleans for the ninth time as President, Mr Obama went first to Treme, the historic black neighbourhood deluged during Katrina and later memorialised in the HBO drama Treme. He received a warm welcome from locals as he went door to door, meeting residents.
Speaking later at a community centre, Mr Obama said: "Not long ago, our gathering here in the Lower Ninth might have seemed unlikely. But today, this new community centre stands as a symbol of the extraordinary resilience of this city and its people, of the entire Gulf Coast, indeed, of the United States of America."
Hurricane Katrina - in pictures

Show all 20
The horrifying imagery from the aftermath – of residents huddled in the overcrowded Superdome, or of bodies rotting in the streets – underlined the inadequacy of the Government response, and highlighted the deep racial and class divides that still characterised the city and the US as a whole.
In his speech, Mr Obama acknowledged that while New Orleans' population and economy have rebounded, inequality and crime are still rife. It was important to remember the terrible events of 2005, he said, "not in order to dwell in the past, but in order to keep moving forward. Because this is a city that slowly, unmistakably, together, is moving forward."
"There's something in you guys that is just irrepressible," Obama told hundreds of residents assembled at a bustling new community center in an area of the Lower 9th Ward that was once under 17 feet of water. "The people of New Orleans didn't just inspire me, you inspired all of America."
Join our new commenting forum
Join thought-provoking conversations, follow other Independent readers and see their replies