'I'm not some kind of angry black woman' says Michelle Obama
America's First Lady uses TV interview to hit out at rumours that she's losing Barack friends and alienating Washington's powerful people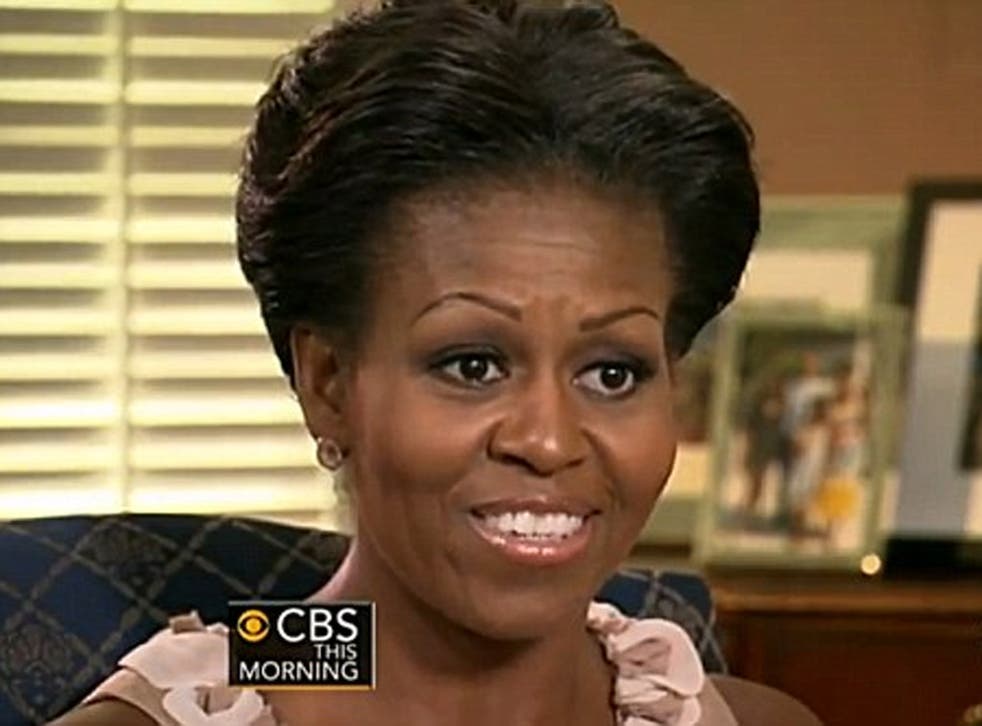 "A trouble-maker, me? An "angry black woman" who dislikes living in the White House, who's constantly interfering in her husband's official business, and who hates going out on the campaign trail with him? Not me, no way, Michelle Obama declared yesterday. But the very fact the questions were posed is testament to her influence.
If the First Lady is to be believed, she hasn't so much as glanced at the controversial new book The Obamas by Jodi Kantor, a reporter for The New York Times. It is the first detailed behind-the-scenes look at the presidential couple, depicting Michelle as an unseen force in the administration, who clashes with aides and chafes at the constraints of life within a mansion once described by Harry Truman as "the crown jewel of the American penal system".
"I never read these books," Ms Obama told Gayle King of CBS in a rare interview, "I've just gotten in the habit of not reading other people's impressions of people." In truth, she said, "I love this job". Of course, there were difficulties – most notably to ensure that "my girls [Malia and Sasha]" emerged unscathed from life in the White House fishbowl. Nonetheless, being First Lady had been "a privilege from day one".
First Ladies are always influential. Some, like Hillary Clinton, who led Bill's healthcare reform effort, and Rosalynn Carter, who used to attend Jimmy's cabinet meetings, were virtually official advisers. Others, like Laura Bush, have been quiet and self-effacing. Most powerful of all probably was Nancy Reagan, who terrorised staff and used an astrologer to help shape Ronald's schedule.
But the reason for their influence is the same: the "pillow talk" factor, the private time a First Lady spends with the most powerful man in the world.
Among her recent predecessors, Ms Obama perhaps most closely resembles Ms Clinton. But every First Lady has faced the challenge of preserving a modicum of family normality.
The book tells of tensions between Michelle and two of the President's closest former advisers, Mr Obama's first chief of staff Rahm Emanuel and Robert Gibbs, his first White House press secretary. Hear it from Ms Obama though, and she "never had a cross word" with Mr Emanuel. As for Mr Gibbs, he was "a good friend, and remains so".
Yes, she cared deeply about her husband and his political fortunes, she told CBS. "I am one of his biggest allies. I am one of his biggest confidants."
But she denied she sat in meetings, a la Rosalynn Carter. Alas, "I guess it's just more interesting to imagine this conflicted situation here ... that's been an image people have tried to paint of me since the day Barack announced, that I'm some kind of angry black woman."
Inevitably, "there will always be people who don't like me," the First Lady added, but she could live with that. "I'm just trying to be me, and I just hope that over time, people get to know me."
First Lady's foes? Strained relations
Robert Gibbs
The former White House spokesman said that President Obama reportedly "felt guilty about the sacrifices his wife was making [and] was unwilling to tell her what she could not do... so Gibbs took on the task," says the book.
Bill Daley
Ms Obama was said to be critical of the white-Irish families that hold political power in her home town of Chicago, a criticism which didn't go over well with Mr Daley, the recently departed White House chief of staff, whose father and brother were long-serving Chicago mayors.
Rahm Emanuel
On the current Chicago Mayor and former White House chief of staff: "Michelle and Rahm Emanuel had almost no bond; their relationship was distant and awkward from the beginning. She had been sceptical of him when he was selected, and now he returned the favour..."
Tim Hume
Join our new commenting forum
Join thought-provoking conversations, follow other Independent readers and see their replies