Innocent 60-year-old man free after 30 years in prison
He was wrongfully convicted of a crime in 1982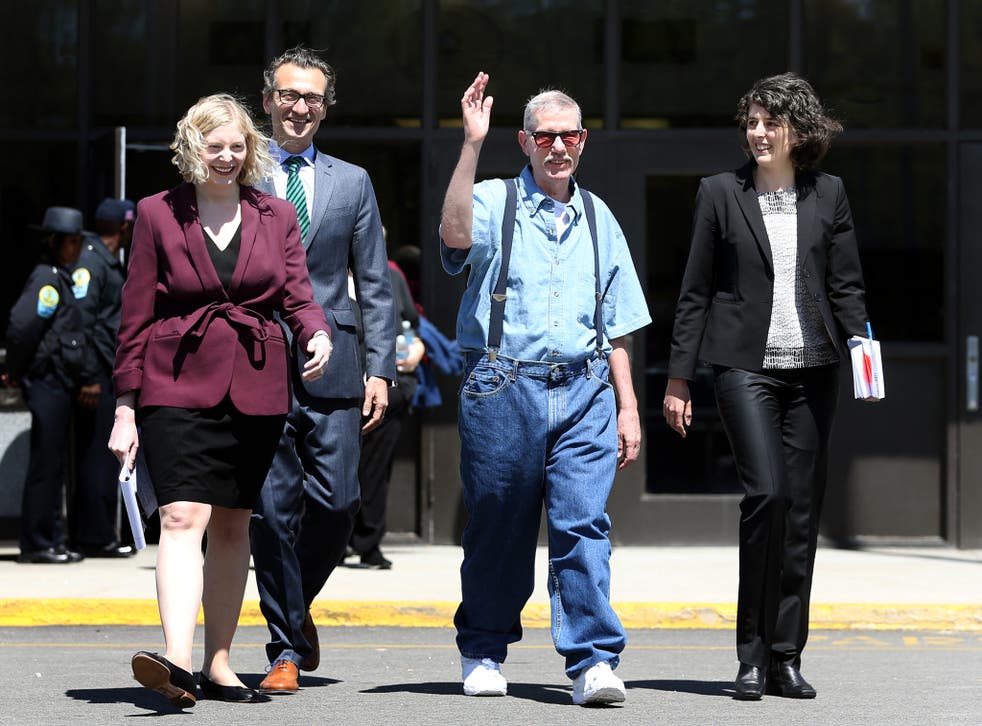 A man who spent more than three decades serving time for crimes he did not commit was finally released from a Virginia correctional facility.
60-year-old Keith Allen Harward got his first taste of freedom Friday afternoon, thanking his lawyers, whom he called "heroes," and lamented the fact that his parents could not see him walk free.
"That's the worst part about this, is my parents," said Mr Harward, holding back tears as he addressed media outside the prison. "It killed them. It devastated them." He added that he was not allowed to attend their funeral because of the sentence.
"Somebody needs to pay for this."
Nonetheless, Mr Harward addressed the press with spirits high, excited that he was returning to his hometown in Greensboro, North Carolina.
"I want to try to find me some fried oysters soon as I can, but that's going to be later on down the road," he said. "But don't carry me to a grocery store because I'll pass out."
Mr Harward was wrongfully convicted of murdering Jesse Perron and raping his wife near a shipyard in Newport News, Virginia,in 1982, where he was stationed as a sailor. A shipyard guard testified that he witnessed Mr Harward enter the premises covered in blood. The female victim, however, never identified him as her attacker, according to the Associated Press.
Expert witnesses also testified that bite marks on the female victim's leg matched Mr Harward's teeth.
The Virginia Supreme Court ruled Thursday that DNA evidence was proof of Mr Harward's innocence.
The Innocence Project took on Mr Harward's case in 2014 and motioned for the court to examine DNA evidence from sperm found at the scene. The DNA profile of the sperm sample reportedly matched the profile of Jerry L. Crotty, a former shipmate of Mr Harward's. The AP said Mr Crotty died in an Ohio prison in 2006, where he was serving time for abduction.
Mr Harward is "at least the 25th person to be wrongfully [convicted] or indicted for discredited bite mark evidence," according to the Innocence Project.
Dana Delger, an attorney with the Innocence Project, warned about outdated, unscientific evidence used against the accused.
"We've learned nothing," she said, "if we continue to use this evidence even though we know it has no basis in science."
Join our new commenting forum
Join thought-provoking conversations, follow other Independent readers and see their replies