IoS Appeal: Hope in ruins - Haiti two years after the quake
More than 500,000 people are still living in tents, despite massive aid operation
IoS Appeal: Hope in ruins - Haiti two years after the quake

Show all 2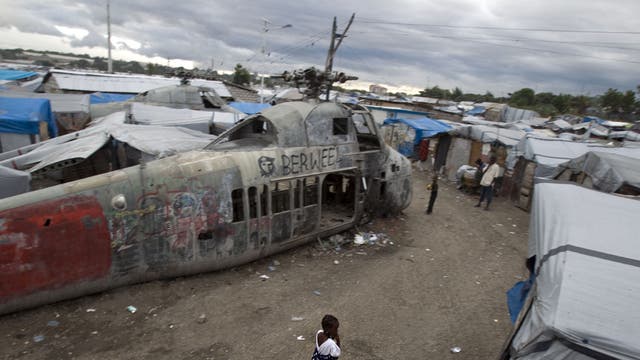 For a country that this week will mark two years since it was ripped apart by an earthquake of magnitude 7.0, Haiti has all the hallmarks of a place in the immediate aftermath of a disaster. More than half a million people are still living in squalid camps, vulnerable to attack and disease; around 200 people are diagnosed with cholera ever day and, according to the UN, half of the rubble left from destroyed buildings has yet to be cleared.
Inside the camps, sexual violence and other serious crime continues to be a problem. The tightly packed temporary settlements are hard to police, and a flimsy tarpaulin or tent wall offers little protection from intruders, who need little more than a shaving razor to break in. Conditions are so desperate that many will go to any lengths to seek a better life. Last week 128 Haitians were returned home after being found by the coast guard attempting to flee to the US aboard a sailing boat. The failed escape is one of many recent attempts, the most deadly of which took place last month, when 38 migrants died in a shipwreck off the coast of Cuba. The remaining 90 were sent home.
The international community has already given more than £1.5bn in humanitarian aid in response to the quake, though this is barely half of the nearly £3bn pledged in the immediate wake of the disaster. Despite what has already been invested, witnesses describe Haiti as looking more like a country two months on from a natural disaster than two years.
Perhaps the biggest setback to progress was the cholera epidemic – a plague that has itself been blamed on foreign intervention. Cases of cholera had not been reported in Haiti for nearly a century before the outbreak in October 2010. Now nearly 7,000 people have died from the disease in an epidemic that is one of the world's worst in recent history. The arrival of the highly infectious diarrhoeal disease has been widely attributed to a camp of United Nations peacekeepers from Nepal, and lawyers representing victims are now demanding that the UN pay hundreds of millions of dollars in compensation.
On top of the recorded deaths, more than 520,000 cholera cases were reported by the Haitian government up to December. Jon Kim Andrus, deputy director of the Pan American Health Organisation, said it was "one of the largest cholera outbreaks in modern history to affect a single country". The earthquake itself killed an estimated 316,000 people, a death toll which will now be supplemented by the thousands who have died from disease thanks to unsanitary living conditions.
The country has been called "The Republic of NGOs" as it has a higher ratio of aid workers per capita than anywhere else in the world. At the height of the crisis it was estimated that 12,000 aid organisations were working in the country. This figure has made it even harder for observers to comprehend how around 520,000 Haitians could still be subsisting under tarpaulin.
Bill Quigley, legal director of the American human rights organisation the Center for Constitutional Rights, who has been working with community groups in Haiti, said: "International intervention has been a colossal failure for hundreds of thousands of people. I don't think anyone would have believed that two years afterwards, when you look at all that the international community has said and done, and at all the money that has been raised around the world, it would be such a bad situation for hundreds of thousands – if not millions – of people. Haiti would be clearly worse off if the international community had not joined in to help. That said, you couldn't walk down any street in Haiti and believe that two billion dollars had been raised."
Mr Quigley is one of many legal campaigners who believe part of the reason Haiti's rebuilding has slowed is that Haitians themselves have been marginalised in the process. Only 1 per cent of the money donated was given to the Haitian government, and a similar proportion is estimated to have gone to Haitian organisations. "Concern about corruption in the Haitian government is legitimate, but if you don't want to partner with government you have to look to civil society," Mr Quigley said.
"Haitians are hired as drivers and security; they're not full partners in this work. And because of that what recourse do people in Haiti have? The international community has come and spent money and done what they wanted to do. You can't just skip the government; it has to be built up and there has to be partnership."
Although the number of Haitians living in camps has decreased by 66 per cent since July, when it peaked at 1.5 million, the rate at which people have left the internal refugee camps has slowed in recent months. In the last four months, the population living in temporary tents and under tarpaulin has fallen by only 6 per cent. Complicated rules over land rights – and a lack of stable government in the year immediately after the quake – have made it harder for resettlement to happen quickly. Because the earthquake hit an urban area, where many people had already been living in cramped, sub-standard housing, there is still an enormous amount of uncleared rubble blocking development, making the search for suitable land even more difficult.
It was always obvious from the scale of the work to be done that the clear-up would not happen overnight. Almost 300,000 houses were destroyed or badly damaged, along with 80 per cent of the capital's schools and 60 per cent of hospitals. Before the earthquake hit, Haiti was already ranked 145th out of 169 countries on the UN Human Development Index, making it the poorest country in the western hemisphere.
Despite these challenges, big questions remain over why the country is not further along the path to reconstruction. Romain Gitenet, head of mission at the medical aid organisation Médecins sans Frontières, blamed some agencies for being too slow to react to the disaster: "If you thought after two years things would be rebuilt, you'd be wrong. Things are not rebuilt at all. After the earthquake and the cholera you expect NGOs to react quickly but most don't react quickly. Sometimes we felt alone at these critical moments at the beginning of an emergency."
Many international organisations privately blame the government and the new President, Michel Martelly, for the continued delays in getting people into stable accommodation. One senior figure working for an international charity in the country, said: "The new government has done very little to get people out of the camps. The President has very little experience of politics; he's a singer."
But Leonard Doyle, of the International Organisation of Migration, believes the regime has turned a corner. "The current government is very together, certainly in contrast with other times," he said. "They are managing to get people out of camps at a rapid rate and two really prominent camps are now nearly empty."
Mr Doyle now believes that the only way to ensure a future for the country is to start encouraging business and breaking up the culture of dependency that has been built up around aid organisations. He said: "If you have a population that depends on aid, then what happens when the NGOs leave?"
The IoS christmas appeal: Bringing medical aid wherever it's needed
The international medical relief charity Merlin, which The IoS chose for the paper's latest Christmas Appeal, began work in Haiti days after the earthquake struck in 2010. The quake destroyed 60 per cent of all hospitals in the region and many doctors and nurses were killed.
Despite the chaos, Merlin worked with the government to agree a location for a field hospital in Port-au-Prince, where surgeons performed emergency orthopaedic and plastic surgery to save lives in the immediate aftermath. They also recruited local staff, and at least 125 of their 140 employees are now Haitian. Pamela Gordon, Merlin's project co-ordinator in Haiti, said: "One of our strengths is that we pride ourselves on working with the government right from the beginning. Even when it's an emergency and it's hectic we involve governments in decision-making. The Haitian government helped us find a location for an emergency hospital after the earthquake."
At the peak of the cholera outbreak in November 2010, Merlin had eight cholera treatment units and one 24-hour treatment centre. It has now treated more than 5,000 cholera patients. It also sends Haitian community health workers into the field to teach prevention techniques.
The charity has now begun to pull out of the capital and is moving to the north and north-east provinces, where far fewer organisations are operating. Ms Gordon said: "We came after the earthquake and tried to respond to immediate needs; now we want to respond to structural problems with the health system that were here before. We will continue with our cholera response programme, but now we've noticed an extremely remote and immense population that don't have access to basic primary healthcare services."
To make a donation visit: www.merlin.org.uk/independent-on-sunday-appeal or call 0800 035 6035 (24 hour, seven days a week - donation line).
Join our new commenting forum
Join thought-provoking conversations, follow other Independent readers and see their replies