Iraq's 'most-wanted' playing cards go on display at the Pentagon
Playing cards featuring the 52 most wanted from Saddam Hussein's Iraq are on show at the US defence department's headquarters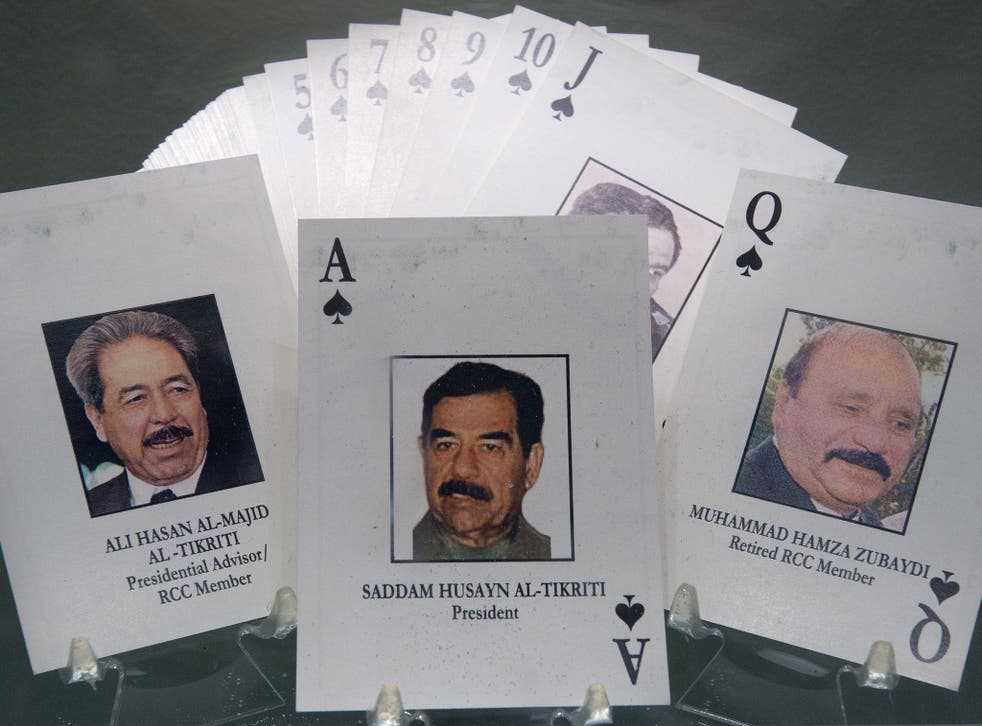 A deck of cards, featuring the most wanted individuals in Saddam Hussein's regime, has gone on display at the Pentagon, after becoming a hit with collectors.
The cards were issued to US troops when Iraq was invaded in 2003 to help soldiers identify prominent individuals that needed to be captured.
Almost all of those pictured have now been killed or apprehended; including Hussein himself who was at the top of the pecking order as the Ace of Spades. His sons Qusay and Uday are the aces of clubs and hearts respectively.
All-but-one of the 52 people represented on the cards are men. Huda Salih Mahdi Ammash, dubbed Chemical Sally and Mrs Anthrax, for her role in Iraq's biological weapons programme, is the only women to make the cut.
Officially known as "Personality Identification Playing Cards", full decks are now prized by collectors for their rarity.
It was rumoured that only 200 sets were ever produced. To try and cash in on the craze, manufacturers have replicated the cards, attempting to create near perfect copies.
According to the Defence Intelligence Agency, which developed the cards, the idea of issuing cards to aid identification is not new. In fact it stretches back to the Civil War; more recently, during the Second World War, troops were given cards of German and Japanese fighter planes.
Join our new commenting forum
Join thought-provoking conversations, follow other Independent readers and see their replies