Brazil's president-elect Jair Bolsonaro claims that migrants have made parts of France 'unliveable'
French ambassador to the US criticises comments on Twitter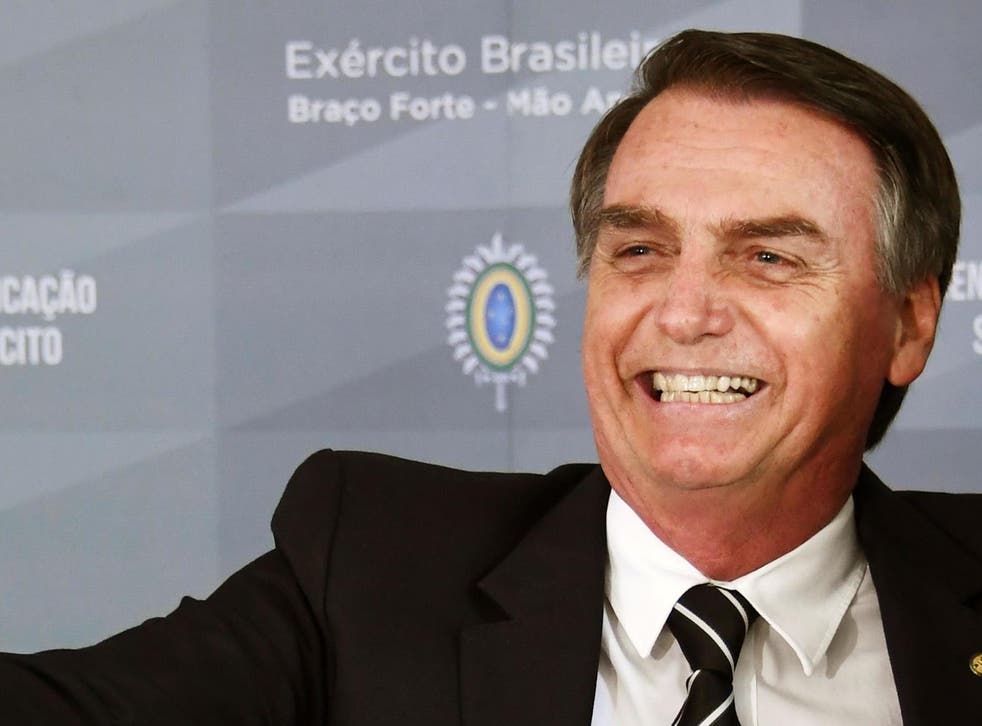 Brazil's incoming president Jair Bolsonaro has declared that migrants have left some parts of France "unliveable" in a Facebook livestream broadcast on Tuesday night.
The far-right politician, who takes office on 1 January, made the comments while announcing that he would withdraw Brazil from the UN's Global Pact for Safe, Orderly and Regular Migration.
Aloysio Nunes, Brazil's current minister for foreign affairs, signed the pact last week.
Mr Bolsonaro pointed at recent violence during anti-government protests in France to justify withdrawing from the deal.
"Everybody knows what is happening in France," he said. "You know how those people are, right?
Brazil election: far-right candidate Jair Bolsonaro wins Presidency

Show all 8
"They have something in them, they don't give up their roots and they want to promote their culture, their acquired rights and privileges.
"France is suffering because of that."
Paris has endured five consecutive weekends of unrest, driven by dissatisfaction with President Emmanuel Macron's leadership.
Polls show that a majority of French people support the protests.
"We do not want this for Brazil," Mr Bolsonaro said. "It has to be rigorous criteria to enter Brazil."
Gerard Araud, the French ambassador to the US, responded to Mr Bolsonaro's remarks on Twitter.
"63,880 homicides in Brazil, 825 in France," he wrote. "No comment."
Support free-thinking journalism and attend Independent events
If Mr Bolsonaro follows through on his promise to pull Brazil out of the UN pact when he takes office, he will follow countries such as the US, Hungary and Austria in backing out of the deal.
The non-binding pact is aimed at making migration safer and addresses issues such as protecting people who migrate and helping them to integrate in new countries.
Mr Bolsonaro won the presidential election in October and capitalised on public anger at corruption in Brazilian politics.
The controversial politician has threatened to jail his opponents and defended the use of torture. He has also hinted that he will pull Brazil out of the Paris climate deal.
In the Facebook Live video, the far-right figure also vowed to target the governments of Venezuela and Cuba in the future.
Mr Bolsonaro said that he would use all action "within the rule of law and democracy" to oppose the two administrations.
Register for free to continue reading
Registration is a free and easy way to support our truly independent journalism
By registering, you will also enjoy limited access to Premium articles, exclusive newsletters, commenting, and virtual events with our leading journalists
Already have an account? sign in