Jamies Winston: Florida State settles with alleged rape victim for $1m due to "obligation to tax payers"
School President James Thrasher said he was convinced the alleged rapist would be cleared if the trial had continued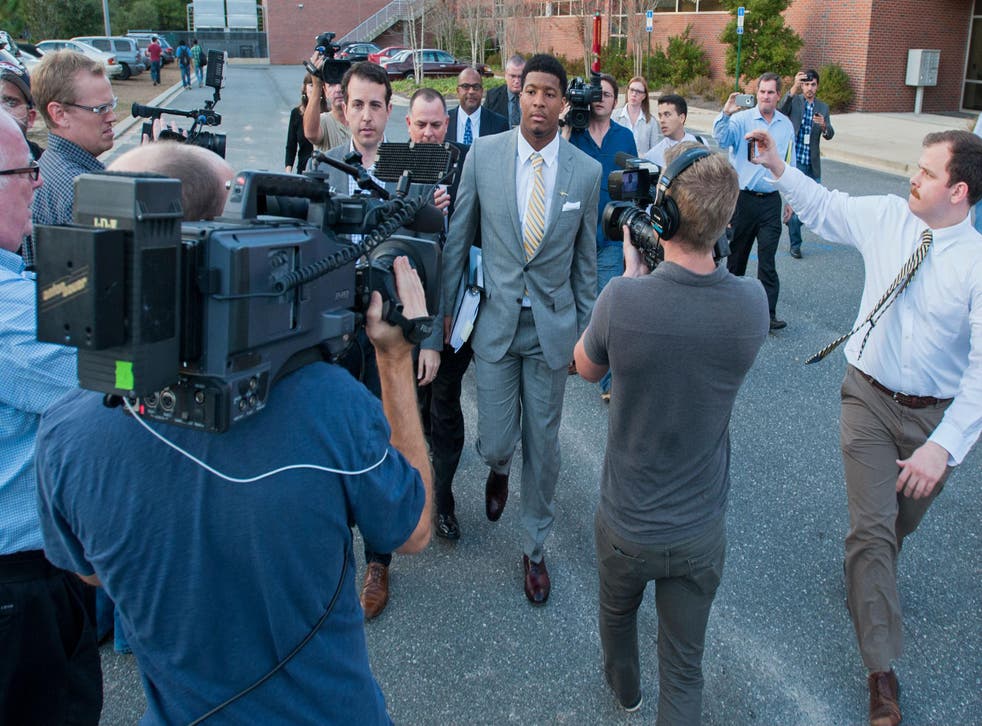 Florida State University (FSU) has agreed to settle out of court with a female student who was allegedly raped by football player Jamies Winston to save legal fees and out of an "obligation" to the tax payer.
School President James Thrasher said in a statement on Monday that FSU agreed to settle the case to "save legal fees" and taxpayers' money.
"We have an obligation to our students, their parents and Florida taxpayers," he said. "With all the economic demands we face, at some point it doesn't make sense to continue even though we are convinced we would have prevailed."
FSU agreed to pay a total of $950,000 with the vast majority of that going the the alleged victim's lawyers.
Alleged victim Erica Kinsman, a FSU student, said she was raped in December 2012 when Mr Winston had not yet started playing for the University football team. Ms Kinsman chose to waive her right to anonymity when she spoke about her experience of sexual assault for a documentary.
Mr Winston was not arrested after a criminal investigation by Tallahassee police and a state prosecutor. He was also cleared during a December 2014 hearing as to whether he violated the student conduct code.
FSU's Mr Thrasher added that he was confident that if they had not settled out of court and the trial had continued, Mr Winston would have been cleared.
"Although we regret we will never be able to tell our full story in court, it is apparent that a trial many months from now would have left FSU fighting over the past rather than looking toward its very bright future," Mr Thrasher said.
Mr Thrasher added that the university is "serious" about fighting sexual assault and said there have been more than 100 training sessions on campus on how to deal with and "prevent" sexual assault since April 2014.
Other high profile figures have met with backlash after suggesting that women are responsible for "preventing" sexual assault. This includes New York Mayor Bill de Blasio encouraging women to have a "buddy system" when they go outside and Henriette Reker, the Mayor of Cologne, advising women to adopt a "code of conduct".
Ms Kinsman filed her lawsuit under the name Jane Doe, saying that the FSU "in concert with Tallahassee Police, took steps to ensure that Winston's [alleged] rape of plaintiff would not be investigated either by the university or law enforcement."
FSU asked Ms Kinsman nine times over a 20-month period to give a statement that would enable a Title IX investigation, which requires schools to investigate sexual assault allegations, even if criminal charges were not filed, as reported by CNN.
Ms Kinsman chose to drop the right to anonymity and speak out for a 2015 documentary on sexual assault on student campuses called "The Hunting Ground".
She said she told Mr Winston to stop but he "pushed" her face to the floor and continued to rape her.
"They were watching bruises appear as I was laying on the hospital bed," she said in the documentary.
Mr Winston filed a countersuit in 2013, claiming that Ms Kinsman lied about the rape, and demanded $7 million from him. The lawsuit said Ms Kinsman's motive was "greed".
"The Hunting Ground" documentary producer Amy Ziering told ESPN last November: "All she [Ms Kinsman] had received in the press was extremely negative commentary."
When Ms Kinsman named her assailant, she did not know who he was or know he was a star quarterback, she said.
False reports of rape make up just 2% to 6% of reported cases, said Ms Ziering, and that women who report rapes should not be labelled as "jersey chasers" or "gold diggers" in the press.