Jared Kushner to lead new White House 'office of innovation' as other government departments face cuts
Mr Trump's son-in-law will look to provide 'business' strategies to government departments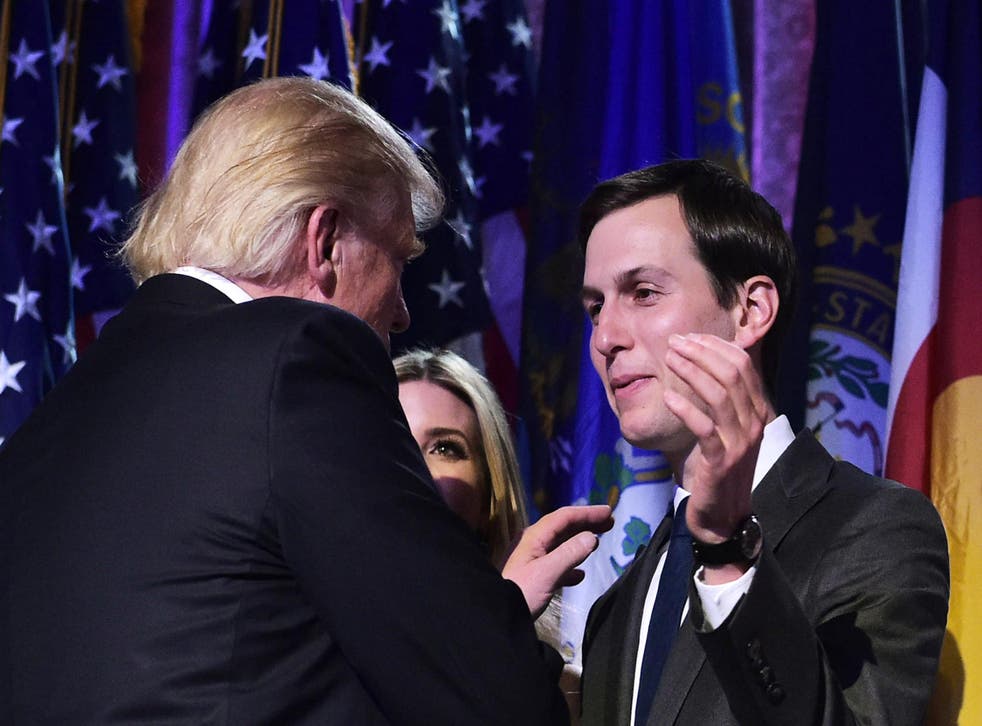 Donald Trump's son-in-law Jared Kushner will lead the new White House "Office of Innovation to apply business strategies to government departments.
He will have the authority to reform federal bureaucracy, one of the President's key campaign pledges, and privatise certain services.
Mr Kushner will report directly to the President, who believes that much of Washington DC is a "swamp" that runs too slowly and costs too much.
Mr Kushner, the former newspaper editor and real estate developer, will work with a select group of officials and business people, focusing on areas like veteran care and drug addiction. It comes at a time when many government departments are facing sweeping cuts in the budget.
"We should have excellence in government," Mr Kushner told The Washington Post.
"The government should be run like a great American company. Our hope is that we can achieve successes and efficiencies for our customers, who are the citizens."
New York City bodegas strike to protest Trump's travel ban

Show all 27
The 36-year-old's colleagues include Dina Powell, senior counselor to the President for economic initiatives and deputy national security adviser; Gary Cohn, director of the National Economic Council; and Chris Liddell, assistant to the President for strategic initiatives.
Most of the members lack political experience. They will reportedly aim to operate as a recruitment agency for new talent as well as a consultancy firm to improve department efficiency.
Mr Kushner and the President have already hosted numerous roundtable meetings with executives from industries ranging from tech and pharmaceuticals to trucking and airlines, enabling a revolving door between the corporate world and the White House.
The new office will focus on tech and data, collaborating with people like Apple chief Tim Cook, Tesla founder Elon Musk and Microsoft titan Bill Gates.
Mr Kushner's wife, Ivanka Trump, will also be involved but will maintain her unofficial and unpaid status at the White House.
Stephen Bannon, Mr Trump's chief strategist, recently called for the "deconstruction of the administrative state", but will reportedly have no formal role in the new department.
One of the Office of Innovation's priorities will be combating opioid abuse, which Mr Kushner has been working on informally with New Jersey Governor Chris Christie, despite reported tensions between the pair.
The new department ends some speculation surrounding what roles the President's son-in-law would fill. He remains a Senior Adviser to the President with a focus on relations in the Middle East, Canada, Mexico and China.
Join our new commenting forum
Join thought-provoking conversations, follow other Independent readers and see their replies