Jeb Bush clears the way for possible White House run
The move has reignited speculation about a third member of Bush family serving as President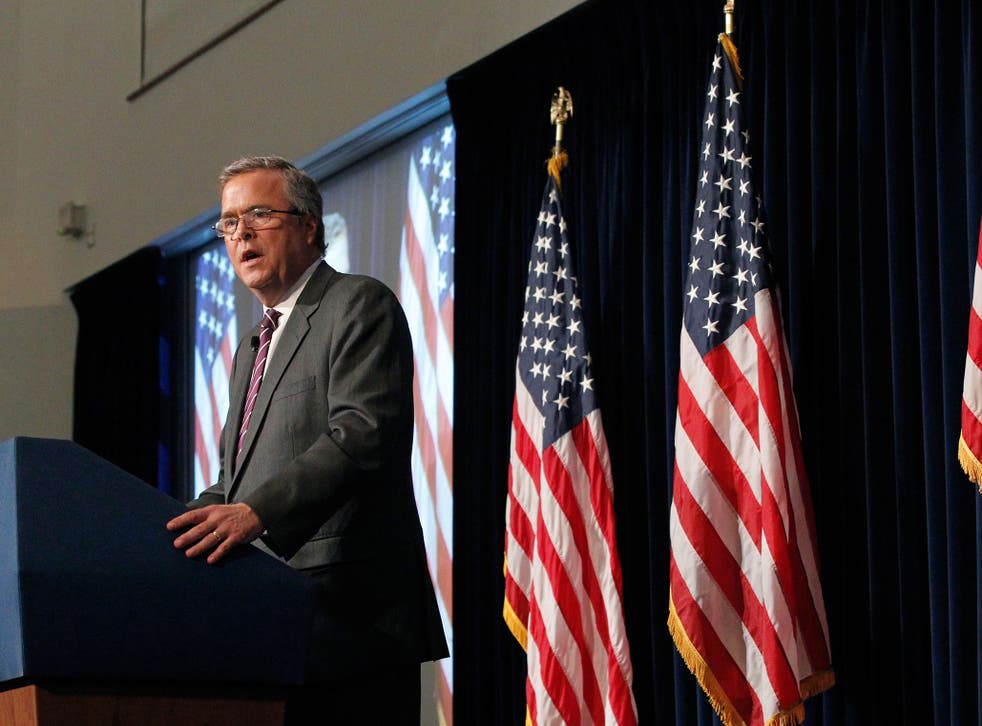 Former Florida governor Jeb Bush has resigned from all of his corporate and non-profit board positions, amid mounting anticipation he will made a run for the White House.
Mr Bush, 61, the younger brother of former president George W Bush, even announced he was stepping down from the board of his own educational foundation, the Washington Post said.
The newspaper said an aide of the former governor had confirmed the moves in a statement released late on Wednesday evening. It said he was still evaluating the next steps for the businesses for which he serves as an owner or principal partner, including consulting firm Jeb Bush & Associates.
The Republican Mr Bush, whose father is former president George HW Bush, announced two weeks ago that he was "actively exploring" a run for the presidency, raising the prospect of three members of the Bush family having filled the country's highest office.
"[This] is part and parcel of a process he is going through as he transitions to focus on a potential run for president," said Mr Bush's spokeswoman, Kristy Campbell. "This is a natural next step that will allow him to focus his time on gauging interest for a potential run."
The Washington Post said the move underscored the lengths to which Mr Bush seemed to be going to avoid the problems that confronted the Republican Party in 2012. That year, the party's candidate, Mitt Romney, founder of a major private-equity fund, struggled to explain his business interests and was attacked by both Republican rivals and President Barack Obama.
Mr Bush, who polls suggest would be one of the most popular Republican candidates should he decide to run, has even criticised the way Mr Romney allowed himself to be "pulled off-message". "I'm a problem-solver. My life has been about building things up," he told Miami's WPLG-TV.
Mr Bush, who served two full terms as governor of Florida, announced last month that he was considering a run for the White House and would set up a political action committee, or PAC, in the new year to test the waters.
"I have decided to actively explore the possibility of running for President of the United States," he wrote on social media. "In January, I also plan to establish a PAC that will help me facilitate conversations with citizens across America to discuss the most critical challenges facing our exceptional nation."
A national McClatchy-Marist poll released at the time showed that Mr Romney headed a crowded Republican field of potential presidential candidates, with 19 per cent of support. Mr Bush had 14 per cent, though if Mr Romney was not in the race, the former Florida governor would be the Republican frontrunner with 16 per cent of support.
The poll also suggested that both Mr Bush and Mr Romney would trail the Democrat Party's potential candidate, Hilary Clinton, by 12 per cent.
Mr Bush's business portfolio is reportedly much smaller than that of Mr Romney, whose Bain Capital became one of the country's most successful private-equity firms. Yet it is complicated and could present political problems because he has been affiliated with many industries and businesses.
Join our new commenting forum
Join thought-provoking conversations, follow other Independent readers and see their replies