Jeb Bush says he's not a 'squishy' moderate as conservative rival for nomination stakes claim
Mr Bush attempted a swipe at his rivals for proclaiming conservative values without the track record to prove it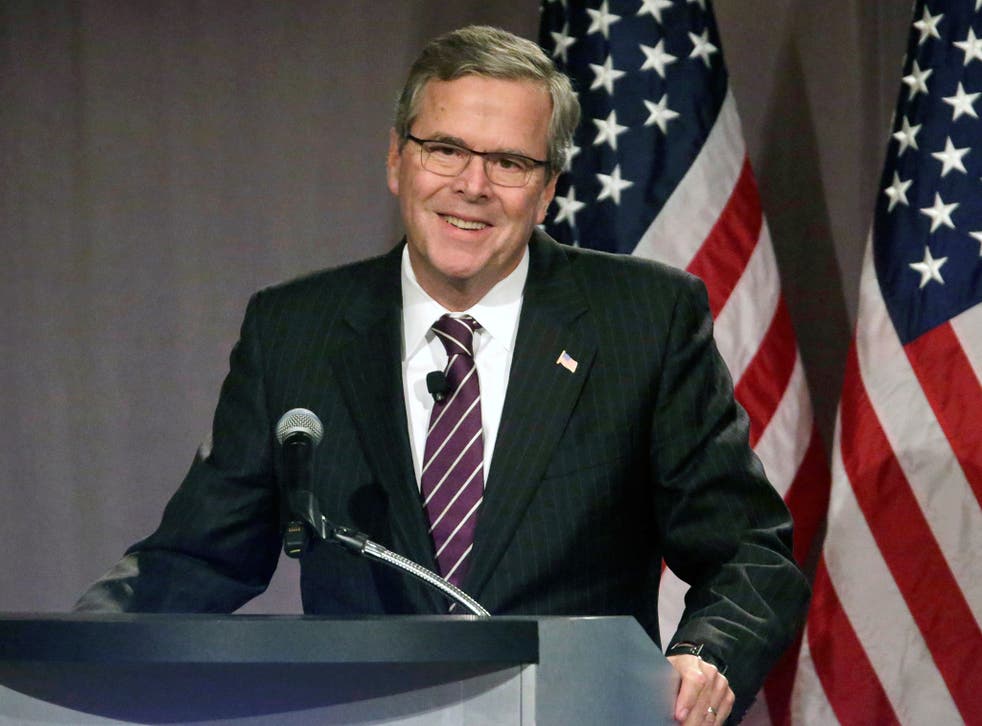 With an early, possibly ephemeral front-runner status as the Republican nomination for president, Jeb Bush, a brother and son of former presidents, moved yesterday to quiet cries from some on the right wing of the party that he lacks the conservative credentials to lead them.
Even before plunging into the lions' den that is the annual Conservative Political Action Conference, CPAC, being held in a resort complex just outside Washington DC, Mr Bush used an address at the annual meeting of the anti-tax Club for Growth in Palm Beach, Florida, to assert that his two terms as governor of the Sunshine State offers proof that he is not the "squishy" moderate some claim him to be. "I ran as a conservative. I said what I was going to do. I had a chance to do it, and trust me, I did," he said at the meeting on Thursday, ticking off milestones fitting the conservative, small-government worldview including cutting government payrolls and reducing taxes every year he was in office.
Mr Bush attempted a swipe at his rivals for proclaiming conservative values without the track record to prove it. "It's easy to talk about it," he said. "I hope you believe that you want someone who has the proven leadership skills to make it happen."
But at CPAC, Mr Bush face a more sceptical audience who on Thursday gave standing a ovation to the man who, for now, seems to present the largest threat to his ambitions, Scott Walker. As the serving Governor of Wisconsin, Mr Walker has a far fresher record to delight conservatives, namely his aggressive curtailing of union powers in a state that has traditionally been more Democrat-friendly.
"Because of reform, our state is a better than the one that [I] grew up in," Mr Walker declared in a 13-minute speech. Mr Walker currently leads polling in Iowa, which will be the first state to choose between rival contenders just under a year from now. Mr Bush is due to visit Iowa for the first time in 15 years next weekend for an agricultural summit. Mr Walker will also attend.
Rolling out his record as Florida governor, an office he left in 2007, will do only so much for Mr Bush, said Matt Schlapp, chairman of the American Conservative Union, which hosts CPAC. "The challenge for him is this isn't about yesterday, it's about tomorrow. The key is, what will he do if he's president of the United States, and does he have a message that will appeal to conservatives?"
Some delegates at CPAC had said they planned to walk out when Mr Bush took the podium, to highlight their contention that he belongs to the RINO class – Republican In Name Only. "We're tired of CPAC inviting non-conservatives to come to speak," William Temple, a Tea Party activist, complained.
Suspicion among conservatives stem from Mr Bush's support for immigration reform that could give undocumented residents a path to citizenship and for so-called Common Core curriculum targets for schools that they believe gives the federal government say over state education policies.
Mr Bush contributed to the problem when he said last year he would not be dragged to the right during the primary process just to appease the conservative wing, something which, he argued, hurt Mitt Romney in 2012. A Republican might need to "lose the primary to win the general [election]," he said.
The restless activists who attend CPAC cannot claim to represent all grassroots conservatives in the Republican Party. Indeed, polls suggest that conservatives with less subversive instincts are still open to a Bush candidacy. But among those stirring passions at CPAC was Laura Ingraham, a conservative radio host, who said nothing should be bestowed on him merely because of his family name.
"The idea that we should be conducting any type of coronation in the Republican Party today because 50 rich families decide who they think would best represent their interests? No way," she said.
Join our new commenting forum
Join thought-provoking conversations, follow other Independent readers and see their replies