Couple 'kicked off flight' with Ivanka Trump after man expresses displeasure over Donald Trump
Ivanka's husband, Jared Kushner, was also on the plane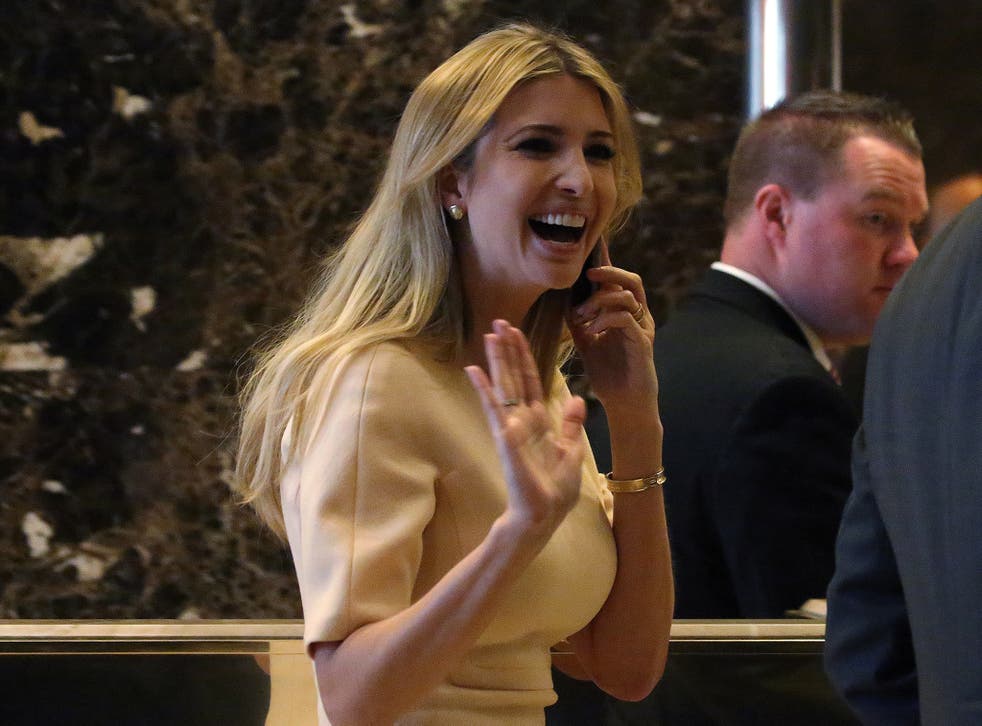 Two men were kicked off a JetBlue plane they shared with Ivanka Trump after a flight attendant allegedly overheard one of the couple saying he was not happy to fly with the Trump family.
Matthew Lasner said on twitter that he and his husband were flying on a commercial plane from John F Kennedy airport in New York alongside the president-elect's eldest daughter and her husband, Jared Kushner.
Mr Lasner said his husband was "expressing displeasure" that they were all on the same plane and were then asked to leave by staff.
"Ivanka just before @JetBlue kicked us off our flight when a flt attendant overhead [sic] my husband expressing displeasure about flying w/Trumps," the tweet read.
Mr Lasner also posted a picture of the 34-year-old sat in the middle seat of a plane, looking at her husband, Mr Kusher, who is stood in the aisle.
The tweet has since been deleted but was captured in a screen grab.
A statement from JetBlue to the Independent said the decision to remove a customer from a flight "was not taken lightly".
"If the crew determines that a customer is causing conflict on the aircraft, the customer will be asked to deplane, especially if the crew feels the situation runs the risk of escalation during flight.
"In this instance, our team worked to re-accommodate the party on the next available flight," the airline said.
In another tweet, Mr Lasner said: "Ivanka and Jared at JFK T5, flying commercial. My husband chasing them down to harass them #banalityofevil"
This tweet was also deleted within two hours.
Mr Lasner could not be immediately contacted for comment.
Join our new commenting forum
Join thought-provoking conversations, follow other Independent readers and see their replies