Jimmy Carter teaches bible class, days after revealing cancer has spread to his brain
Hundreds of people packed into church to hear the 90-year-old speak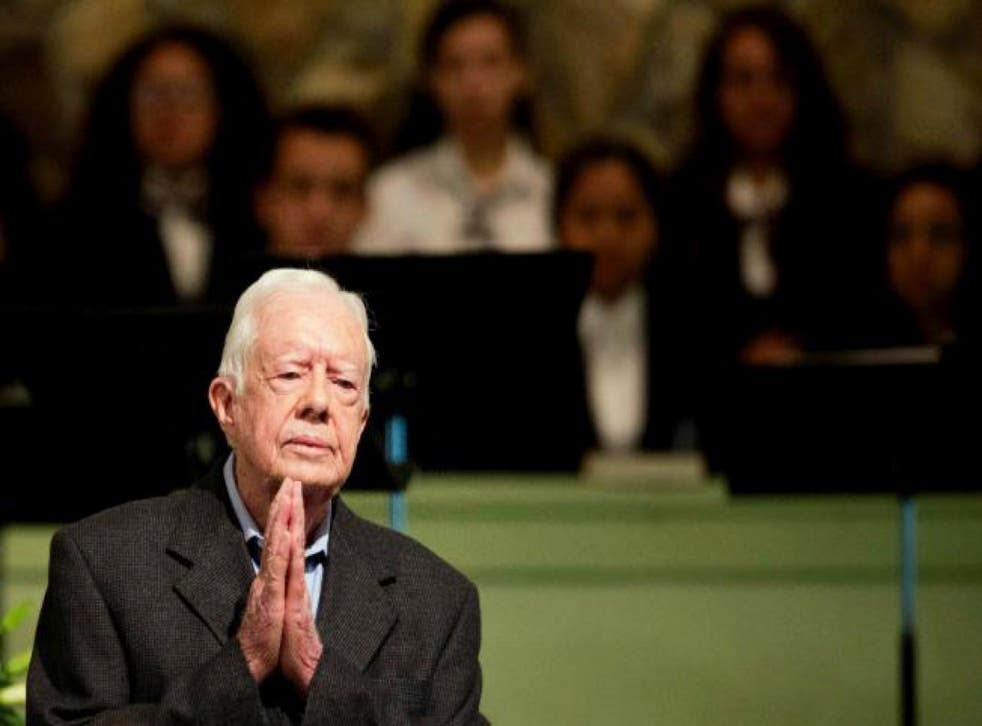 It was – according to his grandson, Jason – the 689th occasion on which Jimmy Carter had delivered a lesson at his church in Georgia.
But it was the first time he had done so since announcing this week that cancer had spread to his brain, and starting a programme of radiation treatment in an effort to halt its advance.
As a result, hundreds of people packed into the Maranatha Baptist Church in the town of Plains to listen to the 90-year-old deliver back-to-back bible lessons. Some of those in the pews had driven hundreds of miles to be there and listen.
The Associated Press said Mr Carter's lesson was familiar to anyone who had heard him speak previously; that when burdens grow heavy, it is time to ask God for strength.
The man who served as the 39th president of the US, spent just five discussing his health issues before talking about faith, love and relationships.
With Rosalynn, his wife of 69 years watching, he said the two had long resolved never go to sleep without settling their differences.
"Just being able to admit you MIGHT be mistaken and that the other person MIGHT be right will improve a relationship," he said.
He said when people were confronted by problems they should be ready to rely on their faith.
"Any time, we can just bow our heads and say, 'God, I'm really troubled. I ask you to give me the strength to bear whatever is on my shoulders and to bear whatever comes to me'," he added.
The former peanut farmer and Georgia governor has been teaching Sunday school for more than three decades at small red-brick church, which has 40 regular members. His appearance on Sunday drew the biggest crowd members could recall, with about 460 people packed inside.
Cricket Keating said Mr Carter's "irrepressible joy" made the trip from her home in Columbus, Ohio, worthwhile. She told the AP she and a friend had arrived in Plains at midnight to be first in line and spent the night in sleeping bags.
"No matter how bad things are, we have company in this world," she said of the former president's message.
Mr Carter revealed on Wednesday that doctors had told him that cancer had spread to his brain.
He said he was "quite relieved" when doctors successfully removed the liver tumour. But it was during a subsequent MRI scan of his neck and head that "four small spots" were found on his brain.
"I just thought I had a few weeks left, but I was surprisingly at ease," he said. "I've had a wonderful life."
Join our new commenting forum
Join thought-provoking conversations, follow other Independent readers and see their replies