Joaquin 'El Chapo' Guzmán: DEA knew of Mexican drug lord's year-long plans to break out of maximum-security prison
Sinaloa cartel boss rode out of prison on a motorcycle inside a mile-long tunnel that cost 'millions' to create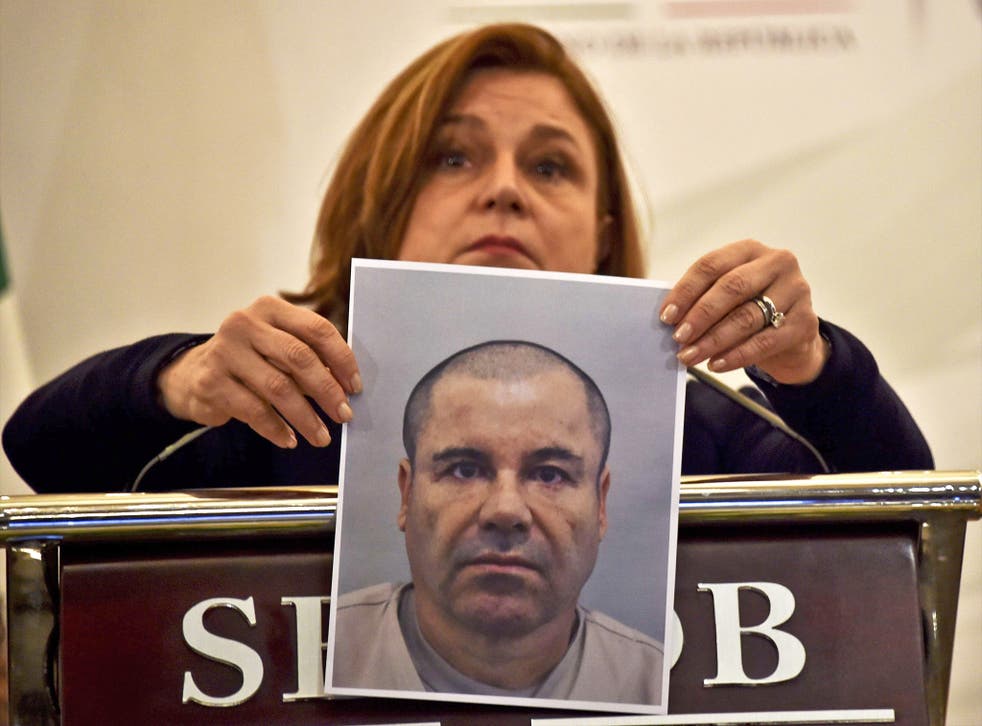 Mexico's most notorious drug lord, Joaquin "El Chapo" Guzmán, began planning his escape from a maximum-security prison within weeks of his arrest in February 2014, an investigation by the US Drug Enforcement Administration (DEA) has found. Guzmán, the boss of the feared Sinaloa cartel, escaped from Altiplano prison, 56 miles from Mexico City, last Saturday evening.
DEA documents obtained by the Associated Press show that as early as March 2014, the agency's sources had uncovered "potential operations to free Guzmán", including one plot that involved bribing prison officials and another directed by Guzmán's son Ivan Guzmán-Salazar, who had asked military counter-intelligence experts to devise a prison break.
The DEA also found that Guzmán, thought to be around 57 years old, was still guiding the cartel's operations from his cell at Altiplano, which also holds the leaders of the rival Zetas and Beltrán-Leyva cartels. One official told AP the US had alerted Mexican authorities to the break-out plans, though the DEA did not have information about Saturday's plot specifically.
Guzmán's every move inside the prison was monitored by a bracelet, which he removed before making his getaway. His cell was equipped with 24-hour CCTV surveillance but had two blind spots to protect his privacy. One of those was in the shower, where following his disappearance guards discovered a hole in the floor, approximately 1.5ft by 1.5ft, leading to a 32ft ladder.
At the bottom of the ladder was a mile-long tunnel, about 5ft, 7" high – one inch taller than the diminutive drug lord. With lighting, ventilation and a motorcycle modified to run on rails from one end to the other, the tunnel is thought to have cost Guzmán millions of dollars. It led to a house that had been under construction since shortly after his arrest, apparently as a cover for the work going on underground.
Guzmán and his Sinaloa associates have lengthy tunnelling experience; during the 1980s, he built his empire on cocaine smuggled across the Mexico-US border by tunnel. He was arrested in 1993 and sentenced to 20 years in prison for drug trafficking, but escaped eight years later after prison guards supposedly helped him to hide in a laundry cart. While on the run, Guzmán became known as Mexico's most powerful drugs cartel boss, with a fortune estimated at more than $1bn (£630m).
His associates' engineering skills came in handy once again in the days before his recapture last February, when he eluded Mexican security forces by escaping from a safehouse in Culiacán, the capital of Sinaloa state, via a hatch under the bathtub that led to a network of tunnels and the sewers beneath the city. He was finally caught hiding out with his wife and twin daughters at a beachside apartment complex in Mazatlan on the Pacific coast.
His latest escape is a blow to the credibility of the Mexican President, Peña Nieto, who has attempted to crack down on the country's illicit drugs trade, and heralded Guzmán's arrest last year as signifying his success. Speaking on an official visit to France this week, Mr Nieto called Guzmán's disappearance "an affront to the state".
The Mexican interior minister, Miguel Chong, said on Monday that the drug lord "had to have" had assistance from the authorities in executing his elaborate escape. Three prison-system officials have already been fired, including the director of the Altiplano jail, while more than 30 prison employees have been questioned as part of the investigation.
Following Guzmán's escape on Saturday, roadblocks were set up and a nearby airport temporarily closed but the wide-ranging manhunt has so far failed to turn up any clues as to the narcotics kingpin's whereabouts.
The Mexican government has offered a 60m peso (£2.4m) reward for Guzmán's recapture. In the US, the Chicago Crime Commission has already said it will restore his title as Public Enemy Number One, to reflect the Sinaloa cartel's grip on the drugs trade in the Midwestern city. The only previous holder of that title was Al Capone.
Join our new commenting forum
Join thought-provoking conversations, follow other Independent readers and see their replies