John McCain and Lindsey Graham call for 20,000 troops in Iraq and Syria to fight Isis
Both said the attacks in Paris have underlined the need for greater US involvement in the Middle East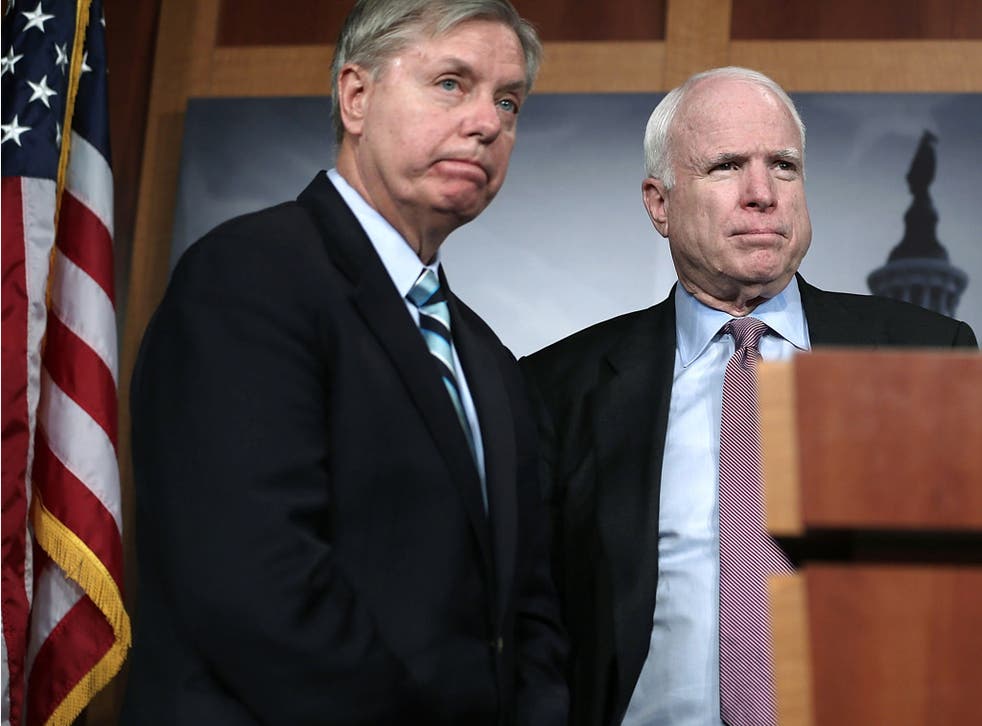 Two Republican senators have called for Washington to nearly triple military force levels in Iraq to 10,000, and send an equal number of troops to Syria to fight Isis.
John McCain and Lindsey Graham criticised President Barack Obama's strategic against Isis, which relies on air strikes and modest support given to support local ground forces in Iraq and Syria.
Both have said the attacks in Paris have underlined the need for greater US involvement in the Middle East.
"The only way you can destroy the caliphate is with a ground component," said Mr Graham, who is seeking his party's presidential nomination.
"The aerial campaign is not turning the tide of battle."
In pictures: Syria air strikes (2014)

Show all 20
He and Mr McCain told reporters during a visit to Baghdad that US personnel could provide logistical and intelligence support to a proposed 100,000-strong force from Sunni Arab countries such as Egypt, Turkey and Saudi Arabia.
Around 3,500 US troops are currently advising and assisting Iraqi forces.
Mr Graham said an increased American presence would include forward air controllers and aviation assets, as well as special forces to carry out raids.
Last month, Mr Obama ordered the deployment of dozens of special operations troops to northern Syria to advise opposition forces in their fight against Isis.
Russia has recently backed Syrian President Bashar al-Assad, providing military support against Isis and rebel groups in Syria. A monitoring group said Russian air strikes have killed 403 civilians during the conflict so far.
The senators said removing President Assad was key to getting Sunni Arab states to back the proposed ground forces.
Join our new commenting forum
Join thought-provoking conversations, follow other Independent readers and see their replies